Disclaimer: We sometimes use affiliate links in our content. For more information, visit our Disclaimer Page. 
Succession planning is an essential aspect of any business strategy. It involves identifying and developing internal employees who can fill key business leadership positions. Succession planning aims to ensure a smooth transition in leadership, guaranteeing that the business runs efficiently and effectively even after a change in leadership.
This article will explore the concept and highlight the different examples of succession planning organizations can use to ensure success.
Key Takeaways
Succession planning is crucial for the success of any business transition
It involves identifying and training potential leaders within the organization
Successful succession planning requires effective strategies and best practices
Real-life examples of successful succession planning can provide valuable insights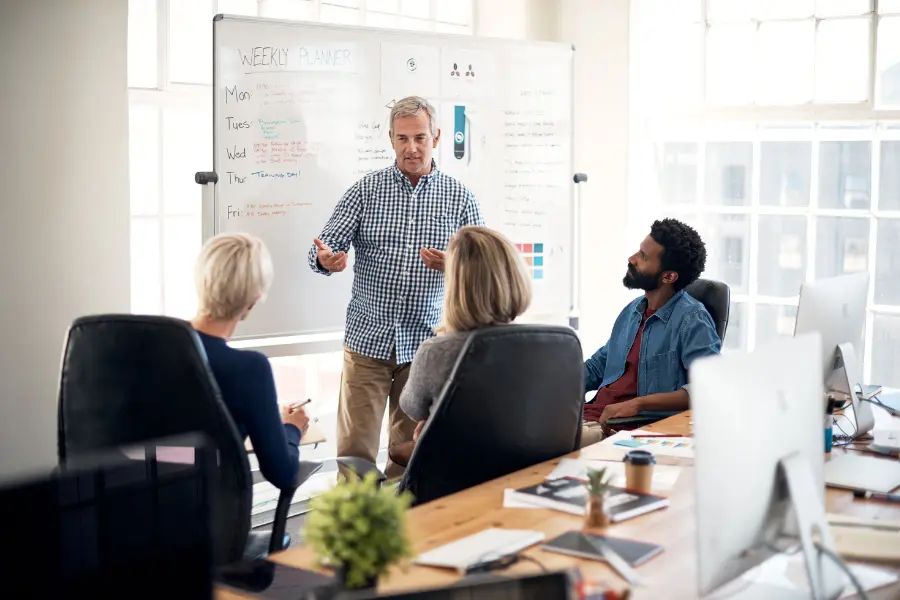 Understanding Succession Planning
Succession planning is identifying and preparing potential successors for key positions in a company to ensure a smooth transition when a current leader leaves their role. It is an essential strategy for maintaining the continuity of a business and ensuring that it continues to thrive.
The first step in succession planning is identifying the positions that need to be filled in the future and the skills and characteristics necessary for success in those roles. This involves assessing the current workforce and identifying potential candidates with these skills and characteristics.
Once potential candidates have been identified, the next step is to create a development plan to help them acquire the necessary skills and experience for the role. This may involve offering training, mentoring, or coaching to help them prepare for their future role.
Factors to Consider in Succession Planning
There are several factors to consider when developing a succession plan. These include:
The company's short- and long-term goals
The current skills and experience of the workforce
The future skills and experience required for key positions
The potential career paths for current employees
The availability of external candidates
Companies can develop a succession plan tailored to their specific needs and objectives by considering these factors.
Successful succession planning requires a long-term view and careful preparation. By investing in developing current employees and identifying potential candidates for key positions, companies can ensure a smooth transition when key leaders leave their roles, maintaining the continuity of the business and positioning it for future success.
Best Practices in Succession Planning
Succession planning is a complex process that requires careful consideration and execution of various best practices. Below are some of the critical steps and actions organizations can take to ensure a successful leadership transition:
| Best Practices | Description |
| --- | --- |
| Identify potential successors | Identify and assess employees who have the skills, knowledge, and potential to take on leadership roles within the organization. This process may involve a combination of formal performance evaluations, interviews, and assessments. |
| Assess skills and capabilities. | Assess the skills and capabilities of potential successors to determine whether they possess the necessary competencies to succeed in leadership roles. This assessment may involve evaluating technical and soft skills and leadership potential. |
| Create a comprehensive development plan. | Create a plan for developing the skills and capabilities of potential successors, based on the assessment. The plan may include training programs, coaching, mentoring, job rotations, stretch assignments, and other activities to help individuals grow and acquire the necessary skills. |
| Ensure ongoing monitoring and assessment. | Monitor the progress of potential successors and evaluate their readiness for leadership roles regularly. This process may involve ongoing performance evaluations, feedback, and assessments to gauge progress and identify areas for improvement. |
Examples of successful implementation of these best practices can be seen in companies like McDonald's and PepsiCo. McDonald's, for example, has a well-established leadership development program that identifies, develops, and prepares future leaders for key organizational roles. Similarly, PepsiCo has a robust talent management program includes formal assessments, development plans, and regular monitoring to ensure a strong pipeline of future leaders.
Effective Strategies for Succession Planning
Succession planning is a critical process for organizations to ensure the smooth transition of leadership and maintain business continuity. To achieve successful succession planning, it is essential to implement effective strategies to identify, develop, and retain talented individuals within the organization.
Mentoring programs are one effective strategy to help identify and develop potential successors. These programs can pair high-potential employees with experienced leaders, allowing them to gain valuable skills and knowledge.
Job rotations are another strategy that can help prepare potential successors for leadership roles. This allows them to understand the organization's functions and operations, enhancing their ability to make informed decisions when necessary.
Talent retention initiatives ensure that top performers remain within the organization. These initiatives can include competitive compensation packages, opportunities for professional growth, and a positive work environment.
| Strategy | Example |
| --- | --- |
| Mentoring Programs | At IBM, a mentoring initiative was launched to develop a diverse pipeline of future leaders. The program paired high-potential employees with experienced executives, helping them gain valuable skills and experiences. |
| Job Rotations | At PepsiCo, job rotations were implemented to provide employees with exposure to different departments, enhancing their skills and knowledge. This program helped in the development of future leaders of the organization. |
| Talent Retention Initiatives | At Google, the company offers attractive compensation packages, professional growth opportunities, and a positive work environment, which resulted in a low attrition rate of top-performing employees. |
Effective strategies for succession planning can result in a robust talent pipeline, ensuring a smooth leadership transition within the organization. Therefore, organizations must consider implementing these strategies when developing succession plans.
Real-Life Examples of Succession Planning
Real-life examples of successful succession planning can provide valuable insights into transitioning leadership and maintaining continuity in a business effectively. Let's look at some organizations that have navigated leadership transition with aplomb.
Case Study 1: McDonald's
McDonald's is a prime example of a company that has executed a smooth leadership transition. In 2015, Steve Easterbrook succeeded Don Thompson as CEO, and the transition was seamless. This was due to McDonald's focus on developing and nurturing talent from within. The company boasts of a robust talent development program that identifies potential leaders early on and grooms them for leadership positions.
| | |
| --- | --- |
| Key Takeaway: | Applying a deliberate approach to talent development can create a strong leadership pipeline that ensures a smooth succession process. |
Case Study 2: Microsoft
Microsoft's recent CEO transition from Steve Ballmer to Satya Nadella in 2014 was a significant moment in the company's history. Microsoft's previous CEO had been at the helm for 14 years, and the company faced stiff competition in the technology industry. However, the company successfully navigated the transition by selecting a leader with a clear vision and focused on innovation.
"I think it's important to have a CEO who is committed to innovation and has a vision of where to take the company." – Bill Gates, Co-founder, Microsoft
| | |
| --- | --- |
| Key Takeaway: | Selecting a leader with a clear vision and a commitment to innovation can set a company on the path to success. |
Case Study 3: Ford
One of the most challenging situations a company can face is a sudden leadership change due to unforeseen circumstances. This was the situation Ford found itself in when CEO Alan Mulally retired unexpectedly in 2014. However, the company successfully transitioned by promoting Mark Fields, who had been groomed for leadership for several years.
"We have a very disciplined talent management process, and we're constantly evaluating our leadership pipeline." – Bill Ford Jr., Executive Chairman, Ford Motor Company
| | |
| --- | --- |
| Key Takeaway: | A disciplined talent management process that evaluates and grooms potential leaders can prepare a company for unexpected leadership changes. |
These examples show that a deliberate approach to succession planning can ensure continuity and success in a business. Organizations can navigate leadership transitions and emerge even stronger by developing and nurturing talent from within, selecting leaders with clear visions, and having a disciplined talent management process.
Successful Leadership Succession Planning
Leadership succession planning is crucial for any organization to maintain stability and growth. Without a solid leadership development pipeline, organizations may struggle to keep up with changing environments and remain competitive.
One example of successful leadership succession planning is General Electric (GE). In the early 2000s, GE identified a need to develop a strong pipeline of leaders to ensure a smooth transition of power. The company created a top-level development program called the GE Executive Leadership Program (ELP) to identify and groom potential successors for the CEO position.
| Key Elements of GE ELP | Outcomes |
| --- | --- |
| Identification of high-potential candidates | Increased number of ready-to-promote candidates |
| Individualized development plans | Improved skills and competencies of candidates |
| Mentorship and coaching by senior leaders | Improved leadership capabilities of candidates |
As a result of the program, GE was able to develop a deep and diverse pool of successors for the CEO position and ensure a smooth succession when Jeff Immelt retired in 2017.
Another example of successful leadership succession planning is McDonald's. In 2015, the fast-food giant started a leadership development program to prepare potential successors for the CEO position held by Steve Easterbrook.
The program included:
1-on-1 coaching and mentoring
Job rotations across functions and regions
Leadership development workshops
The program paid off when Easterbrook was fired in 2019, and McDonald's was able to transition to new leadership seamlessly.
These examples demonstrate the importance of leadership succession planning and the positive outcomes that can be achieved through a thoughtful and comprehensive approach.
Development and Succession Planning Examples
Development and succession planning go hand in hand to ensure a steady flow of talented employees who rise to the ranks to fill key leadership roles. Many organizations incorporate development opportunities within their succession planning process to create a strong talent pipeline and ensure a smooth transition.
For example, Johnson & Johnson's leadership development program prepares potential successors for key positions by allowing them to work in different functions and regions. This helps individuals develop a broad perspective and skillset, making them better suited to lead. Similarly, GE's leadership development program includes job rotations, mentoring, and coaching to provide potential successors with the knowledge and skills they need to thrive in key leadership roles.
Successful Executive Succession Planning
To ensure a smooth leadership transition, executive succession planning is crucial for any organization.
One example of successful executive succession planning can be seen at Microsoft. Satya Nadella was groomed as a potential successor to CEO Steve Ballmer through his 22-year tenure with the company, during which he held various leadership positions. When Ballmer stepped down in 2014, Nadella was selected to take over, and since then has led the company to new heights.
"Succession planning should be a continuous process, not a one-time event. It should be integrated into the organization's culture, and all employees should understand its importance."
Another example is Procter & Gamble, which has a robust executive development program that identifies high-potential leaders early on and provides targeted training and development opportunities. In 2015, when CEO A.G. Lafley announced his retirement, the company was well-prepared with a strong pipeline of potential successors. The board ultimately chose David Taylor, who had been with the company for over 35 years, as the new CEO.
Key components of successful executive succession planning include identifying potential successors early on, providing targeted development opportunities, and ensuring the company has a strong talent pipeline. By integrating executive succession planning into the organization's culture and regularly evaluating progress, companies can ensure they are prepared for any leadership transitions.
Key Components of a Succession Plan
A successful succession plan requires careful planning and consideration of key components. These components include:
Talent Assessment: Identifying potential successors for key positions and assessing their skills, knowledge, and abilities.
Leadership Development Programs: Creating comprehensive development plans to prepare potential successors for future roles.
Monitoring Mechanisms: Implementing systems to track progress and measure the success of the succession plan.
Communication Strategies: Effectively communicating the succession plan to all stakeholders, including employees, shareholders, and customers.
The most successful succession plans are those that are designed to meet the specific needs of the organization. By incorporating these key components, a succession plan can help ensure a smooth transition and a strong talent pipeline for the future.
Overcoming Succession Planning Obstacles
While succession planning is essential for the continuity of any organization, it is not without its challenges. Here we look at some of the most common obstacles organizations face when implementing a succession planning strategy and how they can be overcome.
Obstacle 1: Lack of Ownership
One of the primary reasons succession planning fails is the lack of ownership within the organization. Without ownership from top management, the process can be neglected, leading to an ineffective plan.
Solution: Ensure that responsibility for succession planning is assigned to a specific department or individual with the authority and resources to execute the plan.
Obstacle 2: Limited Resources
Small and medium-sized enterprises often struggle with limited resources, making creating and maintaining a comprehensive succession plan difficult.
Solution: Prioritize succession planning and allocate resources accordingly. Consider leveraging technology or partnering with external providers to create cost-effective solutions.
Obstacle 3: Resistance to Change
Resistance to change can often slow down or impede the implementation of a succession plan.
Solution: Educate employees on the importance of succession planning and its benefits. Involve employees in the process, gathering feedback and suggestions to increase buy-in and acceptance.
Obstacle 4: Lack of Diversity
Succession planning may overlook diverse candidates, leading to a narrow pool of potential successors.
Solution: Ensure diversity and inclusion are integrated into the succession planning process. Create opportunities for underrepresented groups, and provide support and resources for their development.
Organizations can create effective succession plans that mitigate risk and ensure success by addressing these common obstacles.
Conclusion
Succession planning is a critical process that ensures the smooth transition of leadership within an organization. As demonstrated in this article, effective succession planning involves thoughtful consideration of potential successors, identification, and development of skills and capabilities, and implementation of robust monitoring mechanisms.
By following best practices and implementing effective strategies such as mentoring programs, job rotations, and talent retention initiatives, organizations can create a strong talent pipeline that ensures optimal success in the long term.
Real-life examples have shown that organizations that invest in succession planning enjoy many benefits, including enhanced business continuity, reduced disruption, and increased employee engagement.
FAQs
What is succession planning? Explain with an example.
Succession planning involves identifying and developing potential organizational leaders to fill key roles when current leaders step down. For example, a company might hire a high-potential employee to take over as CEO.
What is an example of succession planning in an organization?
An example of succession planning in an organization could be when a senior manager mentor and provides training to a junior employee with the potential to take over their role in the future. This ensures a smooth transition when the senior manager retires or moves on.
What is a good example of succession?
A good example of succession could be seen in a family-owned business where the founder passes the leadership role to the next generation. For instance, a father handing over the reins of a successful restaurant to his son, who has been working in the business for years.
What is an example of a succession plan failure?
An example of a succession plan failure could be when a company promotes an employee to a higher position without proper training or mentorship, resulting in the employee struggling to handle the new responsibilities and ultimately leaving the company.
What is an example of succession planning in HRM?
In the context of Human Resource Management (HRM), an example of succession planning could involve identifying promising entry-level employees and providing them with targeted training and development opportunities to prepare them for leadership roles in the future.