Disclaimer: We sometimes use affiliate links in our content. For more information, visit our Disclaimer Page. 
In today's competitive job market, verifying the credentials and background of potential hires is essential for employers. This often involves conducting background and reference checks, but what are the differences between these two processes? In this blog post, we will understand their distinct purposes and how they support informed hiring decisions.
Key Takeaways:
Background checks verify historical information and data, while reference checks confirm qualifications through feedback from former employers.
Background checks aim to uncover the criminal or financial history that a candidate may have hidden, while reference checks provide insight into an applicant's work experience, skills, and character.
Conducting both types of screenings can ensure honest individuals qualified for the role in question are hired while staying compliant with relevant laws and regulations surrounding personnel assessment processes.
Best practices include obtaining written consent from the candidate before conducting any check, ensuring compliance with legal regulations, staying objective and consistent in criteria for evaluating candidates, and choosing reliable and credible sources.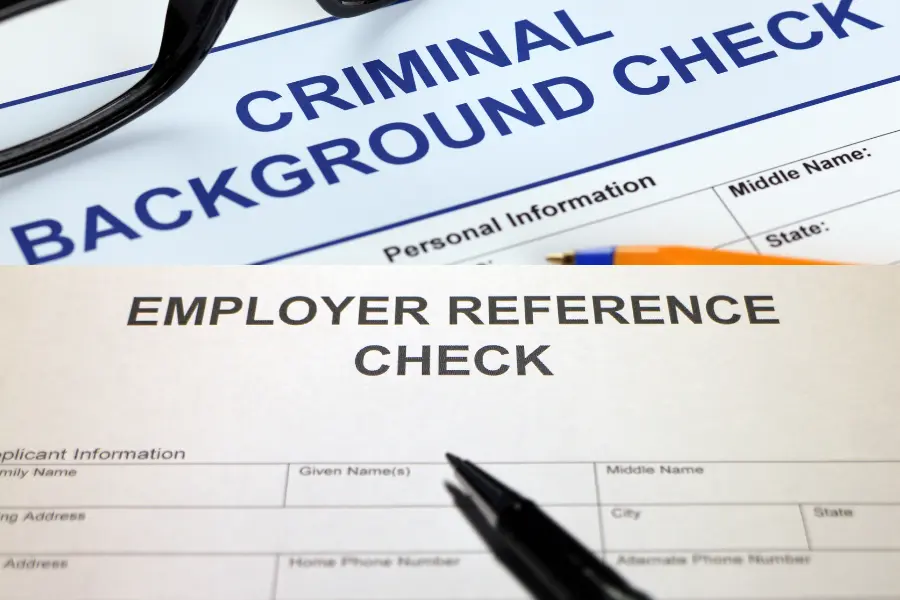 Background Check Vs Reference Check: Defining The Differences
Background checks verify a candidate's historical information and data, while reference checks seek to confirm their qualifications through feedback from former employers.
Purpose And Goals Of Each Check
Employers conduct background and reference checks during the hiring process to ensure they select the most qualified candidates for their organization. While both play a crucial role in obtaining essential information about a candidate, they serve distinct purposes.
Background checks primarily verify data provided by an applicant, including checking criminal records, financial history, or even civil litigations if relevant.
On the other hand, reference checks delve deeper into understanding an applicant's qualifications and character traits by seeking opinions from former employers or professional acquaintances.
A reference check aims to gain valuable insights into the candidate's work performance, skills, work ethic, teamwork abilities, and overall suitability for the position.
Critical Distinctions Between The Two
There are significant differences between background checks and reference checks. While both types of screening involve investigating a candidate's past, they have different purposes and goals.
Another key difference is the type of information gathered. A background check will include criminal records, credit reports, driving records, education credentials verification, and employment verifications for former employers' names and addresses; however, Reference check will only include an evaluation from previous supervisors or managers about the applicant's job-related qualities like experience on their resume.
Overall, conducting both screenings can help ensure you hire honest individuals qualified for the role.
Types Of Information Gathered
There are different types of information gathered during background checks and reference checks. Here are some of them:
Background Check:
Criminal history records
Employment history and verification of dates, position titles, and salary
Education verification
Credit scores and financial records
Driving records
Social Security number verification
Reference Check:
Work performance evaluations from previous employers
Attendance record
Strengths and weaknesses as an employee
Job responsibilities and accomplishments
Personal characteristics such as attitude, work ethic, initiative, communication skills, teamwork ability
Conducting thorough checks to evaluate a candidate's suitability for any job position is essential. Employers must abide by all legal regulations when conducting background or reference checks to avoid legal complications or employment disputes.
Why Conduct A Background Check Or Reference Check?
Conducting a background or reference check is crucial in ensuring a safe and productive workplace, verifying job qualifications and experience, and avoiding potential hiring mistakes and liability.
Ensuring A Safe And Productive Workplace
Employers have a legal and ethical responsibility to provide a safe workplace for their employees. Background and reference checks can help employers identify any potential red flags with candidates before hiring, reducing the risk of incidents in the workplace.
A background check can uncover criminal or financial history, indicating a person's likelihood to engage in harmful behavior. In contrast, reference checks can give insight into an individual's work habits and interpersonal skills.
Verifying Job Qualifications And Experience
Verifying job qualifications and experience is a critical part of the hiring process. As stated on their resumes or applications, employers must ensure their potential employees have the necessary skills and experience.
Employment verification helps confirm essential facts about previous jobs, such as employment dates, position titles, salary earned, incentives provided, and reasons for leaving.
For example, if an applicant claims to have worked in a particular industry for several years but cannot provide specific details about their responsibilities or achievements, a reference check could help clarify any discrepancies.
Similarly, if a candidate has little formal education but possesses relevant industry certifications or training programs completed through their employer in the past may confirm credibility through background checks before proceeding with reference checks.
Avoiding Hiring Mistakes And Liability
Hiring the wrong employee can have severe consequences for a company, from lost productivity to legal liability. Conducting thorough background checks and reference checks can help avoid these risks.
Background checks can uncover criminal histories or financial problems that could make an employee unsuitable for a particular role. Reference checks provide valuable insights into a candidate's work ethic, character, and performance in past roles.
By verifying job qualifications and experience through both types of screening, companies can ensure they are selecting the best candidates and avoiding costly hiring mistakes.
Best Practices For Conducting Background Checks And Reference Checks
Obtain written consent from the candidate before conducting any check, ensure compliance with legal regulations, and stay objective and consistent in your criteria for evaluating candidates.
Obtaining Consent And Following Legal Regulations
Consent and following legal regulations are critical when conducting background and reference checks. Employers must ensure they have the candidate's written permission before conducting any check, as they need to obtain consent to avoid legal implications.
Additionally, employers must follow federal and state laws regarding what can be checked during the vetting process, such as avoiding discriminatory practices or violating an individual's privacy rights.
Moreover, employers need to maintain accurate records of their screening processes. This documentation will prove that the employer followed established procedures and complied with relevant laws and regulations in potential litigation cases or audits.
Staying Objective And Consistent
It's crucial to remain objective and consistent when conducting background and reference checks. This means treating each candidate fairly by following the same procedures, asking the same questions, and using the same criteria for evaluation.
One way to stay objective is by using a structured interview format focusing on specific job-related skills and experiences. By sticking to a predefined set of questions, you can avoid introducing subjective opinions into your assessment.
Remaining consistent is essential since you want all candidates evaluated under comparable circumstances. To achieve this consistency, ensure everyone follows the same protocols when contacting references or reviewing an applicant's background information, such as their employment history or academic credentials.
Choosing Reliable And Credible Sources
When conducting background or reference checks, choosing reliable and credible sources of information is crucial. These sources can include previous employers, educational institutions, and professional associations.
It is essential to verify that the sources are legitimate and have no biases that could affect their feedback.
For example, if a candidate has stated they worked at a particular company for five years. Still, there are discrepancies in their work history on their resume or application form; contacting multiple former colleagues from different departments will help confirm the accuracy of the information provided.
Verifying a candidate's qualifications requires thorough scrutiny since hiring individuals with incorrect credentials exposes organizations to risks like legal liability and negative public perception.
Maintaining Confidentiality
Maintaining confidentiality is an essential aspect of conducting background and reference checks. The information gathered during these processes should be confidential and only shared with the appropriate personnel involved in the hiring decision-making.
For example, if a candidate discloses sensitive personal information during a reference check, such as a medical condition or family circumstance, it must be kept confidential.
Not maintaining confidentiality can lead to legal liabilities, damaging the reputation of employers and potential employees.
How To Choose The Right Type Of Check For Your Needs
To ensure you choose the appropriate check for your hiring needs, consider legal compliance, areas of focus (skill vs. personality), and information-gathering methods – read on to discover more.
Legal Considerations And Compliance
Conducting background and reference checks in compliance with legal regulations is essential. Employers must obtain written consent from candidates before conducting these checks, informing them of their rights under the Fair Credit Reporting Act (FCRA).
The FCRA also requires that employers provide a copy of the report and allow candidates to dispute any inaccuracies. Additionally, employers must follow federal and state laws regarding discrimination when obtaining information during background or reference checks.
For instance, questions about age, religion, race, gender identity, or sexual orientation are generally prohibited during these checks. Failure to comply with these regulations can result in costly lawsuits for an organization.
Areas Of Focus: Skill And Experience Vs. Work Ethic And Personality
When it comes to choosing between background checks and reference checks, one crucial consideration is the areas of focus. Background checks examine a candidate's skills, experience, and qualifications.
They confirm essential facts about previous employment and education, such as job titles and dates of attendance.
For example, if you're hiring for a customer service role where personality traits like friendliness are crucial, a reference check might help ensure you choose someone who fits the bill.
Alternatively, suppose you're hiring for a highly technical position where skills are paramount to success in the job. In that case, you may prioritize verifying academic achievements or past certifications through background checks.
Information Gathering Methods
One of the key considerations in conducting a background or reference check is determining the most effective methods for gathering information. Here are some standard methods used for each:
For Background Checks:
Criminal Records Check: This involves searching law enforcement databases for the candidate's criminal history.
Credit Check: This method helps verify a candidate's financial track record, including their credit score and debt-to-income ratio.
Employment Verification: The employer can cross-check the information provided by the candidate with the former employers to ensure consistency in employment history.
Education Verification: It is a method to validate academic credentials and degrees earned from universities or other educational institutions.
Social Media Screening: It involves analyzing candidates' social media profiles, such as Facebook, Twitter, LinkedIn, etc., for clues that may suggest their fitness for the job.
For Reference Checks:
Direct Phone Calls: Employers may conduct direct phone calls or emails to ask previous supervisors and co-workers about their experience working with the candidate.
Written References: These are usually letters from former supervisors, colleagues, or clients who have worked with candidates in past jobs that attest to their skills and ability levels.
Online Surveys: Some companies use online survey tools to ask for references about various topics, from the work ethic and interpersonal skills to leadership qualities.
Employee Referral Programs (ERP): Companies often incentivize employees by offering bonuses when they refer someone who ultimately gets hired for an open position.
It is essential to use appropriate information-gathering methods while performing either type of check, primarily since legal regulations govern what types of checks can be conducted during pre-employment screening.
Conclusion: Finding The Right Fit For Your Hiring Needs
Understanding the differences between background and reference checks is crucial for finding the right fit for your hiring needs. While both types of checks serve different purposes, they are equally crucial in ensuring a safe and productive workplace and avoiding hiring mistakes and liability.
Conducting these checks ethically, legally, and consistently is essential to obtain reliable information about a candidate's qualifications and work history.
You can confidently make informed decisions during the recruitment process by choosing the appropriate type of check based on your specific needs.
FAQs:
What is a background check, and how does it differ from a reference check?
A background check involves reviewing an individual's criminal records, credit history, employment, and education verification, and other relevant information to assess their suitability for hire or other purposes. In contrast, a reference check involves contacting past employers or professional contacts provided by the candidate to gather insights into their work performance, personality traits, and overall character.
When should I conduct a background vs. reference check on potential hires?
Both checks can be valuable tools for assessing job candidates before hiring. A background check may be especially useful for roles that require significant trust or access to sensitive information, such as financial positions or government jobs. Reference checks are typically used more broadly across all types of roles.
What legal requirements must I consider when conducting these types of checks?
Yes – background and reference checks must comply with applicable privacy laws and workplace discrimination. It's crucial to ensure that you're only gathering information that's directly relevant to business needs (e.g., not asking about someone's race or religion), obtaining the necessary consent from candidates before conducting any type of screening process, and following proper procedures if you choose not to move forward with someone based on the results.
Can't I rely on my gut instincts when evaluating candidates instead of using these formal processes?
While personal intuition can play a role in hiring decisions, it shouldn't be relied upon solely as your primary method for vetting applicants. Indeed, a comprehensive screening process plays an invaluable role during Recruitment efforts for businesses since they help mitigate risk & increase the chances of finding the best fit. Hence it's always suggested that standard procedures are followed rather than going based on one's hunches which often leads to inaccurate assessments. The goal is to ensure you have all available information to improve the recruitment process by identifying the right talent quickly & accurately, thus protecting company values while fostering positive work culture.