Disclaimer: We sometimes use affiliate links in our content. For more information, visit our Disclaimer Page. 
Do you struggle to maintain high levels of productivity at work? Are you searching for effective strategies to enhance workplace efficiency? Look no further! In this guide, we will unveil critical strategies to boost workplace productivity, leading to improved employee efficiency and increased workplace output.
By implementing these strategies, you can transform your workspace, energize your team, and reach new performance heights. Let's dive in!
Key Takeaways:
Increase workplace efficiency by implementing key productivity strategies.
Improve employee productivity by creating an inspiring workspace.
Enhance work performance through effective time management techniques.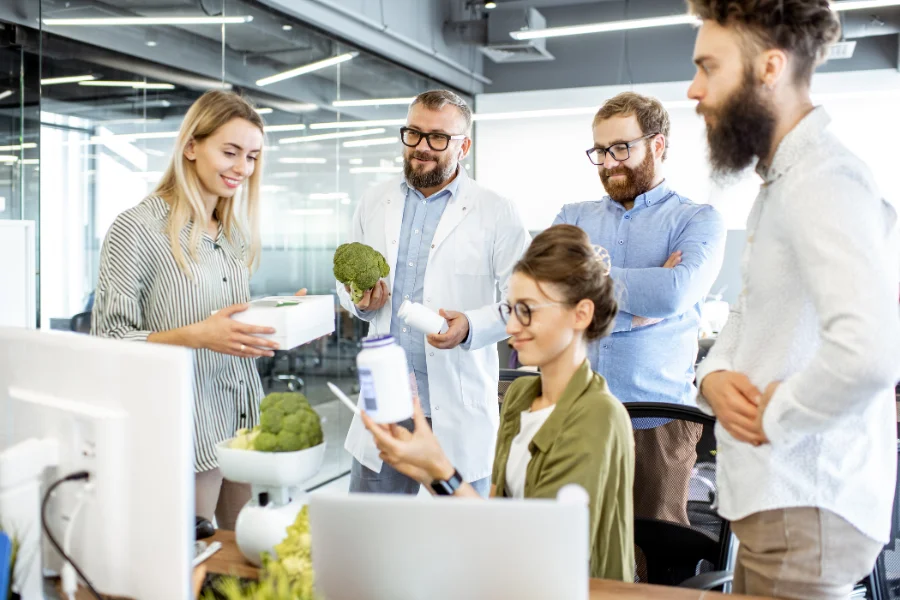 Creating an Inspiring Workspace To Boost Workplace Productivity
Creating an inspiring workspace can have a significant impact on employee productivity. Designing a workspace that promotes focus, creativity, and collaboration is essential to boost team productivity and enhance work performance.
Invest in Ergonomics
Office furniture and equipment are crucial in promoting productivity and employee well-being. Investing in ergonomic chairs, desks, and monitors can improve posture, reduce eye strain, and prevent back pain. Moreover, standing desks can help boost energy levels and promote a more active work style.
Maximize Natural Light
Exposure to natural light can enhance mood and productivity. Therefore, maximizing the natural light available in the workspace is crucial by using light-colored walls, unobstructed windows, and skylights. Additionally, artificial lighting should be designed to complement natural light and create a comfortable and inviting atmosphere.
Encourage Personalization
Allowing employees to personalize their workspace can improve their sense of identity and boost their morale. Encouraging personalization can include adding plants, photos, or decorations that reflect employees' personalities and interests. This can help create a more positive and motivating environment.
Create Collaborative Spaces
Collaboration is essential for driving workplace productivity. Creating collaborative spaces, such as breakout areas, conference rooms, or project rooms, can promote teamwork, encourage innovation, and enhance communication among employees. Moreover, these spaces should be designed to be comfortable, functional, and equipped with technology that facilitates collaboration.
Clean and Organize Regularly
A clean and organized workspace can promote focus and reduce distractions. Employers should encourage employees to keep their workspace clean and organized by providing adequate storage space, scheduling regular cleaning, and promoting minimalism. This can help reduce clutter, improve focus, and enhance productivity.
By implementing these strategies and creating an inspiring workspace, you can achieve a boost in team productivity and enhance work performance, resulting in a more successful work environment.
Effective Time Management Techniques
Time management is essential for maximizing workplace productivity. In today's fast-paced world, it can be challenging to manage time effectively. However, with the proper techniques, employees can increase productivity and achieve their goals.
Here are some effective time management techniques:
Prioritize tasks: One of the most crucial time management techniques is prioritizing tasks. Employees should focus on completing urgent and important tasks first and move on to less critical tasks later.
Create a to-do list: Creating a to-do list is an effective way to manage time. Employees can use this list to track their progress and ensure they complete all their tasks on time.
Set deadlines: Setting deadlines can help employees manage their time better. When deadlines are set, employees are more likely to complete their tasks on time.
Eliminate distractions: Distractions can cause employees to waste time. Employees can focus on their work and increase productivity by eliminating distractions such as social media.
Take breaks: It may seem counterintuitive, but taking breaks can improve employee productivity. Short breaks allow employees to recharge and return to work refreshed and refocused.
Use technology: Technology can help employees manage their time better. Many tools, such as time-tracking apps and project management software, can help employees manage their time more effectively.
Employees can increase productivity, reduce stress, and achieve their goals by implementing these time management techniques.
Leveraging Productivity Tools and Techniques
In today's fast-paced and ever-changing work environment, technology offers various productivity tools and techniques that can help increase workplace efficiency and boost employee productivity. By leveraging these tools, organizations can achieve more significant results with minimal effort.
Task Management Platforms
Task management platforms like Asana, Trello, and Wrike are ideal for managing tasks, deadlines, and collaboration in real time. These platforms allow teams to assign tasks to specific individuals, track progress, and communicate within the platform to ensure everyone is on the same page.
These task management tools allow employees to streamline their workflow and prioritize work tasks, leading to increased productivity and efficient time management.
Time Tracking Software
Time tracking software like RescueTime and Toggl help employees identify time-wasting activities and optimize their workday. These apps track work time, highlighting what applications and websites employees use throughout the day, and providing insights into how they might be procrastinating or being distracted from work tasks.
By identifying time-wasting activities, employees can remove them from their workday, allowing them to focus on work tasks and boost productivity levels.
Email Management Tools
Email management tools like Boomerang and Unroll can help employees manage their inboxes, reducing the time spent on email management. Boomerang enables users to schedule emails, set reminders, and archive messages. Unroll enables users to unsubscribe from unwanted emails and manage incoming messages into categories.
By using these email management tools, employees can reduce the volume of emails, enabling them to focus on high-priority tasks and increase workplace efficiency.
Building a Culture of Collaboration
Collaboration is an essential element for driving workplace productivity. When employees work together seamlessly, ideas flow freely, and tasks get completed faster. Here are some effective strategies for building a culture of collaboration, ultimately leading to a boost in team productivity and enhancing work performance:
1. Encourage Open Communication
Effective communication is the foundation of any collaborative effort. Encourage your team to communicate openly and freely, fostering an environment where everyone feels comfortable sharing their ideas and concerns. Consider implementing communication tools such as Slack or Microsoft Teams to facilitate accessible communication between team members.
2. Establish Clear Goals and Expectations
Establishing clear goals and expectations is crucial for collaborative success. Ensure each team member understands their role and responsibilities and that everyone is working towards the same objectives. This will help prevent misunderstandings and ensure everyone is on the same page.
3. Foster a Team-Oriented Culture
Encourage your team to view their colleagues as partners rather than competitors. Foster a culture where teamwork and collaboration are celebrated and rewarded. Consider holding team-building activities and events to help build relationships and encourage collaboration.
4. Embrace Diversity
Diversity is a critical component of collaboration success. Ensure your team includes individuals with different backgrounds, skill sets, and perspectives. This will lead to more diverse ideas and approaches, ultimately boosting team productivity and enhancing work performance.
5. Provide Opportunities for Skill Development
Encouraging your team to develop new skills and knowledge can help them work collaboratively and more effectively. Provide ongoing training and development opportunities to help your team members expand their skill sets and become more valuable contributors to the team.
Prioritizing Tasks Effectively
Effective time management is critical for maximizing productivity at work. This section will explore some employee productivity tips to prioritize your tasks efficiently, leading to improved workplace output.
1. Create a to-do list
Start by creating a to-do list for the day or week, prioritizing tasks based on their importance and deadline. You can use a notebook, digital app, or planner to create a to-do list and keep track of your progress.
2. Use the 80/20 rule
The 80/20 rule, also known as the Pareto principle, states that 80% of your results come from 20% of your efforts. Identify and focus on the most critical 20% tasks that contribute to your output.
3. Eliminate distractions
Distractions can derail your productivity, so eliminate them as much as possible. Turn off notifications on your phone, close unnecessary tabs on your computer, and inform your colleagues not to disturb you during focused work sessions.
4. Break down complex tasks
Large tasks can seem overwhelming, making it hard to begin. Break them down into smaller, manageable tasks to make them more achievable. You can then prioritize these sub-tasks and work on them individually.
5. Utilize time-blocking
Time-blocking is a technique that involves breaking down your day into specific time slots and allocating tasks to each slot. This technique can help increase focus and prevent procrastination.
Implementing these effective time management techniques allows you to prioritize your tasks efficiently and maximize workplace output.
Streamlining Processes for Efficiency
Streamlining processes is necessary if you're looking to improve workplace efficiency. Identifying and eliminating bottlenecks can make a significant impact on enhancing work performance. Here are some strategies to increase workplace efficiency:
1. Map Out Your Processes
The first step in streamlining processes is creating a clear map of them. This includes identifying the key steps, determining which team member is responsible for each step, and understanding how long each step takes.
2. Remove Unnecessary Steps
Once you have mapped out your processes, the next step is to eliminate any unnecessary steps. This might include automating some tasks or removing steps that don't add value to the final product.
3. Simplify Your Forms
Complicated and confusing forms can slow down your processes. Simplify your forms to ensure team members can complete them quickly and easily.
4. Use Productivity Tools
Productivity tools can help streamline processes and increase efficiency. For example, project management software can help your team stay organized and on track.
5. Regularly Review and Update Your Processes
Regularly reviewing your processes can help identify areas for improvement. Be open to making changes, and involve your team in the process to ensure everyone is on board.
Streamlining your processes can increase workplace efficiency and enhance work performance. Take these steps to improve your workplace processes and transform your productivity levels.
Encouraging Work-Life Balance
Improving employee productivity isn't always about working harder or longer. Encouraging work-life balance can lead to improved productivity at work. Employees who feel balanced and fulfilled are more likely to be motivated and engaged while on the job.
Here are a few tips on how to encourage work-life balance:
Offer flexible working arrangements, such as telecommuting or flexible hours.
Encourage employees to take breaks throughout the day, including lunch breaks and short walks.
Promote healthy habits, such as exercise and proper nutrition, to support employee well-being.
Recognize and reward employees for their hard work, offering incentives like extra time off or bonuses.
By implementing these employee productivity tips, you can improve productivity at work and foster a happy and productive workplace. Encouraging work-life balance benefits your employees and your business as a whole by reducing burnout, absenteeism, and turnover.
Conclusion
The strategies we have unveiled in this guide offer practical solutions for maximizing workplace output and improving employee productivity. You can create a workplace where efficiency and productivity thrive by creating an inspiring workspace, managing time effectively, leveraging productivity tools and techniques, building a culture of collaboration, prioritizing tasks, streamlining processes, and encouraging work-life balance.
By implementing these strategies, you can transform your workspace, energize your team, and reach new performance heights. Follow our tips, be consistent, and celebrate your successes along the way. With these strategies for increased workplace productivity, maximizing output is well within your grasp.
FAQs
What is productivity in the workplace?
Workplace productivity refers to the efficiency and effectiveness of individuals and teams in accomplishing tasks and achieving goals within a given timeframe. It measures how well employees work towards the production of goods or services and accomplishing company objectives.
How to increase workplace productivity?
Increasing workplace productivity involves various strategies, including limiting unproductive meetings, providing the right tools and equipment, setting clear goals, and removing distractions. It's about creating an environment where tasks and goals can be accomplished efficiently.
Why does workplace productivity matter?
Workplace productivity matters because it directly impacts the success and performance of an organization. It helps achieve business goals, improves efficiency, and can lead to higher profitability. Productive employees are more likely to contribute positively to the company's overall success.
What are the key elements of productivity in 2023?
The key elements of productivity in 2023 include measuring the growth in output compared to input, improving the performance and expertise of the workforce, and leveraging technology and tools to enhance productivity. It's about finding ways to achieve more with the same resources.
How does workplace design affect productivity?
Workplace design can significantly impact productivity, job satisfaction, and employee retention. When offices are designed with employee comfort and functionality in mind, it can lead to improved productivity. Factors such as layout, lighting, and ergonomics are crucial in creating a productive workspace.
Credits
Featured Image: Credits studioroman via Canva.com
In-article Image: Credits RossHelen via Canva