Disclaimer: We sometimes use affiliate links in our content. For more information, visit our Disclaimer Page. 
Workplace gossip can be toxic. It can damage relationships among colleagues and harm morale. It is essential to address gossip effectively to create a healthy work environment where all employees can thrive.
In this article, we will explore the consequences of workplace gossip and how to identify its root causes. We will also provide tips for creating a gossip-free culture and strategies for addressing gossip when it occurs.
Key Takeaways:
Workplace gossip can harm the work environment and damage relationships among colleagues.
Identifying the root causes of gossip is crucial to managing it effectively.
Creating a gossip-free culture requires leadership and transparent policies and expectations.
Open communication, fostering positive relationships, and conflict resolution techniques can help address gossip when it occurs.
Educational programs and ongoing monitoring can help maintain a gossip-free workplace culture.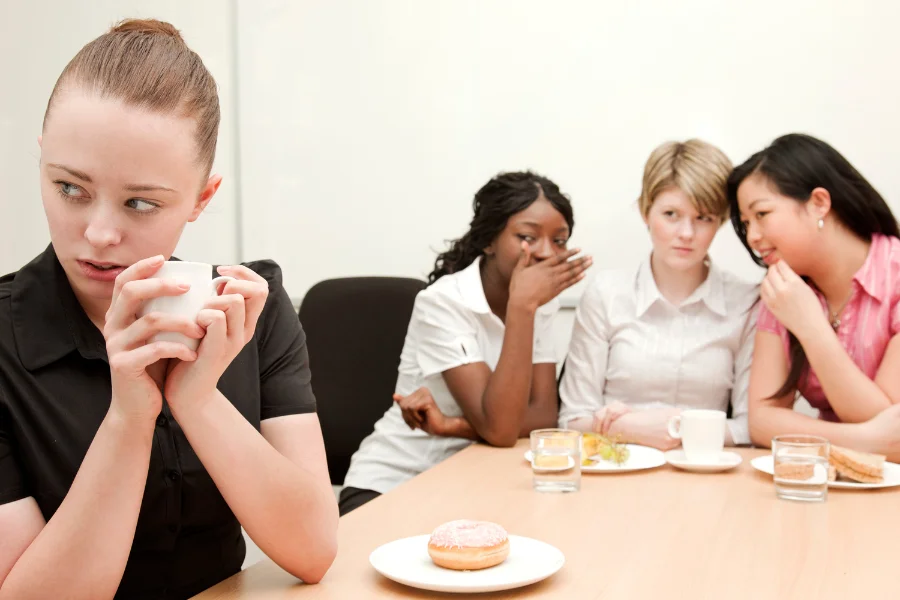 Understanding Workplace Gossip: Its Consequences and Impacts
Workplace gossip comes with various negative consequences that can severely impact workplace morale. Engaging in gossip can lead to a toxic work environment, decreased productivity, and damaged relationships.
When employees engage in gossip, trust is diminished, and it becomes harder to collaborate as a team. Gossip can also lead to misunderstandings and false information being spread, which can lead to poor decision-making and wasted time.
The impact of gossip on workplace morale cannot be overstated. It can create an environment of fear and anxiety, making it difficult for employees to focus on their work. It can also lead to low employee morale, causing high turnover rates and damaging the company's reputation.
Addressing workplace gossip is essential to preventing these negative impacts. By identifying and addressing the root causes and creating a culture of open communication, you can manage gossip effectively, creating a healthier and more productive work environment.
Identifying the Root Causes of Workplace Gossip
Gossiping in the workplace and rumors at work are often symptoms of deeper underlying issues. Understanding the root causes of workplace gossip is crucial for effectively managing and preventing it.
One common reason for gossip is office politics. When employees feel that their political power or influence is threatened, they may spread rumors or engage in negative talk about others to gain an advantage.
Lack of communication is also a common cause of workplace gossip. When employees feel that they are not being kept in the loop or are not being heard, they may turn to gossip as a way of getting information or venting their frustrations.
Personal insecurities can also contribute to gossip in the workplace. Employees who feel insecure about their abilities or position within the company may gossip about others to deflect attention from their shortcomings.
By identifying the root causes of gossip, managers can take steps to address these underlying issues and create a work environment that discourages negative talk and promotes open communication and collaboration.
Creating a Gossip-Free Culture: Lead by Example
Leadership plays a critical role in setting the tone for a gossip-free workplace. Managers and supervisors must lead by example and discourage gossip among employees.
Here are some tips for leaders to create a gossip-free culture:
| Tip | Description |
| --- | --- |
| Be transparent | Encourage open communication with your team and avoid keeping secrets or playing favorites. |
| Set clear expectations | Clearly communicate your expectations regarding workplace gossip and other unproductive behaviors. Model the behavior you expect from your team. |
| Address gossip immediately | If you hear any gossip, address it immediately and directly with the employee who engaged in it. Explain how gossip can harm the workplace environment and productivity. |
| Provide constructive feedback | Provide feedback to employees on how they can improve their communication skills and promote a more positive work environment. |
By taking these steps, leaders can create a culture of trust and respect, which encourages open communication and collaboration while discouraging unproductive behaviors like gossip.
Encouraging Open Communication: The Key to Addressing Workplace Gossip
Dealing with gossip at work can be challenging, but fostering open and honest communication is key to addressing it effectively. Employees who feel comfortable communicating with their colleagues and management are less likely to gossip. Here are some strategies to promote open communication:
Encourage regular team meetings to discuss work-related issues and foster collaboration.
Provide opportunities for one-on-one meetings to address individual concerns or feedback.
Create a suggestion box or feedback platform for employees to anonymize their ideas or concerns.
Rumors at work can spread quickly if left unchecked. You can prevent gossip from escalating by creating a safe and supportive environment where employees can communicate openly without fear of retaliation or judgment.
"When employees feel comfortable communicating with their colleagues and management, they are less likely to engage in gossip."
It's important to note that open communication goes both ways. Management should also be transparent and communicate openly with their employees. This means sharing company news and updates, addressing rumors or concerns, and providing feedback on employee performance.
By promoting open communication, you can create a supportive work environment where employees are encouraged to collaborate and communicate effectively, and rumors and gossip are less likely to take hold.
Establishing Clear Policies and Expectations
Gossip can be a destructive force within the workplace that is difficult to control. To effectively manage office gossip, it is important to create clear policies and expectations that discourage its use.
As a manager or supervisor, you can lead by example and create guidelines that promote a gossip-free culture. Establish a comprehensive code of conduct that explicitly discourages gossip and ensures employees know the consequences of engaging in this behavior.
Make your policies clear and concise, and provide examples of what is and is not acceptable behavior within the workplace. Consistently enforce these policies, and be sure to provide opportunities for employees to ask questions or voice concerns.
By clearly outlining your expectations and consequences, you send a message that office gossip will not be tolerated. This establishes boundaries and creates an environment where employees feel safe and respected.
Promoting Positive Workplace Relationships: Building Trust and Respect
In a workplace where gossiping is rampant, it's easy for employees to lose trust in their colleagues and for the general morale of the office to decline. The impact of gossip on workplace morale can be devastating and can lead to decreased productivity and job satisfaction. One of the most effective ways to combat gossiping in the workplace is to build positive relationships among employees and foster an environment of trust and respect.
Start by encouraging team-building activities and creating opportunities for employees to get to know one another personally. This can be as simple as organizing a company outing or hosting a monthly lunch where employees can socialize outside of work.
On a day-to-day basis, make an effort to acknowledge your colleagues and show appreciation for their contributions. Simple gestures like saying thank you or complimenting can go a long way in building relationships based on respect and positivity.
In addition, create a workplace culture that values collaboration and teamwork. This means encouraging employees to share their ideas and perspectives and providing opportunities for everyone to contribute to projects and initiatives. When employees feel that their contributions are valued and that they are an integral part of the team, they are less likely to engage in negativity and gossiping in the workplace.
Addressing Gossip Effectively: Conflict Resolution and Mediation
Dealing with workplace gossip can be challenging, but addressing it promptly and effectively is crucial to creating a conducive environment for productivity and positive relationships. The following are some tips for addressing gossip in the workplace:
1. Identify the source
To stop gossip, it's essential first to identify the source. Find out who is responsible for starting and spreading rumors. Once you know who's involved, you can take appropriate measures to address the issue.
2. Address the issue directly
If you hear gossip, avoid engaging in it. Instead, address the issue directly with the person who started it. Be calm and transparent in your communication, and avoid being confrontational.
3. Use conflict resolution techniques
If the gossip has caused a conflict between employees, use conflict resolution techniques to resolve the issue. Encourage employees to express their views and work together to find a solution that works for everyone.
4. Consider mediation
If the conflict is too difficult to resolve alone, consider mediation. A neutral third-party mediator can help employees resolve conflicts and find common ground.
5. Follow up
After addressing the issue, follow up to ensure the gossip stops. Provide feedback to employees to reinforce the importance of avoiding gossip in the workplace.
By using these tips, you can effectively address gossip in the workplace and create a more positive and productive work environment. Remember, dealing with gossip at work requires patience, communication, and a commitment to open and honest dialogue.
Educating Employees: Training Programs and Workshops
One of the most effective ways to stop workplace gossip is to educate employees about its negative impact and provide them with the necessary tools to manage it effectively. Training programs and workshops can be a valuable resource for achieving this goal.
During training programs, employees can learn how to recognize the signs of gossip and understand the consequences it can have on workplace morale. They can also learn how to address gossip effectively and promote a culture of open communication.
Workshops can provide employees with interactive and engaging activities that help them understand the impact of gossip on their colleagues and the workplace. Role-playing exercises can be particularly effective in helping employees develop the skills they need to manage gossip and conflicts effectively.
By investing in education and training programs, employers can actively empower their employees to create a gossip-free workplace culture. This can help to improve workplace relationships, boost morale, and increase productivity.
Effective gossip management requires a comprehensive approach to identify the root causes of workplace gossip, foster positive relationships among employees, and provide ongoing monitoring and feedback. By taking these steps, employers can create a healthier and more productive work environment for everyone.
Monitoring and Feedback: Ongoing Gossip Management
Managing workplace gossip is an ongoing process that requires consistent effort and attention. To ensure that your efforts to create a gossip-free workplace are successful, it is essential to continually monitor the work environment and provide feedback to your employees. By doing so, you can identify any issues and adjust your strategies accordingly.
One effective monitoring strategy is to schedule regular check-ins with your team. During these meetings, encourage employees to share any concerns and provide a safe space to voice their opinions. This practice will help you stay informed about any potential issues and address them promptly.
Another helpful strategy is to conduct regular employee surveys. These surveys can provide valuable feedback on your gossip management strategies' effectiveness and help identify improvement areas. Be sure to take the results seriously and use them to make necessary changes.
Remember to acknowledge positive behaviors and reinforce the importance of a gossip-free workplace. Consider showing appreciation to employees who actively contribute to creating a positive and productive work environment. Doing so will encourage others to follow suit and contribute to a gossip-free culture.
In summary, ongoing monitoring and feedback are crucial for effective gossip management. Ensure to creation of a culture of open communication and consistently reinforce the importance of a gossip-free workplace. Doing so can create an environment that fosters trust, respect, and productivity.
Promoting Positive Workplace Relationships: Building Trust and Respect
Positive relationships among employees are essential for creating a gossip-free workplace. When employees trust and respect one another, they are less likely to engage in gossip or spread rumors. As a manager, it's your responsibility to foster an environment that promotes positive workplace relationships. Here are a few tips:
Encourage team-building activities that promote collaboration and communication.
Lead by example and model respectful behavior towards all employees.
Encourage employees to work together on projects and delegate tasks that require cooperation.
Establish clear expectations for behavior and hold all employees accountable for their actions.
Promoting positive relationships can create a culture that values respect and trust, making it easier to manage workplace gossip.
Conclusion
Managing workplace gossip is crucial for creating a healthy and productive work environment. As we have discussed, gossip can lead to decreased productivity, lower employee morale, and damaged relationships. Identifying the root causes of gossip, encouraging open communication, and establishing clear policies and expectations are all effective strategies for managing gossip in the workplace.
It's essential for managers and supervisors to lead by example, foster positive workplace relationships, and address gossip effectively when it occurs. Providing employees with training programs and ongoing feedback can help to maintain a gossip-free workplace culture.
Celebrating success and recognizing positive behavior is also key to reinforcing a culture of trust and respect. A gossip-free workplace is essential for creating a positive and healthy work environment. By implementing these strategies, organizations can reap the benefits of increased productivity, higher morale, and stronger relationships among colleagues. Let's work together to create a gossip-free workplace.
FAQs
What are the common reasons behind workplace gossip?
Workplace gossip often stems from office politics, lack of communication, and personal insecurities.
How can conflicts arising from gossip be resolved?
Conflict resolution techniques and mediation can address conflicts arising from gossip, allowing for a fair and constructive resolution.
How can open communication help address workplace gossip?
Fostering open and honest communication creates a safe environment for employees to address concerns directly, reducing the need for gossip to express dissatisfaction or seek information.
What can employers do to address workplace gossip?
Employers should establish clear policies that explicitly discourage gossip, provide training programs on gossip management, and regularly monitor and provide feedback on gossip management efforts.
How can managers lead by example to discourage gossip?
Managers can set a positive example by refraining from participating in gossip, addressing gossip when they hear it, and promoting open communication among their team members.
Credits
Featured Image: Credits Kalawin via Canva.com
In-article Image: Credits PaulaConnelly via Canva