Disclaimer: We sometimes use affiliate links in our content. For more information, visit our Disclaimer Page. 
Intrapersonal conflict can be a significant source of stress and frustration. It can prevent us from achieving our goals and lead to negative emotions such as anger, anxiety, and sadness.
If left unresolved, intrapersonal conflict can seriously negatively impact our lives. But it's not all bad news! There are things we can do to manage and resolve these conflicts.
In this blog post, we will discuss the definition of intrapersonal conflict, explore some examples, and discuss the different types of conflicts. We'll also provide tips for managing and resolving intrapersonal conflict.
What is Intrapersonal Conflict?
It is a form of conflict within an individual. Intrapersonal conflict occurs when an individual has competing desires, values, or goals. Intrapersonal conflict can also arise from an individual's thoughts and feelings.
And it can be resolved in several ways. Some individuals may choose to resolve the conflict themselves, while others may seek help from a therapist or counselor. Resolution strategies will vary depending on the type of intrapersonal conflict present.
Related: The Importance of Intrapersonal Communication
Intrapersonal Conflict Vs. Interpersonal Conflict
Intrapersonal conflict is a battle that takes place within oneself. It can be triggered by a disagreement with someone to stress from work or school. Intrapersonal conflict can manifest as hostility, doubt, and guilt.
On the other hand, interpersonal conflicts occur between two or more people. It often stems from misunderstandings or differences in opinions. Interpersonal conflict can lead to hostility, resentment, and even violence.
It's essential to be aware of the different types of conflict so that you can identify and address them when they arise. For example, intrapersonal conflict can be resolved through self-reflection and communication, while interpersonal conflict typically requires mediation or counseling.
Related: Interpersonal Communication Skills
What are the examples of intrapersonal conflict?
One example of intrapersonal conflict is when you're uncertain about what is expected or wanted. This can lead to feelings of inadequacy or frustration. Another example of intrapersonal conflict is when you have different roles within a group or organization. For instance, you may be a parent and an employee. You might feel pulled in different directions or have difficulty meeting the demands of both roles.
Intrapersonal conflict can also arise from values clashes. For example, you may have conflicting feelings about a situation at work that goes against your values. These are just a few examples of intrapersonal conflict. If you're experiencing any internal conflict, it's essential to address it head-on. Ignoring the conflict will only make it worse. Instead, talk to someone you trust about what's going on and see if they can help you figure out a resolution.
What are the examples of interpersonal conflict?
One example of interpersonal conflict could be two coworkers who have very different work styles and constantly butt heads with each other. Another example might be a couple continually fighting about money or parenting decisions. Any situation in which two or more people interact can lead to conflict.
It's important to remember that not all conflict is destructive. Healthy conflict can be beneficial, as it allows people to air their grievances and work through them. However, if the interpersonal conflict gets out of hand, it can damage relationships. Therefore, it's essential to recognize the signs of unhealthy conflict and take steps to resolve it before it does too much damage.
What are the four types of conflicts?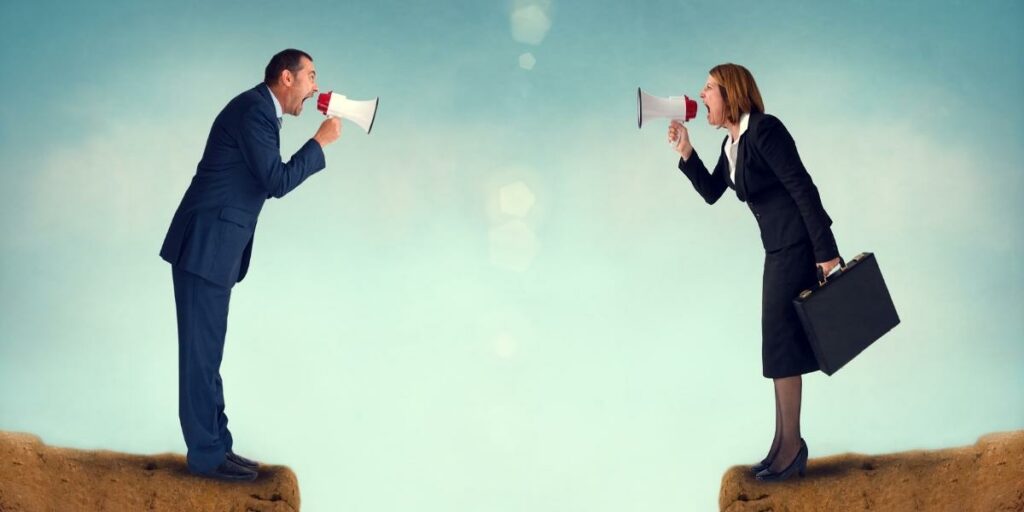 The four types of conflicts in an organization are task, relationship, identity, and value.
Task conflict
Task conflict is a situation that arises when two or more individuals are trying to complete the same task. This can lead to confusion, frustration, and tension as each tries to assert their priorities and preferences.
It can be caused by various factors, including different work styles, conflicting opinions, and lack of communication. Therefore, it is essential to resolve task conflict as quickly as possible to avoid negative consequences such as decreased productivity or interpersonal conflict.
Several strategies can resolve task conflict, including negotiating, compromising, and mediating. However, it is important to keep in mind that the best approach will vary depending on the situation and the people's personalities.
Task conflict can be challenging to deal with, but it is essential to remember that it is not always bad. Task conflict can sometimes lead to improved productivity and creativity. If handled correctly, task conflict can be a positive thing for the workplace.
Relationship conflict
Relationship conflict is a term used to describe any disagreement or argument between two or more people in a relationship. This can include married, dating, living together, or simply being friends. Relationship conflict can damage a relationship and often lead to verbal fights, physical violence, and even break-ups.
There are many different types of relationship conflict, and each one can be highly damaging to a relationship if it is not resolved. Some of the most common types of relationship conflict include:
Communication problems: This type of conflict arises when two people have difficulty communicating effectively. This can lead to misunderstandings and arguments.
Finances: Money is often a source of conflict for couples, especially if they have different spending habits or disagree about spending money.
Infidelity: This is one of the most damaging types of relationship conflict and can often lead to break-ups. Infidelity occurs when one partner has an affair or is cheating on another.
Parenting disagreements: This conflict often arises when couples have different opinions about raising their children.
Stress: Stress can often cause tension and conflict in a relationship, especially if one or both partners deal with many stressors in their lives.
If you are experiencing conflict in your relationship, seeking help from a professional therapist or counselor is essential. They can help you work through the conflict and hopefully resolve it. However, if the conflict is too severe or both partners are unwilling to compromise, the relationship may be doomed.
Identity conflict
Identity conflict is when a person's sense of self conflicts with the roles or values expected of them by others. This can be due to cultural, religious, social pressures, or individual differences. Identity conflict can cause a lot of distress and lead to problems in relationships and work or school.
There are two main types of identity conflict: developmental and situational.
Developmental identity conflict arises during adolescence when a person is trying to figure out who they are and what they want to do with their life. Situational identity conflict happens when a person is in a situation where they have to choose between two different identities. For example, a person might be torn between cultural and national identities.
There are several ways to deal with identity conflict. One is to find a way to reconcile the different parts of your identity. Another is to choose one identity over the other. Finally, you can accept that your sense of self is in conflict and find a way to live with it. Whatever approach you choose, it is essential to support family, friends, or professionals.
Identity conflict can be a challenging experience, but it is possible to work through it and find a way to live with your unique identity. If you are struggling with identity conflict, please talk to someone who can help you. There is support available, and you are not alone.
Value conflict
Value conflict is a type of disagreement that can arise when people have different ideas about the worth of something. It can be especially challenging in business contexts, where disputes about money or other assets can lead to tension and conflict.
One common source of value conflict is disagreement about what is worth to a particular person. For example, imagine that two people are bidding on a piece of art. One person might believe that the art is worth $1,000, while the other might think it is only worth $500. These two people will likely have difficulty reaching an agreement, as they disagree about the value of the art to them.
Value conflict can manifest in different ways. For example, sometimes people might disagree about the value of a particular object, such as a piece of art. Other times, they may disagree about the value of an idea or concept, such as whether a new product is worth bringing to market.
Regardless of how it arises, resolving value conflict can be difficult. Often, it requires compromise from both parties involved. In some cases, it might be necessary to seek outside help to resolve. Whatever the case, it is essential to understand the nature of value conflict and best address it.
Conflict is a normal and natural part of life. It can arise in any relationship, whether with a partner, friend, or family member. It can be challenging to deal with, but there are ways to overcome it. If you are experiencing conflict in your life, please seek help from a professional therapist or counselor. They can assist you in learning how to communicate and resolve conflict effectively.
What are the four levels of conflict?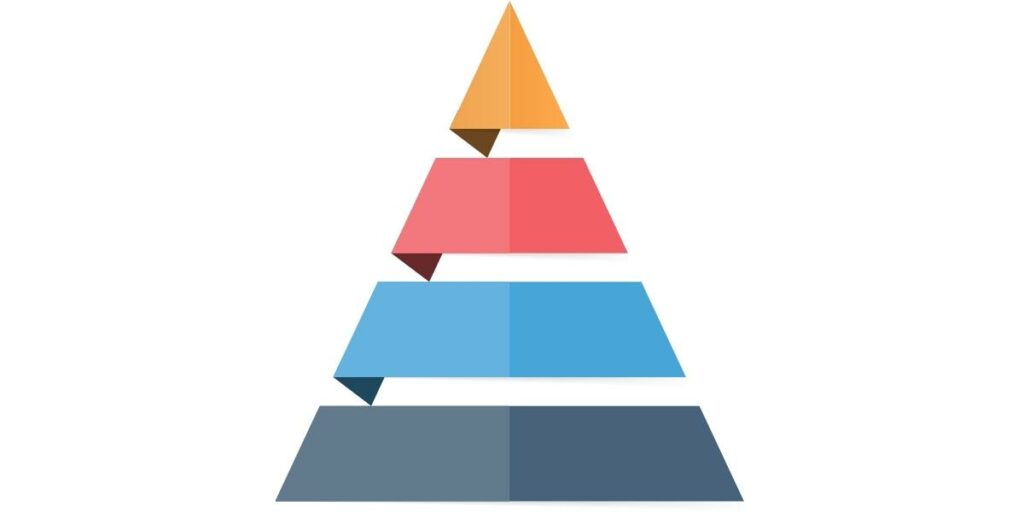 Intrapersonal Conflict
The first level of conflict is known as intrapersonal conflict. This occurs when an individual experiences inner turmoil or disharmony. Intrapersonal conflict can be caused by various factors, such as stress, anxiety, depression, or self-doubt. This type of conflict can often be resolved through self-reflection and exploring different ways of thinking or behaving.
There are several different ways to deal with intrapersonal conflict. One way is to find a compromise between the other parts of yourself. You can also understand why you feel this way and what might be causing the conflict. You can also talk to someone else about the conflict or write about it in a journal.
Interpersonal Conflict
The second level of conflict is interpersonal conflict. Interpersonal conflict is when two or more people have incompatible goals, desires, or ideas. It can arise in any relationship, whether it be between friends, family members, coworkers, or romantic partners.
There are many different types of interpersonal conflict, and each one can be pretty damaging to the relationship if not resolved. Some of the most common types of conflict include:
Power struggles: This type of conflict often occurs when one person tries to dominate the other or disagrees over who makes decisions in the relationship.
Communication breakdowns: Misunderstandings and lack of communication are breeding grounds for conflict. When people can't or won't talk to each other about their feelings, problems tend to fester and grow.
Personality clashes: Conflict is almost inevitable if two people don't get along because their personalities are incompatible.
Intimidation and manipulation: When one person uses threats, coercion, or emotional blackmail to get what they want, it can result in many conflicts.
Resentment: If one person feels like they're always doing all the work in the relationship or their partner never listens to them, resentment can build up and lead to conflict.
No matter what the cause, interpersonal conflict is never a pleasant experience. It can lead to feelings of anger, frustration, sadness, and betrayal. If left unresolved, it can even destroy relationships entirely.
However, if dealt with constructively, interpersonal conflict can be positive. It can help couples or family members learn more about each other and prompt them to communicate more effectively. It can also help them identify and address any underlying problems in the relationship.
Intragroup
This level of conflict is a form of dispute that occurs among group members when they have differing views, backgrounds, and experiences. In addition, differences in communication styles and personalities can contribute to this type of conflict. Intragroup conflict can hinder productivity and cause tension within the group. However, if it is managed effectively, intragroup conflict can be beneficial, leading to better problem solving and increased creativity.
There are several ways to manage intragroup conflict. The most important thing is to ensure that everyone feels heard and understood. Open communication is critical, and everyone should be encouraged to express their thoughts and feelings.
It is also important to establish ground rules for operating the group and ensure everyone follows them. Then, if necessary, a mediator can help the group resolve its conflicts. But, ultimately, it is up to the group members themselves to resolve intragroup conflict in a way that is beneficial to all involved.
Intragroup conflict can be a challenging but ultimately rewarding experience. By working through their differences, group members can learn more about themselves and each other, developing better problem-solving skills. Moreover, if managed effectively, intragroup conflict can lead to a more productive, cohesive group.
Intergroup
Inter-group conflict generally refers to any disagreement or conflict between two or more groups. This can include anything from minor disputes to full-blown wars. However, it's important to note that this definition is not limited to just interpersonal relationships or group interactions; intergroup conflict can also exist between organizations, companies, political parties, activist groups, and any other type of social entity.
Several different factors can contribute to intergroup conflicts. Some of the most common include competition for resources, fear or hostility towards other groups, and misunderstandings or misinterpretations of the other group's intentions or motives. Additionally, if the groups involved have different power levels or social statuses, this can also lead to conflict.
What are the 5 Common Types of Workplace Conflicts?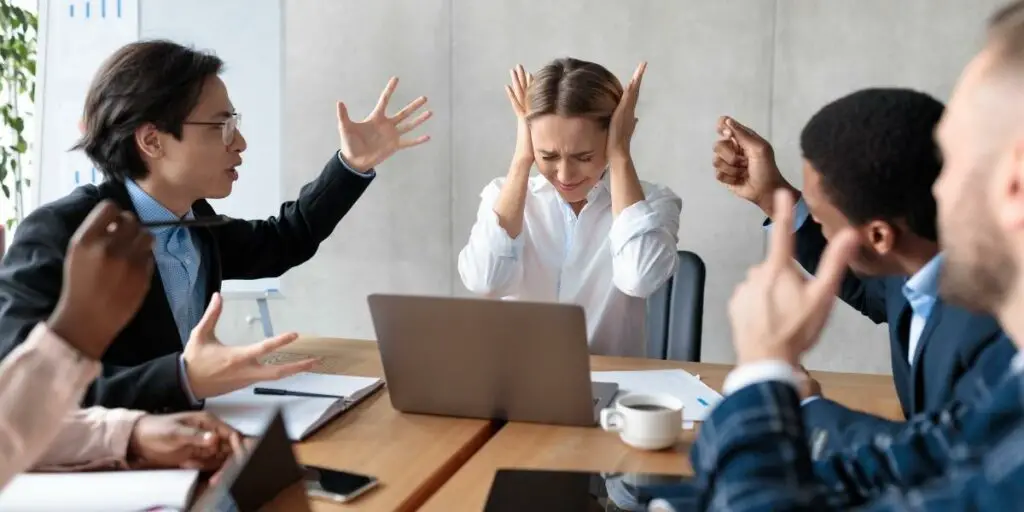 The five common types of organizational conflict are Leadership Conflicts, Creative Conflicts, Work Style Conflicts, Personality Conflicts, and Task-Based Conflicts.
Leadership Conflicts
Leadership conflicts can arise in any organization, but they are ubiquitous in hierarchical organizations with a robust chain of command. A leadership conflict is a disagreement between two or more people who have authority within an organization. The root causes of leadership conflicts vary, but they often stem from differences in personality, opinion, or goals.
This type of conflict can harm an organization, decreasing productivity and damaging morale. Therefore, to resolve a leadership conflict, it is essential to identify the root cause of the disagreement and address it head-on. If left unresolved, a leadership conflict can eventually result in the break-up of an organization.
Leaders need to be aware of the potential for leadership conflicts and take steps to prevent them from occurring. Leaders can do this by establishing clear goals and expectations, building a collaborative team environment, and communicating effectively with their subordinates. If a leadership conflict arises, it is crucial to address it quickly and calmly to maintain productivity and morale.
Creative Conflicts
Creative conflicts are a normal part of the creative process. They occur when people have different ideas about approaching a creative project. These conflicts can be frustrating, but they also present an opportunity for growth and learning.
Conflicts often arise from differences in opinion or perspective. For example, one person may want to focus on the creative aspects of the project, while another may be more concerned with practical considerations. These differences can lead to tension and conflict, but they can also help to generate new ideas and solutions.
Also, conflicts can arise from different areas of expertise. For example, a designer and a developer may have other ideas about how a website should look or function. These conflicts can be resolved through discussion and compromise.
If you're experiencing a creative conflict, staying calm and constructive is essential. Try to listen to the other person's point of view, even if you disagree with it. And remember that there is no right way to approach a creative project. However, by working through your differences, you can often find an innovative solution that everyone can be happy with.
Work Style Conflicts
Workstyle conflicts are disagreements between employees about how work should be done. For example, they can arise when people have different ideas about the best way to complete a task or disagree on the priorities of a project. Workstyle conflicts can also occur when employees have different preferences for how they like to work (e.g., some people prefer to work independently, while others prefer to work in a team).
This type of style conflict can be disruptive and lead to decreased productivity. They can also cause tension between employees and create an uncomfortable working environment. Therefore, it is essential to address workplace conflicts quickly not to become more significant problems.
There are several steps you can take to resolve work style conflicts:
First, talk to the employees involved and try to understand their perspectives.
Come up with a plan that everyone can agree on.
Put the plan into action and monitor how it is working.
Make adjustments as needed.
Personality Conflicts
Personality conflicts in the workplace are characterized by ongoing and unresolved disagreements between two or more employees. These conflicts often lead to adverse outcomes such as decreased productivity, absenteeism, and job turnover. In some cases, personality conflicts can also result in violence.
Several factors can contribute to personality conflicts in the workplace, including differences in personality type, goals and values, and communication styles.
Personality conflicts can be challenging to resolve because the root of the conflict is often based on personal preferences or opinions. To address a personality conflict effectively, both parties must understand why the conflict exists and what needs to be resolved.
Task-Based Conflicts
Task-based conflicts are disagreements that arise from how work tasks are carried out. These conflicts can be caused by various factors, including differences in opinion on how best to complete a task, personality clashes, or different working styles.
This type of conflict is often unavoidable in the workplace, but it doesn't have to be destructive. If managed correctly, these conflicts can be positive, leading to better outcomes and increased productivity. However, task-based conflicts can decrease morale, productivity, and even workplace violence if not appropriately handled.
If you're experiencing a task-based conflict at work, it's essential to take steps to resolve it as quickly and effectively as possible. The following tips can help:
Talk to the other person involved in the conflict and understand their perspective.
Come up with a plan for how you can work together more effectively.
Communicate openly and frequently with each other about your progress on the task at hand.
If you're still having difficulty resolving conflict, seek help from a supervisor or HR representative.
Related: How Communication Competence is an Essential for Your Business Growth
What is Workplace conflict between groups?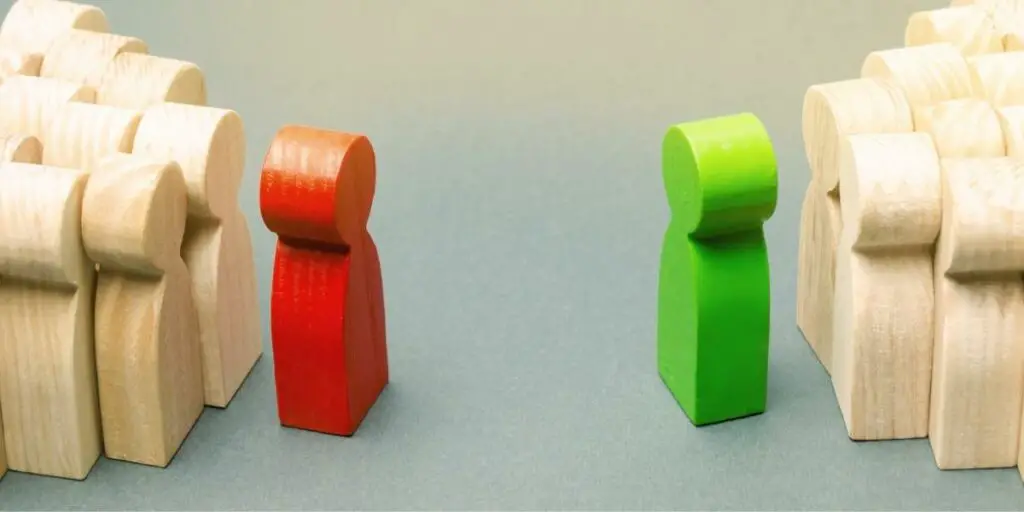 Conflict in Organizational Behavior between groups can take many forms but often stems from team rivalry, disagreements, or resentment. This type of conflict can create a 'them and us' mentality between large groups of employees and their managers, leading to poor morale, low motivation and disagreement over pay, health and safety, redundancies, and lack of proper consultation.
If left unchecked, workplace conflict between groups can severely negatively impact productivity and profitability. Therefore, it is essential to address these issues as soon as they arise to prevent them from escalating.
There are several ways to resolve workplace conflict between groups. One option is to bring the parties together and find common ground. Alternatively, you could appoint a mediator to help facilitate negotiations.
If neither of these approaches is successful, it may be necessary to take more drastic measures, such as disciplinary action or dismissal. However, it is always preferable to try and resolve the issue through negotiation and discussion first.
5 Benefits of Workplace Conflict
The following are the five benefits of Workplace Conflict.
Teaches flexibility and problem-solving
When two people are arguing or disagreeing, they are both working to solve the conflict. This can teach employees how to be more flexible and solve problems creatively. This is especially important in the modern workplace, where constant change and new challenges arise daily.
More creative and innovative Solutions
When people are forced to resolve a conflict, they often come up with more creative and innovative solutions than if they had not been in a conflict at all. This is because they have to think outside the box to find a way to solve the problem.
Conflict can also lead to new ideas, as people are forced to think about the issue from different perspectives.
Practice communication skills
Conflict provides a perfect opportunity for employees to practice their communication skills. For example, when two or more people argue, they have to communicate to find a resolution. This can help employees learn how to effectively communicate with others, an essential skill in the workplace. Good communication skills are critical to productive and successful teamwork.
Practice emotional control
When people conflict, they often have to deal with strong emotions such as anger, frustration, and fear. Therefore, this can be an excellent opportunity for employees to practice emotional control. Learning how to control their emotions can help employees stay calm and collected in the face of challenging situations.
It can also help them avoid making decisions based on emotions, leading to problems down the road.
Increases Productivity Immensely
Last but not least, workplace conflict often leads to increased productivity. When people conflict, they are often motivated to find a resolution quickly to get back to work. This can lead to employees working more efficiently and getting more done in a shorter time.
Overall, conflict can be a stressful and challenging situation, but it can also be an opportunity for employees to learn and grow. These four benefits of workplace conflict show that it is not always bad. Conflict can lead to better communication, more creative solutions, and even emotional growth when handled correctly.
6 Ultimate solutions for resolving any type of conflict
So, what are the best ways for conflict management? Here are six ultimate solutions that can help you resolve any type of conflict:
#1: Compromise
Compromise is often seen as the middle ground between two groups. It's a way to find common ground and meet in the middle. Compromise can be difficult, but it's often the best way to resolve conflict.
#2: Communication
Another solution is communication. If you can communicate openly and honestly with the other person, it will go a long way towards resolving the conflict. Communication doesn't have to be verbal either – you can also use body language or facial expressions to communicate your feelings.
#3: Actively Listen
When you're in the middle of a conflict, listening to what the other person says can be challenging. However, if you want to resolve the conflict, you must do. Actively listening means paying attention to what the other person is saying and understanding their point of view. It won't always be easy, but it's worth the effort.
#4: Forgive and Forget
Another solution is to forgive and forget. This may be difficult, but it can be the healthiest thing for both parties involved in the conflict. If you can forgive and forget, you'll free yourself from any negative feelings that are holding you back.
#5: Confrontation
Confrontation can be scary, but sometimes it's necessary to manage conflict. If you can confront the other person and talk about the issue openly, it can often lead to a resolution. However, confrontation should only be used as a last resort – it's not always the best way to deal with conflict.
#6: Avoidance
One of the best in conflict management styles is avoidance. This may seem like an obvious solution, but it's often the most common way to deal with conflict. Avoidance can take many forms, such as pretending the conflict doesn't exist, withdrawing from the situation, or simply not talking about the issue. Unfortunately, while avoidance may seem like an easy way out, it often worsens in the long run.
So, these are six of the best conflict management strategies. By using one or more of these strategies, you can hopefully resolve the conflict and move on with your life.
Related: Communication Is Key
Final Thoughts
Conflict is a part of life, and it's something that we're all going to experience at some point. However, that doesn't mean that we have to let conflict control us. There are many different ways to Resolve conflict, and the best way to find out what works best for you is to experiment a little bit.
Try out different solutions and see what works best for you. Conflict doesn't have to be a bad thing – when handled correctly, it can lead to better communication, more creative solutions, and even emotional growth. So don't be afraid of conflict – embrace it!
Thanks For Reading!
FAQs (Frequently Asked Questions)
What is horizontal conflict?
It is a dispute involving two or more channel members at the same level. For example, assume a toy company has agreements with two wholesalers, one in each of two separate geographic areas.
What is Role conflict?
When a person is faced with two or more conflicting demands placed on them in their job or role, they may be experiencing role conflict. In addition, when individuals are forced to respond to the many statuses they possess, they can become confused about which direction to take.
What is organizational behavior?
Organizational behavior is the scientific study of how people interact in groups. The concepts of organizational behavior are mainly used to improve business performance.