Disclaimer: We sometimes use affiliate links in our content, meaning, at no additional cost to you, we will earn a commission if you click through and make a purchase. For more information, visit our Disclaimer Page. 
A financial professional will prepare many statements and sheets for the business, but one is very important.
The post-closing trial balance helps ensure everything has been recorded in good detail so it can be used effectively when making strategic decisions about growing an area or purchasing large equipment to increase production levels at some point down the line (if necessary).
What Are Post Closing Trial Balance?
One of the most critical documents in any company's financial records is its post-closing trial balance. The post-closing trial balance is used to ensure that all debit balances add up to the total of all credit balances, which should net to zero.
The purpose of this statement is quite simple; it provides an accurate representation of what kind of shape your company's finances are in before you decide whether or not dissolution would be beneficial for everyone involved, with no hidden surprises later on. The PCTB is also an essential document for tax purposes. It will help the IRS determine if any taxes are owed from its operations during the accounting period in question.
So, ensuring that this statement is accurate (and complete) is of utmost importance! Lastly, some businesses might find themselves needing to do a post-closing trial balance for their closing process, no matter if they're closing their doors permanently or temporarily due to COVID-19 restrictions impacting retail sales across the country (and the world).
Related: What is Ledger Balance?
Types of trial balance
There are three main types of trial balance:
1. Unadjusted trial balance
The first trial balance you'll prepare for the accounting period after you've recorded and posted all transactions to the ledger is the unadjusted trial balance.
This is an essential function that you may use to determine how accurate a company's debits and credits are before any month-end modifications are made.
Check to see if the debit balances and credits match after you've added them all up. You could need to add items you hadn't previously recorded or discover that you've done something incorrectly.
2. Adjusted trial balance
As the name implies, the adjusted trial balance is calculated after the unadjusted trial balance. It reflects insurance premiums paid, prepaid expenses, and accumulated depreciation, among other figures. Its goal is to see whether the debits and credits are similar after you've added all of the adjusting records.
3. Post closing trial balance
After you've finished your adjusted trial balance, it's time to record post-closing transactions for the month. The goal of closing entries is to finalize all temporary accounts and adjust the real account balances. The post-closing balance of debits and credits must match like any other trial balance.
Are all three trial balance reports required? The complete accounting cycle includes all three trial balance reports: unadjusted trial balance, adjusted trial balance, and post-closing trial balance. Run the trial balance reports to ensure that all transactions are accurately accounted for. 
Post-closing trial balance format
The post-closing trial balance format is the same as any other trial balance, but only the real account balances are shown. This is because all of them have been closed in this final step, which means no temporary accounts are left to report on.
There are three columns, one for account names, one for debits and credits, and one for credits. Only balance sheet accounts are included on this trial balance, which is presented in the order of assets, liabilities, and equity.
The debit and credit columns are calculated at the bottom of a trial balance, like the unadjusted and adjusted trial balances. Therefore, the totals in both columns should be equivalent.
How To Prepare A Post Closing Trial Balance
The process of preparing a post-closing trial balance is quite simple. All you need is the most recent financial statements for your company and a good understanding of how to read them!
Once you have those in hand, start reviewing each account and ensuring that it's listed on your PCTB. For example, if an account has been closed during the accounting period, make sure it doesn't appear on this document. That would indicate an error somewhere along the way (and could lead to inaccurate information being reported back to investors).
Once you've double-checked against each account for accuracy, then go ahead and move on to adjusting entries. This is where you'll make any changes necessary to the account totals to reflect what was experienced during the accounting period.
Once all of your adjustments have been made, you should have a pretty good idea of what the post-closing trial balance looks like for your company! From there, it's just a matter of making sure that your financial statements are accurate before sending them out to investors or stakeholders.
Example of Post Closing Trial Balance
You'll include a header that consists of the company's name, what you're naming your balance sheet, and when it was closed to accountants. Below this information will be columns about each account with balances such as debit or credit amounts under them, respectively totalizing up all of these values at the bottom line in one comprehensive row. Hence, there is no mistake about who has been paying attention during class today!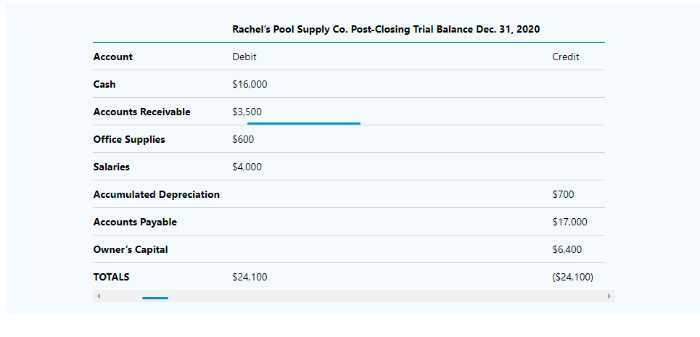 The above template is by Indeed, and you can download it by clicking here.
Final Thoughts
The post closing trial balance is an important document that helps to ensure the accuracy of your financial statements. By double-checking all of the account balances and making any necessary adjustments, you can be sure that everything has been finalized and reported correctly.
This final step in the accounting process is a crucial part of ensuring that investors and other stakeholders have an accurate view of your company's financial health.
Thanks For Reading!