Disclaimer: We sometimes use affiliate links in our content. For more information, visit our Disclaimer Page. 
How do we instill skills like communication, problem-solving, leadership, and teamwork in a group of teenagers? The answer is simple – through team-building activities for teens! Interactive and engaging, these activities can be used in various settings, such as schools, youth groups, or community organizations.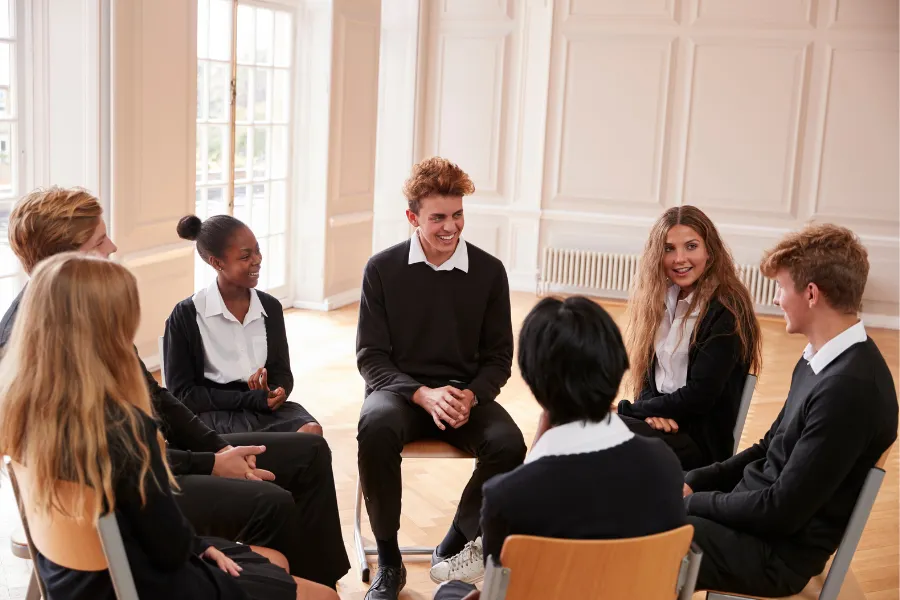 Why Team Building?
Before we delve into the numerous team-building activities available, let's look at why team-building is essential for teenagers. Team building promotes collaboration skills, enhancing both social and interpersonal skills. It is a fun way to help teens develop critical thinking and problem-solving skills while fostering a spirit of camaraderie.
Through different team-building activities, we encourage not only the growth of individual teens but also the development of the team as a unit. Understanding the value of every team member, including the roles of other team members, and how to work collaboratively are significant lessons embedded in these activities.
The Treasure Trove of Team Building Activities for Teens
There's a wealth of team-building activities for teens. Below, we've hand-picked a selection that not only fosters teamwork and collaboration skills but also ensures a fun and engaging experience for all participants.
Human Knot
This classic team-building activity is a great way to encourage problem-solving skills. All the teens stand in a circle and reach across to grab the hands of two others, creating a "human knot." The challenge is to untangle the knot without letting go of any hands. It may take a few tries, but the satisfaction of straightening out into a circle is well worth the effort.
The Shrinking Classroom Divide
In this team-building activity, divide students into two groups. The first team gets a shrinking classroom scenario. They must strategize to stay within the designated area while it shrinks gradually over a set time limit. This game fosters creative thinking and problem-solving skills, especially when the classroom's size gets smaller and smaller.
Hula Hoop Relay
A fun team-building activity that fosters teamwork skills is the Hula Hoop Relay. Form two teams, each in a straight line, holding hands. The first team member in each line must pass the hula hoop over their body to the next person without breaking the handhold. The team that gets the hula hoop to the end of the line first is the winning team.
Obstacle Course Relay
In this team-building activity, you will divide students into two groups, creating an exciting challenge. Set up an obstacle course and let each team race against time. The aim is to complete the course and return to the starting point. The obstacle course relay promotes teamwork and strategic thinking while offering an active and enjoyable experience.
Silent Line Up
Silent Line Up is a team-building activity that enhances communication skills without verbal instructions. In this game, all the teens stand randomly and must rearrange themselves in a specific order (like by birth date or height) without talking. This activity promotes problem-solving and creative thinking, and it's always fun to watch the different non-verbal strategies that emerge!
Scavenger Hunt
Who doesn't love a good scavenger hunt? This team-building activity encourages problem-solving and strategic thinking. Teens are divided into two teams and given a list of items or clues. The first team to find all the items or solve all the clues within the set time limit wins. To make it more interesting, you can set up a themed scavenger hunt.
Murder Mystery Games
One of the most engaging team-building activities for teens is a murder mystery game. Prior to the activity, assign characters to each participant and explain the background story. The game facilitator presents a murder case, and the teens must work collaboratively to solve the mystery. This is not only a fun activity, but it also promotes critical thinking and communication skills.
Jump Rope Challenge
A jump rope challenge can be a fun team-building activity. In this game, each team must jump rope together, fostering teamwork and collaboration. The first team to reach a predetermined number of jumps wins. This activity promotes communication among team members as they need to synchronize their jumping to succeed.
Nurturing Essential Skills Through Team Building
The importance of team-building activities for teens cannot be overstated. Each team-building activity helps cultivate an array of essential skills.
Leadership Skills
Activities like the obstacle course relay and scavenger hunt naturally lead to leadership roles within teams. These experiences teach teens how to lead, listen, and execute decisions efficiently. Team building activities for teens offer a safe space to develop and demonstrate leadership skills.
Communication Skills
Many team-building activities, like Silent Line Up or the Human Knot, require clear and effective communication. These activities provide a platform for teens to develop and practice communication skills in a fun, low-pressure environment.
Problem-Solving Skills
Whether it's the Human Knot or the Murder Mystery Games, problem-solving is at the core of these team-building activities. Teens learn to brainstorm, analyze, and implement solutions to challenges. In the process, they enhance their critical thinking abilities.
Teamwork Skills
Every team-building activity for teens, by nature, promotes teamwork skills. Whether it's a relay race or a scavenger hunt, teens must work collaboratively to achieve the shared goal. The lessons learned about trust, cooperation, and group dynamics are invaluable.
Empowering Teens for a Collaborative Future
As we propel into an increasingly collaborative future, the ability to work effectively within a team is paramount. Team building activities for teens not only foster essential skills but also empower our future leaders to take on challenges, work cohesively, and communicate effectively. As educators, parents, or community leaders, our role is to create a supportive environment where these skills can flourish.
Whether it's through team-building activities for teens or fostering a culture of collaboration and respect, the goal is to prepare our young people for a future where teamwork, leadership, and problem-solving skills are central to success. These building activities for teens are an investment in their personal growth and their future.
Team-building games, in particular, offer a unique combination of fun and learning. These games encourage healthy competition among teens, allowing them to interact in a light-hearted yet skill-building environment. Activities like the obstacle course relay, hula hoop relay, or the jump rope challenge add an element of physical activity, making the experience even more engaging.
In the digital age, where screen time often overshadows real-life interactions, team-building activities for teens provide a breath of fresh air. They encourage face-to-face interaction, cultivate empathy, and facilitate understanding and respect among peers. This, in turn, enhances their social skills and emotional intelligence – important facets of their overall development.
Moreover, team-building activities for kids can be introduced at a young age. Starting early not only sets the foundation for teamwork but also eases the transition to more complex team-building activities for teens as they grow older. This continuity can foster a strong team spirit and create a culture of collaboration from a young age.
Let's not forget, team building is also about fun. Games like scavenger hunts or murder mystery games add an element of excitement and adventure to the mix. They offer an escape from routine and allow teens to explore their creative and strategic thinking abilities.
When teens are engaged in fun team-building activities, they are more likely to be receptive and participative. It creates a conducive learning environment where each teen plays an active role, contributing to the team's success. This sense of achievement and the bonds formed during these activities are what make team building such a rewarding experience.
A crucial aspect of any team-building activity is the debriefing or reflection phase. After each game or challenge, take time to discuss the experience. What were the challenges? How were they overcome? What could have been done differently? This reflection helps teens make sense of the experience, relate it to real-life scenarios, and learn important lessons.
The teens are not the only ones who benefit from these activities. Teachers, parents, and mentors get a chance to observe the dynamics of the team, the strengths of each team member, and areas where support is needed. This knowledge is valuable for future guidance and for enhancing the effectiveness of future team-building activities.
Related: Leadership Activities for Teens
Creating an Atmosphere of Teamwork and Collaboration
The first step in promoting team building is to create an atmosphere that values teamwork. Recognize the efforts of teams in addition to individual achievements. Encourage mutual respect, open communication, and collaboration. Foster an environment where each team member feels valued and heard.
Remember, team building is not a one-time activity, but a continual process. Regularly incorporating team-building activities for teens into their routines can help foster these skills and keep them sharp. Not to mention, it keeps the environment fun and engaging.
Variety is the key when it comes to team-building activities. Mix up the activities to cater to different interests and learning styles. Keep experimenting and innovating to keep the interest alive.
Related: Examples of Leadership Roles in High School
Conclusion
Team-building activities for teens are an integral part of their developmental journey. They equip our future generation with the skills needed to navigate the world, professionally and personally. So, let's invest in these activities, for they are not just games, but stepping stones to a future where collaboration, respect, and understanding reign supreme.
FAQs
Why are team building activities important for teens?
Team-building activities help foster important team-building skills such as communication, problem-solving, leadership, and collaboration. These skills are not only important in school settings but also in personal and professional life. Engaging in these activities helps teenagers to understand the value of teamwork and instills in them the qualities of empathy, respect, and understanding.
What are some examples of team building activities for teens?
Examples include the Human Knot, Silent Line Up, Murder Mystery Games, Relay Races, Hula Hoop Challenge, Jump Rope Challenge, Scavenger Hunt, and Obstacle Course Relays. These activities cater to a wide range of interests and skill sets, making them versatile and accessible.
How often should we conduct team building activities?
Team building should be a regular part of a teen's routine. This can vary from once a week to once a month depending on your schedule. The key is consistency, as these skills develop and improve over time.
Can these activities be adapted for different group sizes?
Yes, most team-building activities for teens can be adapted for different group sizes. Some activities may require a minimum number of participants to be effective, but usually, there are ways to modify the game to fit your group size.
What is the ideal age to start team building activities?
Team building activities can be introduced at a very young age. However, the complexity and nature of the activities should be age-appropriate. Simple games that encourage sharing and cooperation can be introduced in early childhood, while more complex problem-solving and leadership-building activities are more suitable for teenagers.