Disclaimer: We sometimes use affiliate links in our content. For more information, visit our Disclaimer Page. 
Navigating the job market can be daunting, but knowing when you're on the verge of receiving a job offer can ease some anxiety. In this blog post, we will uncover 5 clear signs you will receive a job offer and help you become more confident about securing your dream position.
Key Takeaways
Extended interview processes and positive feedback are clear signs that a job offer may be on the way.
Requests for availability, invitations to meet the team, and discussions of future projects or goals could indicate a potential job offer.
Pre-employment screening requests, salary range offers, and a good gut feeling all suggest you're about to receive a job offer.
To gauge your chances of receiving an offer, evaluate the job description against your qualifications and pay attention to the interviewer's behavior and tone during interviews.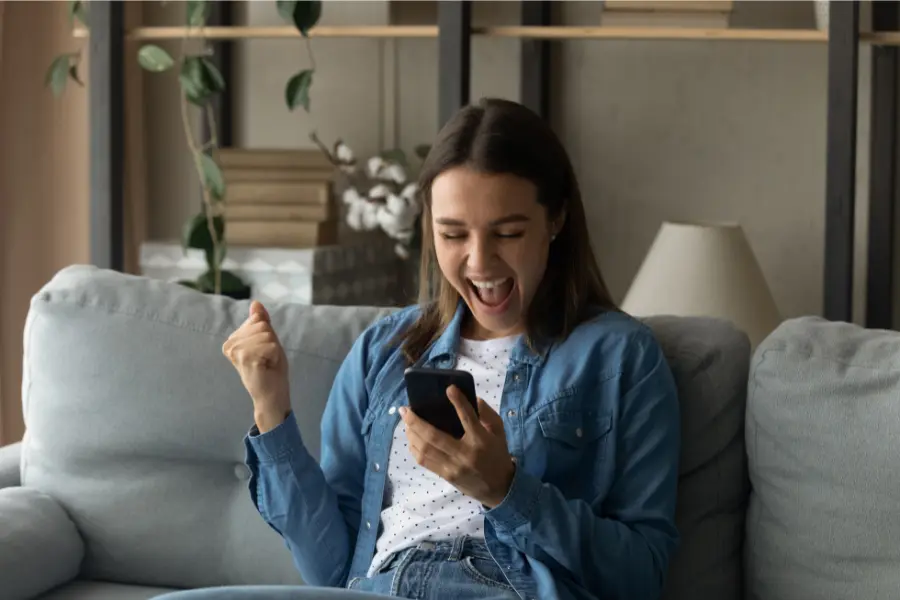 Clear Signs You're About To Receive A Job Offer
Waiting for a job offer can be stressful. But there are promising signs you should watch for. These signs suggest you might get an offer, like longer interviews and reference checks. Here are five clear signs that a job offer could be coming. But remember, every company is different.
Extended Interview Process
An extended interview process can strongly indicate that you are on the verge of receiving a job offer. Companies often invest additional time and resources in candidates they are seriously considering for a position, conducting multiple interviews or including various team members in the hiring process.
For example, if you have already completed an initial phone screening followed by one or more in-person interviews and then receive an invitation to participate in further discussions or meet additional team members, take it as a positive sign that the company is genuinely interested in hiring you.
Positive Feedback From Interviewers
Positive feedback from interviewers strongly indicates that you are being considered for the job. This feedback can come in various forms, such as compliments about your skills and experience or comments on your personality and how well you would fit in with the company culture.
For example, if an interviewer mentions that they were impressed by your communication skills or your ability to work well under pressure, it's a positive sign. Additionally, if they mention that they enjoyed speaking with you and felt like you would be a good addition to their team, it's definitely something to feel encouraged about.
References Are Contacted
If the hiring manager takes the initiative to contact your references, this strongly signals that they are seriously considering you for the position. It's a clear sign that you have made it past the initial screening processes and has impressed them enough to warrant follow-up with those who can vouch for your work ethic and abilities.
The way in which they communicate with your references may also give you an indication of how interested they are in offering you the job.
Follow-Up Communication
Prompt and consistent follow-up communication from the interviewer after an interview clearly shows that you are being seriously considered for the job offer.
This could include emails, phone calls, or even text messages to touch base with you and keep you updated on your application status. One example would be receiving an email thanking you for your time coming in for the interview and mentioning the next steps in the hiring process.
Another example would be receiving a call to request more information about past experience or qualifications.
A Request For Availability
If a potential employer requests your availability for the next few weeks, it is likely that they are seriously considering you for the position and planning to extend a job offer.
This request shows they are interested in moving forward with the hiring process and want to know if your schedule aligns with theirs. It's essential to respond promptly and professionally, indicating any potential conflicts or limitations while highlighting your eagerness for the opportunity.
Signs That The Job Offer May Not Be Far Off
– If the recruiter discusses future projects or goals with you, it's a sign that they see a potential fit for you at the company.
– An invitation to meet the team or visit the office can indicate that they want you to join their work environment.
– A job offer may not be far off if the interviewer offers a salary range or requests documentation and pre-employment screening from you.
A Discussion Of Future Projects Or Goals
During the interview process, if an interviewer begins discussing future projects or goals with you, it is a clear sign that they are interested in your potential contributions to the company.
This could mean they see you as a valuable candidate and want to involve you in planning for the future.
For example, if you're applying for a marketing role at a tech start-up, the interviewer may discuss upcoming product launches and ask for your input on campaign strategies.
This indicates that they value your expertise and are considering offering you a role where you can make meaningful contributions to their success.
Invitation To Meet The Team Or Visit The Office
Inviting a candidate to meet the team or visit the office is an excellent sign that a job offer may be on its way. This invitation shows that the company is interested in introducing you to their team members, which can give you an idea of what it would be like working with them.
Meeting your potential colleagues gives you an opportunity to ask questions and see whether their personalities and work styles align with yours. Moreover, touring the office could provide insight into how employees work together and how organized they are.
Offer Of A Salary Range
If the interviewer offers a salary range during the interview, it's a positive indication that they are seriously considering you for the position. This discussion could be an opportunity to discuss your expectations and negotiate if necessary.
For instance, suppose you applied for a digital marketing manager role at a reputable company and were asked about your expected salary range during the interview. They offer you their estimated base pay of $80,000 – $100,000 per year based on your qualifications and experience as per market research in similar roles.
By doing so, not only do you paint yourself as someone knowledgeable about compensation packages, but you also show that the company has factored in your abilities when determining their offer.
Request For Documentation Or Pre-Employment Screening
Another clear sign that you're about to receive a job offer is when the company requests documentation or conducts pre-employment screening.
This could include background checks, drug tests, or verifying your past work experience.
If you receive a request for documentation or pre-employment screening, take it as a positive sign and make sure to respond promptly with all required information.
This shows the company that you are organized and reliable, reflecting your candidacy.
A Good Gut Feeling
Having a good gut feeling after an interview could be a positive indicator that you're about to receive a job offer. This feeling comes from your intuition and how you felt during the interview.
For example, if the interviewer was engaging throughout the discussion or expressed interest in learning more about you outside of your qualifications, they could be interested in hiring you.
Additionally, if their communication is prompt and transparent after the interview, it shows that they respect your time as a candidate and want to keep things moving forward.
How To Gauge Your Chances Of Receiving A Job Offer
To gauge your chances of receiving a job offer, review the job description and evaluate the interviewer's behavior and tone, consider the company culture and values, and prepare for negotiations.
Reviewing The Job Description And Your Qualifications
Reviewing the job description and your qualifications before making a job offer is essential. By doing so, you can ensure that you are indeed an ideal candidate for the position.
Reviewing the job description can help you tailor your resume and cover letter to highlight relevant skills and experience. Additionally, it provides insight into what the company is looking for in their ideal candidate, which allows you to prepare better for potential interview questions.
Evaluating your qualifications against those required by the role helps identify areas of strength or weakness in your application. This information could be useful when discussing salary expectations or negotiating during employment screening processes.
Evaluating The Interviewer's Behavior And Tone
Another essential factor to consider when gauging your chances of receiving a job offer is the behavior and tone of your interviewer. During the interview, pay attention to their body language and engagement level.
It could be a positive sign if they seem interested in what you have to say and maintain good eye contact.
Additionally, assess how professionally they conduct themselves during the interview process. Did they arrive on time? Were they prepared with questions specific to your qualifications? Did they demonstrate active listening skills? These behaviors can all indicate that the company values professionalism and may be a good fit for you as a candidate.
Considering The Company Culture And Values
It's essential to consider the company culture and values if you want to gauge your chances of receiving a job offer. Researching this beforehand allows you to evaluate whether or not you'd fit in with the team and align with the company's mission and goals.
During the interview, pay attention to how they describe their work environment, how employees collaborate, and what values they prioritize. Personal questions may also indicate that they are trying to understand your personality better since it can impact how well you would thrive in their workplace culture.
For instance, suppose a company emphasizes open communication among team members but prefers working independently and keeping quiet most of the time.
Preparing For Negotiations
Preparing for negotiations is an essential step in securing a job offer. Here are some tips to help you prepare:
Research industry salary ranges and the company's compensation package.
Determine your minimum acceptable salary and benefits package.
Identify potential areas of negotiation, such as vacation time or remote work options.
Practice your negotiation skills with a friend or mentor.
Anticipate potential objections from the employer and prepare counterarguments.
Decide in advance what concessions you may be willing to make if negotiations become challenging.
Remember to be confident, professional, and respectful throughout the negotiation process.
By following these steps, you can enter salary negotiations confidently and armed with all the necessary information to secure a fair offer that meets your needs and expectations.
Preparing For The Job Offer
Preparing for the job offer includes researching the company and position, reflecting on values and goals, considering salary and benefits expectations, and negotiating or clarifying necessary information to ensure a smooth transition.
Researching The Company And Position
Before accepting a job offer, thoroughly research the company and position you're considering. Review their website, social media accounts, and any recent news or press releases.
This research can help you understand their culture, values, and mission statement.
Use this knowledge to tailor your application materials and prepare for the interview process. During the interview, be sure to ask thoughtful questions demonstrating your interest in the organization.
Reflecting On Values And Goals
Reflecting on your values and goals before accepting a job offer is essential. Consider if the company aligns with your personal beliefs and if the role will advance your career aspirations.
Research the company's mission statement, culture, and past projects to understand its values. Reflecting on what you want from a job can help determine if this opportunity is right for you long-term.
It's also essential to think about salary expectations and benefits offered by the company compared to industry standards.
Considering Salary And Benefits Expectations
When preparing for a job offer, it's essential to consider your salary and benefits expectations. Research the salary industry standard and compare what you've been offered with these figures.
Don't hesitate to negotiate or ask questions if you feel a company isn't offering enough. Besides salary, you should also think about health insurance, retirement plans, paid time off, and other benefits that might be important to you.
Remember that while a higher salary may sound great initially, it's essential to look at the overall package offered and any long-term earning potential or growth opportunities with the company.
Negotiating Or Clarifying Necessary Information
Once you've received a job offer, it's essential to take the time to evaluate and clarify any necessary information before accepting. Here are some key things to consider:
Salary: Negotiating your salary to receive fair compensation for your work is essential. Research the market rate for similar positions in your city and industry, and be prepared to make a counteroffer if the initial salary is lower than expected.
Benefits: Review the benefits package the company offers, including health insurance, retirement plans, vacation time, and other perks. Clarify any questions or concerns before accepting the job offer.
Start date: Ensure that you agree on a start date that works for you and the company, considering your current work schedule and any other commitments.
Job responsibilities: Ensure you clearly understand what will be expected of you in the role, including specific tasks and goals.
Company culture: Consider whether the company's values and workplace culture align with your own personal values and work style.
Employment contract: Review all aspects of your employment contract before accepting the job offer to ensure that there are no misunderstandings or surprises later on.
By taking the time to negotiate or clarify necessary information, you can ensure that you're making an informed decision about your next career move.
Conclusion
A job offer is likely soon if you've noticed any of these 5 clear signs during the hiring process. From an extended interview process to positive feedback and requests for availability, these indicators can help ease your mind while waiting for that official job offer.
Remember to evaluate the company culture and prepare for negotiations before accepting employment offers.
FAQs:
What are some clear signs indicating a job offer is imminent?
Some common indicators include being invited for a second or third-round interview, receiving positive feedback from the interviewer(s) about your qualifications and fit for the role, and receiving inquiries about references or availability to start.
How long does it typically take before an employer extends a formal job offer?
The length of time can vary depending on the company's hiring process and how many candidates are being considered. Some companies may extend an offer within days, while others may take weeks to decide.
What should I do if a job offer takes too long to come through?
It's generally acceptable to follow up with the hiring manager or HR representative after a reasonable amount of time has passed since your most recent communication with them (usually one week). It's important to remain polite and professional in these communications, as you don't want to appear pushy or impatient.
Can I negotiate salary or other aspects of my employment contract once I receive an official job offer?
Yes! Negotiation is often expected at this stage in order for both parties to arrive at mutually agreeable terms such as compensation package, work schedule flexibility, benefits, etc.; however, keep in mind – employers will also be looking out for their own best interests, so its important not overreach during this critical phase by asking for too much which could lead negotiations breaking down altogether leading potential employments opportunities dissolve right away unless everyone agrees upon fairer terms first.