Disclaimer: We sometimes use affiliate links in our content. For more information, visit our Disclaimer Page. 
Do you ever feel like your hard work goes unnoticed or that your contributions to the workplace are consistently undervalued? Unfortunately, many individuals experience workplace disrespect, leading to discouragement and dissatisfaction in their jobs.
In this blog post, we will explore 20 signs that may indicate you're not valued at work and practical strategies for addressing these challenges head-on. By understanding how to recognize and respond appropriately, you can take proactive steps toward improving your job satisfaction and advancing your career.
Key Takeaways
Being undervalued at work can reduce motivation, disengagement, and burnout.
Signs of being undervalued include a need for recognition for contributions, being passed over for promotions or growth opportunities, unequal compensation, and micromanagement.
It's crucial to address these issues by communicating assertively with managers or seeking support from HR. Documenting instances of mistreatment or considering alternative job opportunities are also options worth exploring.
Advocating for oneself in the workplace involves setting boundaries and emphasizing one's value, building strong relationships with colleagues, seeking feedback regularly towards individual goals set by both parties and taking the initiative on projects within a positive company culture that values teamwork and collaboration.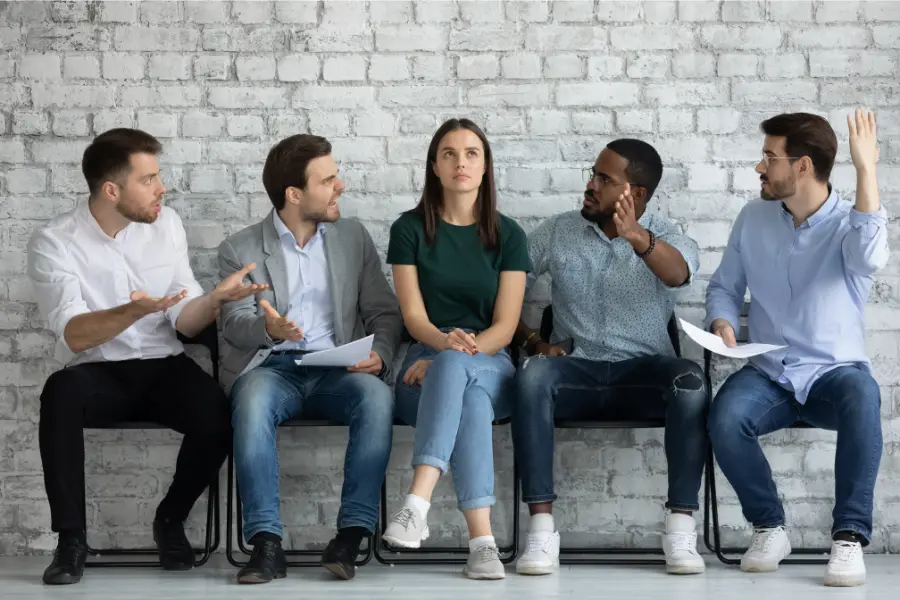 Signs You Are Not Valued At Work
– Your contributions go unnoticed
– You feel unappreciated or underappreciated
Your Contributions Go Unnoticed
One of the most disheartening signs that you're not valued at work is when your contributions consistently go unnoticed. In a healthy workplace, employees should receive recognition for their efforts and accomplishments, as this fosters motivation and cultivates a positive company culture.
For example, imagine spending weeks on a project that achieves remarkable results for the company. Still, instead of receiving praise or acknowledgment from management or coworkers, they proceed with business as usual without so much as a nod in your direction.
This lack of recognition can erode self-esteem over time, making it challenging to stay motivated in an environment where one's work is undervalued.
You Feel Unappreciated Or Underappreciated
Feeling underappreciated at work can be demoralizing, leading to diminished motivation and burnout. Signs of being unappreciated include working longer hours without recognition, taking on additional responsibilities with no added compensation or title change, and not receiving positive feedback or acknowledgment for accomplishments.
Addressing these issues early on is crucial by approaching your manager about your feeling undervalued. Being clear about your contributions to the company and highlighting specific examples of where you feel overlooked is essential in advocating for yourself.
Others Take Credit For Your Work
One of the most frustrating ways to be undervalued is when others take credit for your work. This can happen when someone else presents your ideas to higher-ups without giving you proper credit or when a team member takes credit for a project you worked on together.
It's important to remember that this behavior is unfair and can hurt your career advancement and overall job satisfaction. If this happens to you, try approaching the person privately and expressing how their actions made you feel.
You can also speak with your supervisor about the situation and provide evidence of your contributions.
Not Given Opportunities For Growth
Employees not given growth opportunities often feel stagnant in their roles and undervalued by their organization. This lack of advancement can lead to disengagement and decreased morale, ultimately impacting overall job satisfaction.
Moreover, being denied access to career development resources may make it easier for workers to pursue their long-term goals within the company. For example, suppose an employee is interested in moving into a management role but has not received leadership training or mentorship opportunities. In that case, they may become discouraged and begin seeking other employment options that will enable them to grow professionally.
Opinions Are Dismissed
If you find that every time you offer your thoughts or ideas, they're dismissed without consideration, it indicates that your employer doesn't value you. Having open conversations and voicing opinions is essential for growth and success in the workplace.
If your boss refuses to listen to different perspectives or seems uninterested in what you have to say, it can lead to feelings of isolation and being undervalued.
One example could be if, during meetings or discussions with colleagues, your suggestions are consistently ignored with little thought or consideration, making you feel like an outsider with little worth in the company.
Given Menial Or Low-priority Tasks
Being given menial or low-priority tasks is a common sign that you are not valued at work. These assignments may make you feel unappreciated and hinder your professional growth.
For example, it can be demotivating if you have been working as a graphic designer for years but are suddenly asked to do data entry or administrative tasks. This type of work doesn't utilize your talents and could make you feel like the company needs to value what makes you unique.
Passed Over For Promotions Or Advancement
Being overlooked for opportunities to advance in your career is a clear sign that you're not valued at work. Whether it's being passed over for promotions or consistently missing out on development programs, feeling stagnant in your role can be demotivating and lead to frustration.
Additionally, this lack of recognition can have consequences beyond just job dissatisfaction. Employees who don't receive fair advancement opportunities may feel unmotivated and lose their passion for their work.
You're Not Fairly Compensated
Not being fairly compensated for your work is a sign that you're not valued. This can result in unequal pay, subpar benefits, or not receiving appropriate compensation for overtime hours.
It's demotivating to feel like your hard work isn't appreciated enough for adequate compensation, and it can quickly lead to burnout. This lack of recognition can also lead to resentment toward better-compensated colleagues for similar or less demanding work.
To address this issue, having an open and honest conversation with your supervisor about expectations and the value of your contributions to the company is essential.
Micromanaged Or Overburdened
If you feel like your boss is always looking over your shoulder or constantly checking up on you, it's a sign that you're being micromanaged.
This can be frustrating and demotivating, especially if you can take on more responsibility. On the other hand, being given an unreasonable workload that feels impossible to manage can also make you feel undervalued.
If these issues aren't addressed, they can lead to burnout and decreased job satisfaction. You must communicate with your manager about what you need to excel at work and feel valued.
Let them know how their management style or workload distribution affects their ability to perform effectively and ask for support where necessary.
Workload Is Unmanageable
An unmanageable workload clearly indicates that you're not valued at work. This could mean having too many tasks to complete within unrealistic deadlines and needing more support or resources to accomplish them effectively.
Feeling overwhelmed and stressed regularly can lead to burnout, affecting your physical and mental health and negatively impacting productivity.
For instance, Sarah works in a marketing agency where she's been assigned multiple projects simultaneously with tight deadlines while needing to be given proper guidance on prioritizing her tasks.
She feels constantly under pressure, leading to anxiety and insomnia, negatively affecting her overall performance.
Not Given Proper Training Or Support
A lack of proper training and support indicates you're not valued at work. If you cannot perform your job duties effectively due to inadequate training, it can lead to frustration and stress, negatively impacting your job satisfaction and performance.
Additionally, you may need the necessary support from colleagues or management to complete tasks or projects on time.
Moreover, no opportunities for professional development or growth within the organization can leave employees stagnant in their careers.
They may start looking elsewhere for better prospects with more career advancement opportunities.
Work Is Consistently Criticized Without Constructive Feedback
Receiving negative feedback without constructive criticism can be demoralizing and leave one feeling undervalued at work. Recognizing the importance of receiving feedback highlighting what we did right and areas for improvement is essential.
For instance, suppose you have put extra effort into a project and receive comments like "This is not what I expected" or "You didn't do it correctly." In that case, these criticisms can leave you frustrated and uncertain about your work performance.
In conclusion, when employers fail to provide constructive criticism and negative comments about an employee's work performance, it adversely affects job satisfaction and employee retention rates.
Lack of The Necessary Resources Or Tools To Do Your Job Well
If you're consistently struggling to complete tasks because you don't have access to the right resources or tools, it's a clear sign that you're not valued at work. Inadequate training or outdated equipment can hinder your productivity, ultimately making you feel undervalued and unsupported.
For instance, if you work in IT support but are given an old, slow computer with no admin rights, it could dramatically reduce your effectiveness and efficiency. This frustration can lead to burnout or job dissatisfaction over time.
Additionally, being denied crucial information about your role could harm your performance and prove highly frustrating.
Feel Constantly Monitored And Surveilled
If you feel like your every move is being watched and scrutinized, it's a sign that you're not valued at work. Constant monitoring and surveillance can make you feel stressed, anxious, and paranoid.
It can also lead to decreased productivity as employees who are being monitored may become more focused on avoiding mistakes rather than producing quality work.
This lack of trust from management or coworkers can hurt one's mental health and job satisfaction.
Not Given Feedback Or Recognition For Your Efforts
Employees who feel undervalued often receive little to no feedback or recognition for their hard work. Feeling like your contributions are going unnoticed can be incredibly disheartening and demotivating.
With constructive feedback, knowing how to improve and where you stand when meeting expectations is more accessible.
Managers and supervisors must provide regular feedback on employee performance, celebrate successes, and provide actionable guidance on improvement areas.
Feedback should be specific, timely, and delivered respectfully and supportive.
Unsupported Or Isolated From Your Team
Feeling unsupported or isolated from your team can indicate that you must be valued at work. A lack of support from colleagues can make completing tasks and achieving goals challenging, leaving you feeling unheard of.
Isolation from the team can also lead to feelings of loneliness and disengagement, reducing overall job satisfaction. For example, if your boss doesn't include you in important decisions or if co-workers don't collaborate with you on projects, it can create an unhealthy dynamic where you feel undervalued.
Not Given Autonomy To Make Decisions
Feeling like you have no control over your work can strongly indicate that you're not being valued as an employee. When you're given the autonomy to make decisions, it can feel like your boss needs to trust your judgment or expertise.
This lack of agency in your work can lead to frustration and disengagement from tasks. For example, being constantly told how to complete assignments without input on how they could be improved can leave one feeling undervalued at work.
This lack of trust sometimes extends beyond decision-making power and micromanaging employees' every move.
Consistently Ignored Or Excluded From Important Discussions
Feeling left out of essential discussions at work shows that you must be valued as an employee. When your boss or co-workers consistently exclude you from meetings or projects, it can demoralize you and make you feel disconnected from the team.
This exclusion may also cause you to miss out on opportunities for growth and development within the company. For example, a meeting about a new project or promotion, but you're not invited despite being qualified and interested in participating, could signal that your employer needs to see your potential and value your contributions.
Not Given Proper Benefits Or Time Off
One of the signs that you're not valued at work is when you're not given good benefits or time off. This can include inadequate healthcare coverage, insufficient vacation time, or no paid sick leave.
When employers don't invest in their employees' well-being outside of work hours, they communicate that they prioritize profits over people. It also leads to burnout and decreased job satisfaction among employees.
Without good benefits or time off, employees are more likely to experience stress and health problems that affect their ability to perform well on the job.
[Example]: If an employee has been working for several years without any significant increase in salary or access to affordable healthcare at work, it's understandable if they feel undervalued by their employer.
How To Address Workplace Disrespect
– Speak to your manager or supervisor: Communicate openly with your boss about your feelings and ask for their help addressing the issues.
Speak To Your Manager Or Supervisor
Speaking with your manager or supervisor is the first step if you feel undervalued at work. Here are some tips for how to approach this conversation:
Schedule a meeting: Instead of bringing up your concerns in passing or during a busy day, schedule a dedicated meeting. This will allow you and your manager to have a focused conversation without distractions.
Be clear and concise: When discussing your concerns, be specific about what's been bothering you. Use examples and keep the conversation focused on specific issues rather than general feelings.
Listen actively: While sharing your experiences is important, listening actively when your manager responds is essential. Ensure you understand their perspective and try to find areas where you can agree.
Come up with solutions together: Rather than just listing problems, try to develop potential solutions together. This can help ensure both parties feel heard and invested in finding a solution.
Follow up: After the conversation, follow up with your manager regularly to ensure progress is being made and everyone is on the same page.
Remember that speaking with your manager is one potential solution for addressing workplace disrespect. If you feel uncomfortable speaking directly with them, other resources, such as HR or employee resources, may be available for support.
Seek Support From HR Or Employee Resources
If you're experiencing workplace disrespect, seeking support from HR or employee resources is crucial. These departments are in place to provide assistance and guidance for employees who are facing challenges at work.
By reaching out for help, you can access valuable resources that can assist you in addressing any issues that arise. For example, HR can investigate incidents of bullying or discrimination and provide counseling services if necessary.
Additionally, employee resource groups can offer a supportive community where you can connect with others who have experienced similar situations.
However, by seeking support from HR or employee resources, you're taking an essential step toward advocating for yourself and ensuring that your rights as an employee are respected.
Document Instances Of Disrespect Or Mistreatment
It's important to document instances of disrespect or mistreatment in the workplace. This helps to keep a record of incidents and can be helpful when speaking with your manager or HR department.
Be sure to record each incident's date, time, and details. If possible, include witnesses who may have seen or heard what happened.
Documenting any conversations you have with your manager or HR representative about these issues is also helpful.
Consider Alternative Job Opportunities
If you've tried addressing workplace disrespect with your manager or HR and things haven't improved, it may be time to consider alternative job opportunities.
You shouldn't have to stay in a toxic work environment where you feel undervalued and disrespected. When searching for new job opportunities, prioritize companies that value employee appreciation and offer growth opportunities.
Don't just settle for any job; make sure it fits you and aligns with your values. Being proactive about finding a new job can help boost your confidence and remind you of your worth as an employee.
How To Advocate For Yourself In The Workplace
Set boundaries and expectations with colleagues and managers. Communicate effectively and assertively. Build strong relationships with colleagues. Seek feedback and use it to improve.
Set Boundaries And Expectations With Colleagues And Managers
Establishing healthy boundaries and expectations with your colleagues and managers ensures you are valued at work. Here are some tips:
Communicate your workload and deadlines to your manager to stay manageable with tasks.
Set expectations for how you want to be treated and respected in the workplace.
Assertively address any disrespectful behavior from coworkers or superiors.
Discuss your growth goals with your manager and ask for their support.
Set boundaries on your availability outside of work hours to prevent burnout.
Advocate for fair compensation and benefits that reflect the value of your work.
Communicate openly and collaboratively with colleagues to build strong relationships based on mutual respect.
Remember, setting boundaries is not about being difficult or confrontational. It's about ensuring you're treated fairly, respected, valued, and able to perform at your best.
Communicate Effectively And Assertively
Effective and assertive communication is critical to addressing workplace disrespect. When communicating with your manager or supervisor, it's essential to clearly articulate how their actions are making you feel undervalued at work.
Use "I" statements rather than accusatory language, such as "I feel unsupported when given tasks without proper training." Additionally, be specific about what you expect from them regarding support or recognition.
When communicating with colleagues who may not respect your time or contributions, set clear boundaries and expectations for how they should treat you at work.
This could include saying no to unreasonable requests or delegating responsibilities more evenly between team members. If needed, seek HR support if the disrespect continues despite your efforts to address it directly.
Build Strong Relationships With Colleagues
Building solid relationships with colleagues is essential in creating a respectful and supportive work environment. Investing time and effort into getting to know your coworkers can foster positive relationships that will benefit your personal and professional growth.
Research has shown that employees with strong social connections are more engaged, motivated, and satisfied with their jobs than those without. Building solid relationships with colleagues can also lead to greater collaboration on projects and assignments and increased trust between team members.
Remembering small details about your coworkers, such as their birthdays or favorite coffee order, can also show them that you value their presence in the workplace.
Seek Feedback And Use It To Improve
Receiving feedback can be difficult, especially if it's negative. However, seeking feedback is essential for self-improvement and personal growth in the workplace.
You can ask your colleagues or supervisor for constructive criticism on a particular task or project to determine areas of improvement. For instance, you could say, "Can you give me some suggestions on how I could do better next time?" or "What did you think about my approach to this project?".
It's important to remember that receiving negative feedback doesn't mean you're not valuable at work; instead, it reflects areas where you need to grow.
Use this feedback to improve and gain new skills, then apply them practically in your daily tasks.
Take the initiative On Projects And Assignments.
One effective way to advocate for yourself in the workplace is by taking initiative on projects and assignments. When you show enthusiasm and proactivity in your work, it demonstrates to your colleagues and managers that you are invested in your role and eager to contribute to the company's success.
Additionally, stepping up to take on new responsibilities can lead to opportunities for growth and advancement within the organization.
Research shows that employees who feel valued at work are more engaged, productive, and likely to stay with their current employer. Taking ownership of projects also allows you greater control over tasks – from choosing methods to selecting team members – giving you greater autonomy over your work life.
Emphasize Your Value And Expertise
One meaningful way to advocate for yourself in the workplace is to emphasize your value and expertise. Be bold and speak up about your skills, achievements, and contributions to the company.
Share specific examples of how you have positively impacted or overcome challenges. Use data, such as increased sales numbers or improved efficiency rates.
Additionally, consider discussing your future goals and how you plan on achieving them within the company. By highlighting your unique strengths and demonstrating a commitment to growth, you can position yourself as an invaluable asset to the organization.
Advocate For Yourself During Performance Reviews
Advocating for yourself during performance reviews and emphasizing your contributions is essential. Be prepared with specific examples of your successes, accomplishments, and areas where you've gone above and beyond.
Use this opportunity to discuss any concerns or issues, such as feeling undervalued or unsupported, and ask for feedback on improving.
For example, if you're seeking a promotion but have not been given the opportunity, discuss the topic during your review. Highlight how you've taken the initiative and expressed interest in taking on more responsibilities.
If you feel that your compensation is unfair or inadequate, present research on industry standards to support your case. The key is approaching these discussions confidently while respecting your employer's perspective.
Conclusion
Recognizing the signs of workplace disrespect and feeling undervalued is the first step toward addressing the issue. It's important to communicate assertively with managers or seek support from HR when necessary.
Documenting instances of mistreatment or considering alternative job opportunities are also options worth exploring. Advocating for oneself in the workplace involves setting boundaries and emphasizing one's value, building strong relationships with colleagues, seeking feedback, and taking initiative on projects.
FAQs:
What are some common signs that indicate an employee is not valued at work?
Sample contentSome common signs include feeling excluded from important meetings, receiving minimal feedback on job performance, being overlooked for promotions, and being assigned only menial tasks without any opportunities to take on more challenging projects.
How can I address workplace disrespect if I feel undervalued?
Communicating your feelings with your supervisor or human resources manager calmly and professionally is essential. You should also document specific instances of disrespectful behavior to provide concrete examples during discussions about how improvements can be made.
What steps can employers take to ensure their employees feel valued?
Employers should focus on providing ongoing support, offering regular feedback and recognition opportunities, and promoting a positive company culture emphasizing respect for all team members regardless of their position.
Is it ever appropriate to leave a job because of feeling undervalued?
In some cases where efforts have been made but changes aren't occurring quickly enough or when an employer consistently disregards the needs/feelings of their staff – leaving may become necessary however, always consider other options (i.e., discussing issues before quitting) as well as benefits like health insurance, etc..before making any final decisions since these factors could affect personal finances long term especially when needing pay off debts or save for retirement goals.