Disclaimer: We sometimes use affiliate links in our content. For more information, visit our Disclaimer Page. 
One of the most influential ways to inspire and motivate a team is to lead by example. This phrase embodies a leadership style that has proven to be effective in many successful organizations.
By embodying the values, work ethic, and behaviors you wish to see in your team, you become a true role model, offering a tangible model of what success looks like. But how do you lead by example and why is it so important? Let's delve in and learn more.
The Power of Leading By Example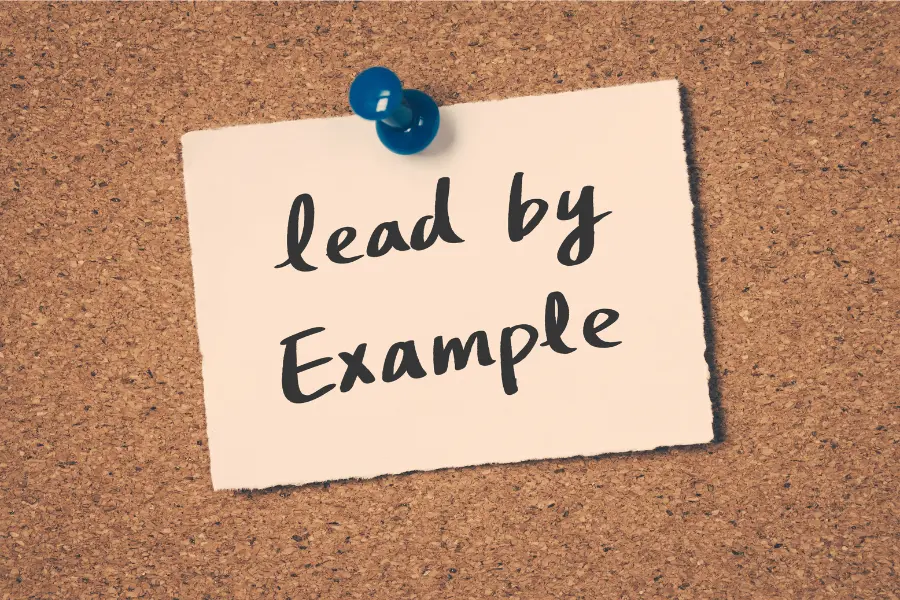 Every successful leader understands the power of leading by example. This leadership style emphasizes that actions speak louder than words. Instead of simply telling team members what to do, leaders lead by demonstrating the desired behavior.
By showing a strong work ethic, being committed, and displaying a positive attitude, a leader who leads their team by example embodies the values and behaviors they expect from their team members. This is not just about fulfilling responsibilities, but about going above and beyond, showing team members the power of commitment, discipline, and dedication.
Leaders who lead by example foster a culture of respect within their teams. Their behavior nurtures mutual respect, leading to healthier work environments, higher employee engagement, and better employee retention. By embracing their roles as role models, they inspire others to follow suit, fostering a stronger team dynamic.
How to Develop This Leadership Style
So, how does one become a leader who effectively models behavior? It's not something that happens overnight, but with conscious effort, every leader can refine their skills and lead by example.
1. Practice Emotional Intelligence
Emotional intelligence is crucial to leading by example. It enables leaders to understand and manage their emotions, and those of their team members. This understanding fosters better communication and strong relationships, leading to a healthier team dynamic.
2. Uphold Ethical Standards
Ethical leadership is a non-negotiable component of leading by example. By showing commitment to honesty, fairness, and integrity, leaders demonstrate that they prioritize ethical considerations over short-term gains.
3. Maintain a Positive Attitude
Good leaders maintain a positive outlook, especially in difficult times. This positive attitude can be infectious, helping to boost team morale and inspire team members to adopt the same approach.
4. Embrace Continuous Improvement
A leader committed to personal growth and continuous improvement will inspire their team to do the same. This includes seeking feedback, learning new skills, and embracing opportunities for training and development.
5. Walk the Talk
Leading by example means aligning one's actions with their words. Leaders must ensure their behavior aligns with the values and standards they espouse, avoiding any double standards.
Lead By Example in Action
To better understand how to lead by example, let's consider a scenario. Imagine a co-founder of a startup. This co-founder is always the first to arrive and the last to leave the office. They are always ready to roll up their sleeves and get their hands dirty when necessary. They also consistently treat everyone with respect, from team members to janitorial staff, with the same level of respect and dignity.
The co-founder is seen actively seeking feedback and implementing necessary changes. They ensure that they are approachable, and their office is always open for anyone who wishes to discuss issues or share ideas.
By practicing this leadership style, the co-founder has demonstrated how to lead by example. Team members, inspired by the co-founder's actions, adopt the same level of dedication, respect for all, and open-mindedness. This creates a robust company culture, improving overall productivity, engagement, and fostering organizational cohesiveness.
But what benefits do organizations experience when leaders adopt this approach?
Benefits to the Organization
When leaders lead by example, they help to create a company culture based on mutual respect, dedication, and ethical behavior. This has several benefits for the organization.
Enhanced Employee Engagement: Employees feel valued and respected, leading to higher engagement levels. Engaged employees are more productive, contributing to the success of the organization.
Improved Team Cohesion: When team members see their leaders working as hard as they do, it fosters a sense of unity and togetherness. This improves team cohesion, facilitating collaboration, and teamwork.
Better Employee Retention: Leaders who lead by example create a positive work environment, reducing employee turnover rates, an issue often linked to poor leadership. This results in lower hiring and training costs.
Higher Productivity: Teams led by leaders who lead by example are typically more motivated and productive. They take pride in their work, leading to improved quality and higher productivity.
Challenges of Leading by Example
Despite the many benefits, leading by example is not without its challenges. Here are some potential obstacles that leaders might face.
1. Maintaining Consistency
One of the biggest challenges in leading by example is maintaining consistency. Leaders are human and can have off days. However, inconsistent behavior can confuse team members and potentially harm the leader's credibility.
2. Dealing with Negative Perception
If a leader is always the first to arrive and the last to leave, some might perceive this as a disregard for work-life balance, neglecting their personal life. It's crucial for leaders to clarify that while they choose to work longer hours, they don't expect the same from their team members.
3. Being Too Self-Reliant
Leaders who are hands-on and involved in every detail can inadvertently become too self-reliant, forgetting to delegate. This can lead to burnout for the leader and stifle the development of their team members.
4. Unethical Behavior Mimicry
Unfortunately, if a leader engages in unethical behavior, not considering the impact of their own behavior, team members may follow suit, leading to a toxic work environment. It's essential for leaders to ensure that their actions align with the company's core values and ethical standards.
Despite these challenges, with mindfulness and consistent effort, leaders can effectively practice leading by example, inspiring their teams, and contributing to their organization's success.
Becoming a Better Leader by Cultivating Essential Leadership Skills
Growing as a leader requires continuous learning and refinement of leadership skills. Effective leaders are aware that their actions and attitudes significantly impact their team's dynamics. They understand that their behavior can either foster a positive work environment or undermine team morale.
One aspect of leadership that is often overlooked is the influence of a leader's personal life experiences on their leadership style. Life experiences shape our values, attitudes, and behaviors, impacting how we interact with others and make decisions. Leaders who reflect on their personal experiences can gain valuable insights into their strengths and areas for growth, aiding in their journey to becoming a better leader.
Leaders must also consider their mental health. Stress and burnout are common among leaders due to the demands of their role. This can negatively affect their ability to lead effectively. A good leader prioritizes self-care and seeks support when needed, knowing that their well-being is crucial for their performance and, by extension, their team's success.
A great leader fosters a sense of pride within their team. They recognize their team members' contributions, ensuring they feel valued and appreciated. This sense of team pride contributes to a positive work environment, higher productivity, and improved employee retention.
Senior leaders, in particular, have a crucial role in setting the tone for their organization's culture. Their actions and attitudes can significantly influence the behavior and attitudes of leaders at all levels of the organization. Through leading by example, senior leaders can promote a culture of respect, collaboration, and continuous learning, setting a strong foundation for their organization's success.
However, it's important to remember that leading by example is not about perfection. Leaders are human, and they make mistakes. A good leader is one who takes responsibility for their actions, learns from their mistakes, and uses these experiences as opportunities for growth. In this way, they demonstrate the importance of resilience, learning, and continuous improvement, further inspiring their team to strive for excellence.
The road to becoming a better leader may be challenging, but the rewards – a motivated, engaged team and a positive work environment – are well worth the effort. By embodying the behaviors they wish to see in their team, leaders can effectively lead by example, fostering a culture that promotes respect, collaboration, and excellence.
And remember, leadership is a journey, not a destination. Every step you take in becoming a better leader brings you closer to creating a work environment where your team can thrive.
Let's continue our journey of understanding, developing, and refining our leadership skills. Because the mark of a great leader is not just leading effectively but inspiring others to become leaders too.
Wrapping Up
Leading by example is an invaluable leadership skill, one that characterizes a great leader. When leaders embody the behaviors they wish to see in their teams, it creates a sense of unity and respect. This leadership style can result in higher productivity, increased employee retention, and a more positive work environment.
Whether you're a seasoned leader or a new manager, consider how you can lead by example in your role. Remember, true leadership comes not just from what we say, but also from our actions.
We hope you found this blog post insightful. If you have any questions or thoughts to share, feel free to comment below.
FAQs
Leading by example means demonstrating the behavior, work ethic, values, and attitude that you expect from your team members. This leadership style encourages leaders to be role models for their team, fostering a positive work environment and promoting productivity and employee engagement.
What is another word for lead by example?
"Model behavior" or "exemplify" are terms similar to leading by example. They all refer to demonstrating the desired behavior or qualities rather than simply describing or dictating them.
How do you use lead by example in a sentence?
"In our organization, our leaders lead by example, showing us the importance of hard work, respect for others, and maintaining a positive attitude.
What are the disadvantages of leading by example?
While leading by example has many benefits, it can have drawbacks if not done correctly. These include the risk of being perceived as ignoring work-life balance, becoming too self-reliant, or inadvertently promoting unethical behavior if the leader's actions are not aligned with the organization's ethical standards.
What is an example of lead by example?
A manager who helps a team member with their workload to meet a tight deadline is a good example of leading by example. This action shows the team that the manager is not above contributing to the team's work and values meeting commitments, which can inspire team members to emulate these behaviors.