Disclaimer: We sometimes use affiliate links in our content. For more information, visit our Disclaimer Page. 
Welcome to your one-stop guide to the top 10 manager skills necessary for success in today's dynamic business world. Being a manager involves more than just assigning tasks and meeting deadlines; it requires a variety of skills. What are these pivotal skills, you ask? Let's dive in.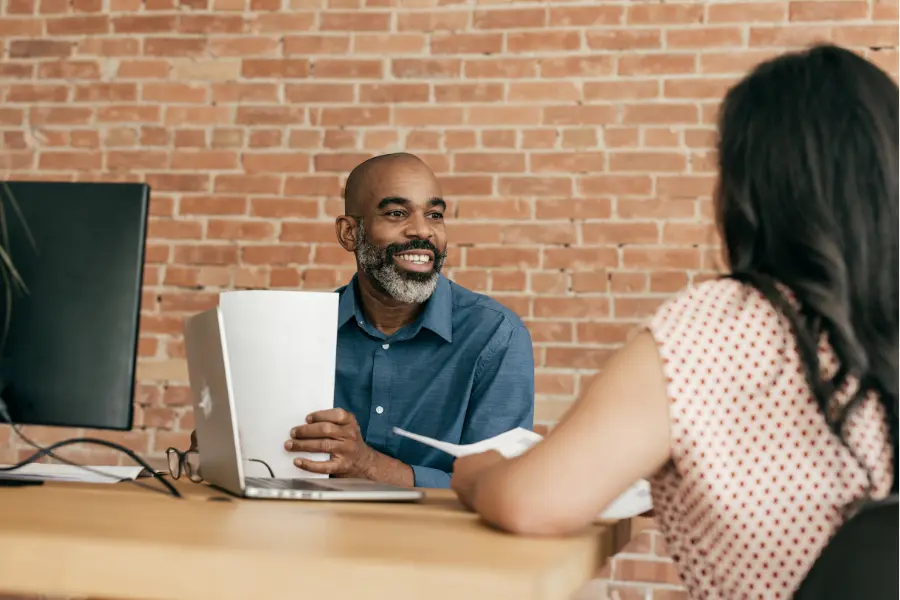 1. Communication Skills
A good manager masters the art of communication. Clear communication builds trust, fosters understanding, and inspires respect. Great managers know how to articulate ideas clearly, listen actively, and use empathy to address team members' concerns. Their leadership skills extend to both verbal and nonverbal communication, enabling them to guide their teams effectively.
2. Leadership Abilities
Leadership skills rank high on our list. Good managers lead by example, inspire confidence, and motivate their teams to reach business goals. They step up in leadership positions, earning the respect of their direct reports, and paving the path for employee satisfaction.
Effective leadership goes beyond issuing orders. It involves nurturing an environment where team members feel valued, heard, and motivated to do their best.
3. Emotional Intelligence
Emotional intelligence is a critical asset in a manager's skill set. It involves being self-aware, understanding others' emotions, and using this knowledge to manage interactions and relationships. Managers with high emotional intelligence can foster employee engagement, contribute to a positive management style, and promote a healthy working environment.
4. Problem Solving and Critical Thinking
Every management position comes with its fair share of challenges. Good managers are adept at problem solving and critical thinking, deploying these skills to overcome obstacles, mitigate risks, and find creative solutions.
These skills, coupled with strategic thinking, allow managers to perceive the big picture, make informed decisions, and encourage innovation in their teams. They can understand conflict resolution dynamics, transforming potential problems into opportunities for growth and learning.
5. Delegation
Great managers know that they can't do everything themselves. Good delegation skills involve entrusting responsibilities to team members based on their strengths and capabilities. They delegate strategically, ensuring tasks are assigned effectively and completed within set timeframes.
6. Time Management
In the rush of the business world, time management is a vital skill. Good managers prioritize projects, set realistic deadlines, and ensure tasks are completed on time. They understand that missed deadlines can disrupt entire teams, and they know how to juggle multiple priorities without sacrificing quality.
7. Planning and Organizational Skills
Planning skills are vital to maintain order and ensure tasks align with the overall business objectives. A successful manager has a well-defined plan and communicates it effectively to their team. They also possess project management skills, ensuring projects are executed smoothly from start to finish.
8. Interpersonal Skills
Interpersonal skills are key to successful management. They enable managers to form positive relationships with their team members, facilitating clear communication, mutual respect, and shared goals. Managers with strong interpersonal skills are more likely to foster employee satisfaction and maintain high levels of team morale.
9. Adaptability
Change is inevitable, especially in the ever-evolving business world. Managers must have the ability to adapt to changes quickly and guide their teams through these transitions. Their leadership role includes helping their teams adapt to new ideas, systems, or changes in the business landscape.
10. Motivation Skills
Great managers inspire their teams to do their best work. They understand what drives each team member and use this insight to motivate them towards achieving their goals. Through their leadership style, they promote a positive work environment that inspires productivity and creativity.
Successful managers know that their role extends beyond mere task management. They recognize the importance of empathy, creativity, and adaptability in achieving their goals and nurturing a successful team.
Let's wrap up the conversation on the skills needed for effective leadership, and now let's delve a bit deeper into why these skills are crucial and how they can be developed.
Understanding Communication Skills
Communication, at its core, is about exchanging information. In a managerial context, it goes beyond this basic definition and becomes the backbone of many other skills and activities. Good managers understand that the way they communicate can significantly affect the work environment, employee engagement, and the successful completion of assigned tasks.
They possess the ability to convey their expectations clearly, avoiding ambiguity that could lead to confusion or missed deadlines. They also know the importance of listening skills, demonstrating that they value others' ideas and inputs. This approach fosters trust within the team and promotes a more collaborative and inclusive environment.
The Essence of Leadership Abilities
Being a manager inherently implies being a leader, but not every manager excels in a leadership role. What separates effective leaders from many managers is a combination of several key leadership abilities. Good leaders inspire and motivate their teams, setting the tone for the work culture and leading the charge towards business goals.
Leadership positions demand the ability to see the big picture and make strategic decisions, even in the face of adversity. This strategic thinking is a crucial part of being a successful manager and is closely tied to problem solving and critical thinking skills.
Emotional Intelligence in Action
While technical skills and industry knowledge are necessary, they aren't enough to make a manager truly effective. That's where emotional intelligence comes in. Managers with high emotional intelligence foster a more empathetic and understanding work environment. They're in tune with their own emotions and can read and respond to their team members' emotional cues.
Emotional intelligence is closely related to interpersonal skills and is integral to maintaining healthy working relationships. It promotes clear communication and helps to resolve conflicts in a more understanding and thoughtful way.
Problem-Solving and Critical Thinking
The business world is replete with challenges, and this is where problem solving and critical thinking skills come into play. They are the tools that enable managers to navigate hurdles and find creative solutions to the problems they encounter.
Good managers see challenges as opportunities to learn and grow. They use their problem-solving skills not only to find solutions but also to analyze the problem's root cause and prevent similar issues from recurring.
Delegation and its Impact
Delegation is much more than merely distributing tasks among team members. It involves trusting your team members with responsibilities and empowering them to make decisions. Good managers delegate strategically, considering the strengths and abilities of their team members and ensuring that everyone has a manageable workload.
Effective delegation results in more efficient work processes, as tasks are undertaken by those most equipped to handle them. It also empowers team members, fostering a sense of trust and mutual respect.
The Role of Time Management
Managers are constantly juggling various responsibilities and tasks, making time management a critical skill. Effective time management involves planning, setting priorities, and establishing goals.
Why Planning Skills Are Essential
Planning and organizational skills are paramount for any manager. They help ensure that projects are carried out smoothly, resources are used efficiently, and goals are met on time.
Importance of Interpersonal Skills
Interpersonal skills are the tools that facilitate interaction and communication with others. Managers with strong interpersonal skills are likely to have successful, productive teams because they can communicate effectively, foster a supportive environment, and promote teamwork.
Adaptability in a Dynamic Business World
Adaptability is an important skill in today's rapidly changing business world. Managers who can quickly adapt to changes and lead their teams through transitions are invaluable to any organization.
Motivation and its Impact on Performance
Motivation is a powerful tool in a manager's toolkit. When managers can inspire their teams, they can drive them to perform better and achieve more. They also foster a positive work environment that encourages creativity and innovation.
Delving Deeper into the Skill Set of Successful Managers
After understanding these fundamental skills, it's vital to comprehend how they interact and support one another in a real-world context. This interaction paints a comprehensive picture of what good managers bring to the table in their management roles.
How Communication Fuels Leadership
Great managers are not just skilled communicators; they're excellent leaders who understand that the cornerstone of leadership is effective communication. Clear communication allows managers to establish a direction for their teams, set clear expectations, and provide constructive feedback. Without these elements, leadership becomes ineffective.
The best managers also understand the importance of listening – a critical aspect of communication skills. They give their teams the freedom to share ideas, voice concerns, and ask questions, creating a two-way communication channel that fosters mutual respect and collaboration.
The Symbiosis Between Emotional Intelligence and Interpersonal Skills
Emotional intelligence and interpersonal skills are intertwined. Managers with high emotional intelligence are attuned to their emotions and the emotions of others, which enables them to manage relationships effectively. This understanding can significantly influence their management style, contributing to a more empathetic and inclusive work environment.
Managers who can harness their emotional intelligence to enhance their interpersonal skills will find it easier to navigate challenging situations, manage conflicts, and foster a collaborative team spirit.
Problem Solving: The Engine of Strategic Thinking
In the face of challenges, the best managers use their problem-solving abilities to devise strategic plans of action. These plans, grounded in critical thinking, are the roadmap that guide teams towards business goals.
Strategic thinking is a more comprehensive form of problem solving. It involves assessing a problem, devising a solution, and considering how this solution fits into the broader business objectives. This way, problem solving becomes a strategic tool for overall business growth.
Delegation and Time Management: Two Sides of the Same Coin
Delegation and time management are two managerial skills that work hand in hand. Effective delegation requires discerning which tasks to assign to whom and when. It involves trust and a keen understanding of each team member's abilities and workload.
On the other hand, time management involves planning and prioritizing tasks to ensure everything gets done within set deadlines. By delegating strategically, managers can distribute work evenly across the team, ensuring a balanced workload and more efficient time use.
How Adaptability Fuels Innovation
The business world is constantly changing, with new trends, technologies, and practices emerging regularly. To keep up, managers need to be adaptable, open to new ideas, and ready to steer their teams through change.
This adaptability fuels innovation as it encourages managers and their teams to think outside the box and be open to new ways of doing things. It creates a dynamic, forward-thinking work environment where new ideas are welcomed, and change is seen as an opportunity for growth.
The Link Between Motivation and Performance
Motivation is a powerful driver of performance. Managers who can motivate their teams foster an environment of enthusiasm and dedication. This environment leads to high performance as team members are driven to contribute their best to the team's objectives.
It's also important for managers to motivate themselves. Managing a team is challenging, and it's crucial for managers to maintain their motivation to inspire their team effectively.
The Way Forward: Developing Managerial Skills
Developing these top manager skills is a journey that requires time, patience, and commitment. Here are some steps you can take to get started:
Seek Feedback: Regular feedback can provide valuable insights into your strengths and areas for improvement. Don't shy away from constructive criticism but see it as an opportunity to grow.
Self-Reflection: Take time to reflect on your actions and decisions. Self-reflection can help you understand your management style and identify any changes you might need to make.
Continuous Learning: Engage in ongoing professional development. Attend workshops, seminars, or online courses focusing on management skills. Reading books about leadership and management can also broaden your knowledge and offer new insights.
Mentorship: Find a mentor who can guide you and provide insights based on their experiences. They can be a source of wisdom and a sounding board for your ideas and concerns.
Practice: Skills are honed through practice. Apply what you learn consistently and observe the impact on your team and your management style. Don't be afraid of making mistakes – they're opportunities to learn.
Nurture Emotional Intelligence: Emotional intelligence is a skill that can be nurtured and developed over time. Practice empathy, self-awareness, and effective communication to boost your emotional intelligence.
Conclusion
These top 10 manager skills are a compass guiding you towards becoming a more effective and respected leader. They offer a roadmap for navigating the challenges of the managerial role, whether you're new to a leadership position or an experienced manager looking to refresh your approach.
They're not just about improving your professional life – they can also positively influence your personal interactions. And remember, mastering these skills isn't a destination but a journey of continuous growth and improvement.
Now that we've navigated the landscape of essential managerial skills, it's your turn to put these insights into action. Remember, becoming a great manager is within your reach. It starts with understanding the necessary skills, honing them, and using them to guide your team towards success.
FAQs
What are top manager skills?
The top skills for managers include communication, leadership, emotional intelligence, problem-solving, delegation, time management, planning, interpersonal skills, adaptability, and motivational skills.
What 3 types of skills do all managers need?
All managers need various types of management skills. This includes technical skills related to their specific field, human skills to interact effectively with team members, and conceptual skills to understand the big picture and make strategic decisions.
What are the seven qualities of a manager?
The seven qualities of a manager include communication, leadership, emotional intelligence, problem-solving, delegation, time management, and planning skills. These qualities can vary depending on the context, but they form the foundation of effective management.
What is the strongest skill as a manager?
The strongest skill as a manager varies depending on the role, industry, and team they are managing. However, effective communication is often cited as one of the most important skills across various contexts. It's a foundational skill that affects many other areas of management.