Disclaimer: We sometimes use affiliate links in our content. For more information, visit our Disclaimer Page. 
Do you have a coworker who is constantly doing the bare minimum? Maybe they come in late, take long lunches, or never seem to be working on anything important. Dealing with lazy coworkers can be incredibly frustrating – but it's not impossible!
This blog post will discuss 19 ways to deal with lazy coworkers. Hopefully, one of these methods will help you get your workplace back on track!
What is a "Lazy Coworker"?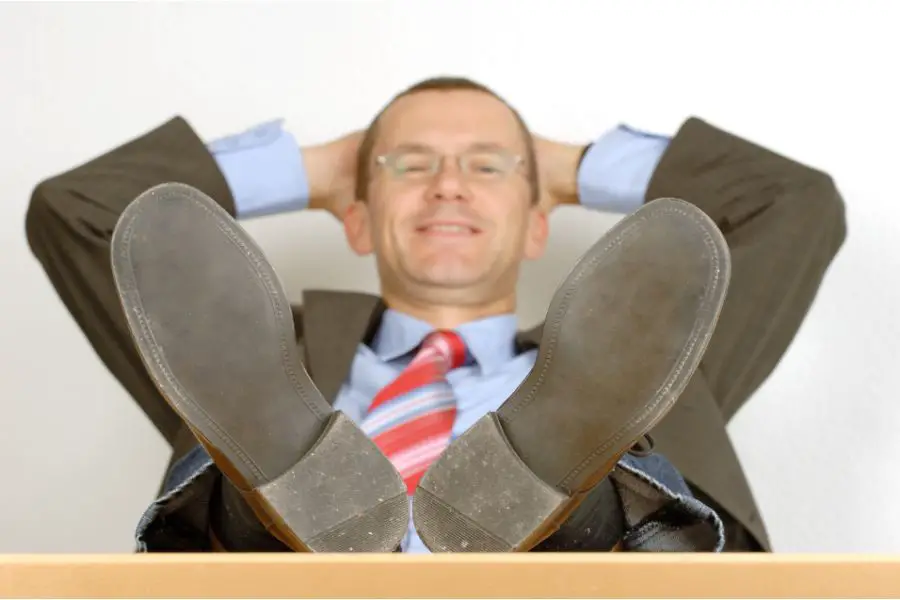 The term "Lazy Coworker" is used to describe someone who does not take the initiative, does not complete tasks on time, and has an attitude problem. They are typically late for work or meetings and do not contribute much to the workplace.
Related: How To Deal with Incompetent Coworkers
How Affecting Laziness Impacts Business
Laziness in the business world can significantly impact the bottom line. Inefficient processes, lack of motivation to innovate or be creative, and a general unwillingness to put in the extra effort can lead to missed opportunities and lower profits.
In some cases, laziness can even result in outright fraud, as employees take shortcuts or falsify records to make things easier on themselves. And while burning out from overwork is a real problem, it's usually preferable to dealing with the negative consequences of slothfulness.
Of course, not every lazy person is a lost cause. And in some cases, a little laziness can actually be a good thing. After all, if everyone strived to be productive 24/7, we'd all go insane.
But when it comes to business, it's important to be aware of the potential downside of laziness and take steps to mitigate it.
Related: How to Improve Teamwork
How to deal with lazy coworkers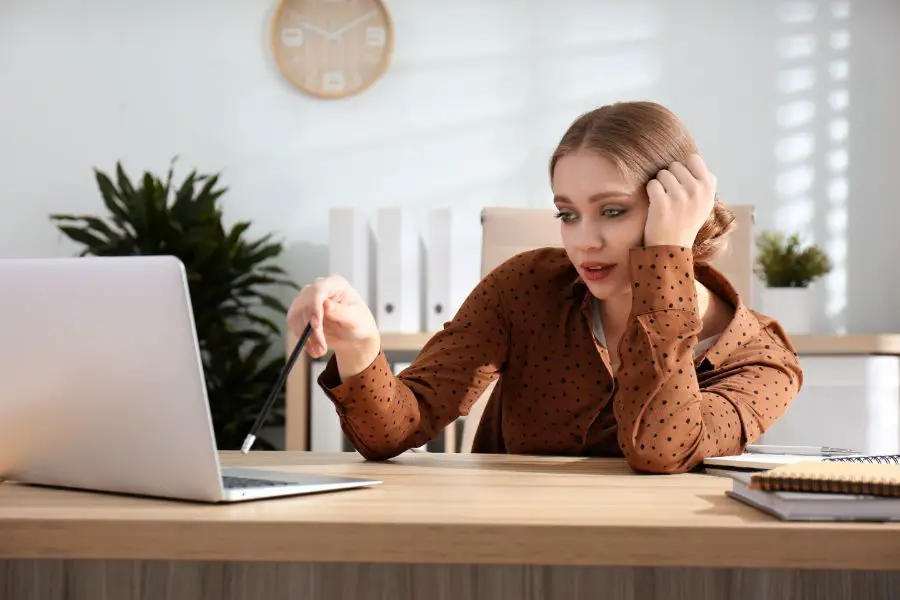 Work can be hard enough without having to deal with lazy coworkers, but unfortunately, it's something that many of us have to deal with at some point in our careers. If you're struggling to manage a lazy coworker, here are some helpful resources you can use to deal with lazy coworkers.
1. Identify the signs that your coworker is lazy
There are a few telltale signs that your coworker is lazy. They may routinely arrive late to work or take long lunches and avoid taking on any responsibilities or projects. If you notice that your coworker is consistently slacking off, it's important to address the issue.
2. Be professional when approaching them
When you encounter a problem with lazy colleagues, it is best not to approach management immediately. Instead, sometimes having an honest, straightforward conversation with them will be enough to resolve your problem. It would be best if you let them know that their work habits interfere with your ability to perform your job effectively.
In addition, you should not approach them when you are angry. Being angry will make you lose your temper and escalate the issue rather than resolve it. Therefore, avoid approaching them with an angry attitude. Instead, you should state your case in a straightforward, matter-of-fact manner.
In dealing with lazy coworkers, we recommend that you be tactful in approaching the issue. For example, instead of judging their work performance, or worse, their character, states how their work affects you directly.
There are times when the simple act of voicing your grievances may be all needed to resolve the issue in the future, although this is rare.
3. Listen with compassion and curiosity
If you're dealing with the lazy behavior of a coworker, it cannot be easy to know how to handle the situation. On the one hand, you don't want to take on their issues and become their parent; on the other hand, it's important to manage your irritation and set some limits.
Rather than concentrating on what others are doing, focus on your work. If you are part of the same team, you may need to take more direct action and talk to the team lead. Doing this allows you to stay focused on your work and avoid getting pulled into their drama.
4. Don't be aggressive with your coworker
If you want to know what's going on, ask them. Tell them you noticed something wasn't done and ask if everything is all right. If your coworker has something making it difficult to attend to their work, cut them a bit of slack if possible. In addition, encourage them to speak with the boss so that the management can work with them if possible.
However, there is a possibility that if the coworker cannot keep up with their tasks, they will have to approach their boss. Therefore, it would be best if you said that work is not getting done due to the coworker. There shall be no blaming or shame. Just the facts.
5. Send management daily or weekly reports
You can always pressure your lazy co-worker to submit their daily or weekly report to your supervisor, especially if they refuse to. However, if your coworker is lazy, don't give them a choice about how they want to look in front of your supervisor.
By doing so, the managers will have a nice overview of who's done what on a given day or week, and the lazy employees will look bad in front of their peers and managers. In addition, it's a super-easy way to encourage people to finish their work more often.
Despite this, this approach only works if you have a nice, measurable way of demonstrating the productivity of an individual.
6. Maintain a firm attitude
You need to be aware of some lazy coworkers who have mastered the art of persuading others to become lazy just like them. Your company hired you for a reason, don't let someone with no future career goals fire you from the position.
It is important to be firm when dealing with your lazy coworker and to let them know the actions you are willing to take if they do not stop being lazy.
In most cases, it is best to try and avoid letting someone else's attitude or laziness affect your own, as long as it does not affect your work negatively.
7. Maintain a healthy attitude
It is important to be a good employee and help others; however, do not enable their lazy habits. Realizing that you are working hard and they are not is very frustrating. It's even more aggravating when the laziness of others makes you look bad and puts you in a compromising situation- either because your workload grows or because you appear unprofessional because they are not performing well.
Ultimately, however, you are the only one who can control your attitude. You cannot let them bring you down with them. Rise above and be professional. Choose happiness over anything else.
If your coworker is never dealt with by management, they will build a bad reputation, whereas you will (hopefully!) build a respectable one. In the future, you can use that to advance your career, whether at your current company or a new one.
8. Set deadlines for your lazy coworker.
It can be a real pain for you if you have a slacker coworker who is always lazily dragging their feet on tasks. You might have to constantly check in on them and prod them, which can be frustrating and time-consuming. A better solution is to give them deadlines before you need the task done. 
This way, they can take their time and do the job at their own pace, without affecting your work. Of course, you should still provide reminders and deadlines, but this will help to prevent their laziness from impacting your tasks.
9. Identify the problem and try to fix it
Is a coworker's laziness affecting your productivity? For example, do you feel you must work longer hours because of the employee's laziness? Before you judge the employee and assume their low productivity is because of their laziness, try to figure out why their productivity is so low.
It may be that a person is unhappy with their job because of reasons that can be fixed. It might be that they are having issues at home, and this is just a phase, or it might be that they have health issues, or it might be just that they are bored and need a change of environment.
As soon as you determine the root of the problem, you may be able to find a solution, such as helping them find an internal position that will give them a boost, referring them to the company's therapist or doctor, or letting them work remotely for a bit.
10. Take your time with them
It is important to understand that there will be times when you will need to wait. Even if you put your heart and soul into helping your coworker to get their motivation back, miracles do not happen overnight. This is all about the long-term solution and requires some patience on your part.
It is never pleasant to wait, but don't do all the work you've already done because you are impatient. Your lazy coworker will need to make some changes, which will take time, so you can set a deadline to make everything easier.
11. Utilize motivational techniques
Being lazy at work can be contagious – after all, it's often much easier to take a break when everyone around you is doing the same thing. However, you can do a few things to motivate your lazy coworker and help them get back on track.
First, try praising their recent efforts or offering advice and tips on how they can improve their productivity. You can also break down tasks into smaller goals to help them feel more motivated during the day. Finally, introducing a bit of healthy competition can often be just the thing to get your lazy coworker up and moving again.
12. Everybody has their moments
To effectively deal with a lazy coworker, it is important to understand that everyone has moments of laziness at some point in their lives. Be it the end of an exhausting week, a stressful home life, or even just being mentally/physically exhausted, it is essential to understand that it is part of life.
It is important to communicate when dealing with this matter. Many employees have not put in as much work/effort when there has been a large organizational change. There is a difference in how people deal with change, so it is very important to stress the "why" of the change and how it positively affects the organization.
Taking the time to address employee issues and concerns is one of the most important steps to show them that you value their concerns and are open to their input.
13. Repetition is key
One important aspect of dealing with a lazy person or a coworker is to be repetitive and even slightly micromanage certain tasks. This helps to ensure communication is left open and the issue does not need to escalate into something bigger. In addition, by being repetitive, the coworker knows the importance of the task and is less likely to disregard it.
Additionally, micromanaging certain tasks ensures that they are done properly and promptly. This is especially important if the lazy person works on a time-sensitive project. 
14. Effective communication
What would you do if your work buddy slacked off a lot, affecting your performance? Communicate with him. To resolve anything, communication is important.
If the situation escalates, a supervisor should be informed, and the previously mentioned steps can be taken to prevent the situation from worsening. A conversation does not have to be hostile to be effective. Just expressing concerns can go a long way.
15. Make your goals measurable
The best way to motivate a lazy direct report is to give them SMART goals, which are SMART goals that are specific, measurable, attainable, relevant, and timely. So if you're a manager with an inactive direct report, start by setting SMART goals.
You have solid evidence to present whenever you discuss their work ethic with them or your manager; it is no longer based on your subjective opinion if they don't achieve those goals.
The best thing you can do is be transparent and empathetic. Besides problems in their personal lives, low morale can also be caused by problems with their work. Perhaps they need clarity about what they should be doing and can't figure out how to ask for it.
16. Try to put yourself in their shoes
The first thing you need to do when you are having an open and honest conversation with your lazy coworkers is to put yourself in their shoes. You can never know what is happening in their heads or behind the scenes.
For example, they may be dealing with issues in their personal life, such as losing a loved one or going through a divorce. But, on the other hand, perhaps they are single parents, and what you perceive as laziness may indicate them being stretched too thin between the demands of work and home.
Your colleague may not be trying to forget his duties as he is overwhelmed, burnt out, overworked, and overburdened with his current workload.
In addition to addressing these issues, it is also helpful to know if your lazy coworker's actions are intentional or unintentional due to unforeseen circumstances. Therefore, try to be fair and look at the situation from their point of view and your own.
17. Consult others for advice
If you have confronted your lazy coworker, it would be a good idea to seek the advice of others regarding what to do next. Do your other colleagues feel the same way you do? Do they feel their work is affected by this?
Taking the time to gossip is not the best idea. Words spoken behind someone's back can quickly resurface and cause even more trouble if you are not careful. It would be best if you tried to ensure that you have seen the situation accurately and are not alone in your feelings.
The best thing you can do is seek the advice of mentors with experience handling such situations, especially those who have been through similar situations in the past. The insight they have gained from such situations will be invaluable to you in professionally handling lazy coworkers.
In the workplace, you must understand that lodging a complaint, even though necessary and justifiable, could negatively affect your relationships with other colleagues. However, that is not a reason to let issues plague but to proceed cautiously and ask for guidance where necessary.
18. Get in touch with your superiors
Keeping in mind that your boss does not want to deal with workplace issues any more than you do, you mustn't approach the issue without being strategic. You will not only lose your reputation as a result of this, but you will also be less motivated to resolve the issue if your superior does not approach it strategically.
Let your boss know that you have tried to deal with the matter privately but have been unable to do so, and then explain to them how your lazy coworkers are harming the company. 
This issue of laziness is addressed in the interest of managers. Ultimately, they will be responsible for the team's poor performance. If you include managerial benefits with your complaint, managers will likely act against lazy coworkers.
19. Keep a record of everything
If you're finding that lazy coworkers consistently impact your ability to do your job, it's important to document the entire process. This way, you can be sure to back up any claims you make against lazy coworkers with actual proof and evidence.
But this doesn't mean you should go snooping! Instead, catalog what you notice and how the actions of others have affected your ability to work and the company as a whole.
For example, you might track how often lazy coworkers call out of work or how their actions have led to missed deadlines. It would be best if you also documented your attempts to address the situation with your lazy colleagues.
Related: How To Expose an Incompetent Coworker
Conclusion 
Do you have a coworker who is constantly doing the bare minimum? Maybe they come in late, take long lunches, or never seem to be working on anything important. Dealing with lazy coworkers can be incredibly frustrating – but it's not impossible!
This blog post has discussed 18 ways to deal with lazy coworkers. Hopefully, one of these methods will help you get your workplace back on track! So which strategy will you try first? Let us know in the comments section below.
FAQ
How do you outsmart a lazy coworker?
Here are a few general tips that may help:
• Be proactive about getting tasks done.
• Document everything.
• Don't do their job for them.
• Use reverse psychology.
What causes laziness in a person?
There can be several causes for laziness in a person, including:
• Feeling overwhelmed or stressed and not knowing how to begin to tackle the task at hand
• Fear of failure or of not meeting others' expectations
• Lack of interest or motivation in the task itself
• Poor time management skills
• Procrastination
What makes a weak manager?
There can be many reasons a manager might be considered weak. Still, some of the most common reasons include a lack of leadership skills, poor communication abilities, and a lack of knowledge or experience in the field they manage.
How do you address a lazy coworker?
It depends on the situation. If their laziness is affecting your work or the work of other people, then you might need to speak to them about it. However, it's important to be sensitive and understanding because chances are they're not doing it on purpose.
How do I talk to my boss about a difficult coworker?
The best way to discuss a difficult coworker with your boss is to schedule a one-on-one meeting. This will allow you to have a private conversation and address the situation calmly and effectively.