Disclaimer: We sometimes use affiliate links in our content. For more information, visit our Disclaimer Page. 
Welcome to our guide to knowledge management best practices for businesses. In today's fast-paced and ever-evolving business world, organizations face increasing pressure to keep up with the latest trends and technologies. Managing knowledge effectively is one of the most critical factors in achieving business success.
Knowledge management involves identifying, capturing, sharing, and leveraging the collective knowledge and expertise of an organization, its employees, and its stakeholders. Knowledge management strategies can unlock new opportunities, drive innovation, and improve overall performance when implemented correctly.
Key Takeaways
Effective knowledge management is crucial for driving business success.
Knowledge-sharing techniques lead to improved decision-making, collaboration, and problem-solving capabilities.
Implementing knowledge management software and tools streamlines knowledge-sharing and retrieval processes.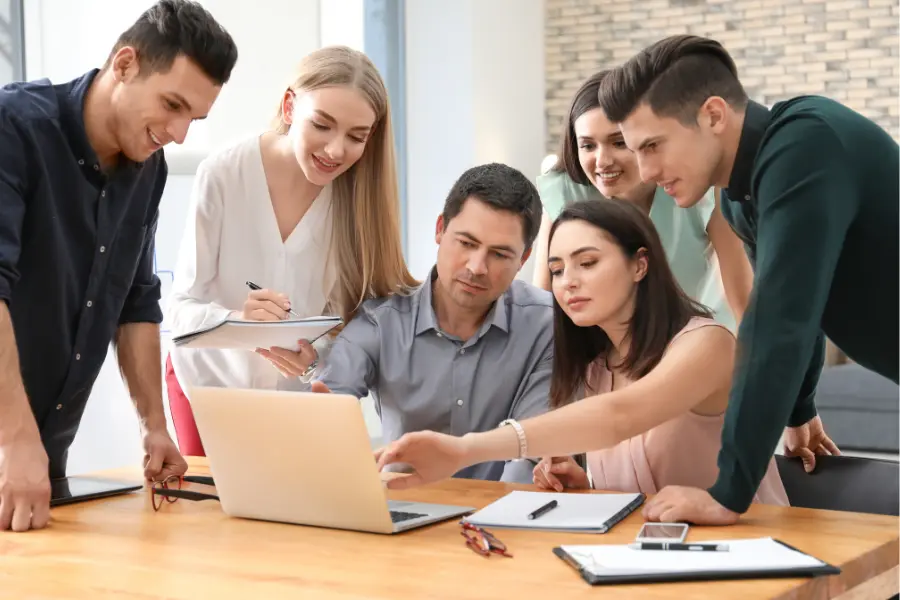 Why Knowledge Management is Crucial for Business Growth
Effective knowledge management strategies are crucial for businesses to thrive in today's fast-paced, ever-changing environment. By harnessing the power of knowledge, organizations can enhance productivity, drive innovation, and improve overall performance. Here are some key reasons why knowledge management is essential for business growth:
Improved decision-making: By leveraging knowledge, organizations can make better-informed decisions aligned with their goals and objectives. Access to accurate and up-to-date information can help leaders identify opportunities and mitigate risks.
Enhanced collaboration: Knowledge management promotes employee collaboration by breaking down silos and facilitating cross-functional communication. Teams can share valuable insights and expertise to achieve common goals.
Increased efficiency: With the right knowledge management solutions, businesses can streamline workflows and reduce redundancies. Automating certain processes allows employees to focus on higher-value tasks requiring unique skills and abilities.
Effective knowledge management can help businesses stay competitive and adapt to changing market conditions. Organizations can build a continuous learning and improvement culture that drives long-term success by prioritizing knowledge sharing and retention.
The Benefits of Knowledge-Sharing Techniques
Effective knowledge management is not just about capturing and organizing knowledge; it's also about sharing it within the organization. The benefits of knowledge-sharing techniques can be significant, driving collaboration and innovation and ultimately improving business performance.
When employees share knowledge, it helps to break down silos and promotes cross-functional collaboration. Teams can work more effectively together, solving problems and making better decisions. By sharing knowledge, individuals can learn from each other, gaining access to expertise and best practices outside their normal work scope.
Knowledge sharing also promotes continuous learning within the organization. As new information and experiences are shared, employees can stay up-to-date with the latest industry trends and developments, remaining competitive in the market. This ultimately leads to improved problem-solving capabilities and innovation, as employees are better equipped to generate new ideas and approaches.
Effective knowledge-sharing techniques can be facilitated through various channels, such as regular team meetings, knowledge-sharing sessions, and online collaboration tools. Making knowledge sharing a regular part of the company culture becomes an ingrained practice, improving overall organizational knowledge management.
Effective Knowledge Management Solutions
Effective knowledge management requires the right tools and systems to facilitate knowledge sharing and retrieval. There are various knowledge management solutions available for businesses to choose from.
| Knowledge Management Solution | Description |
| --- | --- |
| Knowledge Management Software | These are software applications that are specifically designed to facilitate knowledge sharing, organization, and retrieval. |
| Document Management Systems | These are software solutions that help businesses to manage and organize electronic documents, including policies, procedures, and manuals. |
| Enterprise Social Networks | These are platforms that enable employees to collaborate, share ideas and insights, and communicate efficiently across the organization. |
| Expert Systems | These are intelligent computer systems that leverage the knowledge and expertise of subject matter experts to solve complex business problems. |
Implementing the right knowledge management software or tools can enhance productivity and streamline business processes. These solutions enable employees to access information quickly and easily, leading to better decision-making and increased innovation.
Moreover, knowledge management solutions can improve collaboration and communication across the organization, leading to more effective problem-solving and decision-making capabilities. By leveraging technology and software solutions, businesses can achieve a culture of continuous learning and improvement.
Strategies for Knowledge Retention
Knowledge retention is crucial to maintaining an organization's intellectual capital and competitiveness. Here are some effective strategies for preserving knowledge:
Capture and Document: Develop processes to capture knowledge and document it in a user-friendly format. This includes creating detailed manuals, guidelines, and procedures for various processes and operations.
Organize: Categorize knowledge into logical groups to facilitate easy retrieval. This includes creating a knowledge base that organizes data by topic, department, or project.
Transfer: Establish mentorship programs to transfer knowledge from experienced employees to new hires. This can also include cross-training programs that expose employees to different areas of the company.
Preserve: Ensure the preservation of critical knowledge by implementing backup and recovery systems. Also, consider implementing knowledge management software that preserves historical data and knowledge for future reference.
By adopting these strategies, organizations can ensure the continuous availability of knowledge and expertise. This helps avoid the loss of valuable information due to employee turnover, retirement, or technological obsolescence.
Choosing the Right Knowledge Management System
Implementing an effective knowledge management system is crucial for businesses of all sizes. It helps streamline knowledge-sharing and retrieval processes while ensuring employees access the right information at the right time. With so many options available, selecting the right knowledge management system can be challenging. Here are some factors to consider when making your decision:
| Factor | Description |
| --- | --- |
| Scalability | Look for a system that can grow and adapt alongside your business. |
| User-friendliness | The system should have a simple and intuitive interface that employees can navigate with ease. |
| Integration capabilities | Ensure that the system can integrate with your existing software and tools for seamless knowledge transfer. |
| Security | The system should have robust security features to protect sensitive information from unauthorized access. |
| Cost-effectiveness | Consider the total cost of ownership when evaluating different options, including maintenance, training, and support. |
| Customization | Choose a system that can be customized to meet your specific needs and requirements. |
Considering these factors, you can select a knowledge management system that provides maximum value for your business.
Implementing Best Practices of Knowledge Management
A knowledge management culture is essential for businesses seeking to maximize their intellectual assets' value. Organizations should adopt best practices to achieve this culture enabling knowledge sharing, collaboration, and continuous employee learning.
Here are some strategies to implement an effective knowledge management culture:
Promote a learning environment: Encourage employees to share their knowledge and expertise with their colleagues. Provide training opportunities to develop new skills and expand knowledge.
Establish knowledge-sharing channels: Create an online platform or a physical space to share knowledge and information. Ensure all employees have access to this platform and encourage them to contribute.
Recognize and reward knowledge sharing: Create a recognition program to acknowledge employees who share their knowledge and contribute to the organization's success. Reward employees who demonstrate a commitment to knowledge sharing.
By fostering a knowledge management culture, organizations can gain a competitive advantage by leveraging the collective intelligence of their workforce. A robust knowledge management culture can lead to increased innovation, better decision-making, and improved overall performance.
Overcoming Common Challenges in Knowledge Management
Knowledge management can be a challenging endeavor for businesses to undertake. Despite its numerous benefits, organizations may face several common challenges when implementing knowledge management strategies.
Resistance to Change
One of the most significant challenges businesses face in knowledge management is resistance to change. Employees may be comfortable with existing processes and reluctant to adapt to new approaches. To overcome this challenge, involving employees in the change process and communicating the benefits of knowledge management is critical.
Knowledge Hoarding
Another challenge is knowledge hoarding, where employees may be unwilling to share knowledge for fear of losing their job security or fear their knowledge will not be valued. To address this challenge, businesses must create a culture of knowledge sharing that rewards and recognizes employees for their contributions.
Technological Barriers
Technological barriers can also impede the adoption of knowledge management strategies. Businesses must ensure that knowledge management tools are user-friendly, compatible with existing systems, and provide value to employees. Investing in the right technology can help overcome this challenge.
Leadership Support
Without leadership support, knowledge management initiatives may not receive the necessary resources. Organizations must have a clear vision and goals, with strong leadership buy-in, to ensure the success of knowledge management initiatives.
By addressing these common challenges and implementing effective knowledge management strategies, businesses can realize the full benefits of knowledge management and drive success.
Measuring the Success of Knowledge Management Initiatives
Measuring the success of knowledge management initiatives is crucial for determining the effectiveness of the implemented strategies and making data-driven decisions. Here are some key metrics that organizations can use to track the impact of knowledge management efforts:
| Metric | Description |
| --- | --- |
| Knowledge retention rate | The percentage of critical knowledge retained within the organization |
| Knowledge sharing rate | The frequency and effectiveness of knowledge sharing practices within the organization |
| Employee productivity | The extent to which knowledge management practices have contributed to improved employee productivity |
| Innovation rate | The number of innovative ideas generated and implemented by the organization as a result of knowledge management initiatives |
| Revenue growth | The impact of knowledge management practices on the organization's revenue growth and profitability |
By regularly tracking these metrics, organizations can evaluate the success of knowledge management initiatives and make necessary adjustments to improve them. It's important to note that measuring the success of knowledge management requires a long-term perspective, as the impact of these initiatives may not be immediately evident.
Pro tip: To ensure accurate measurement of the success of knowledge management initiatives, organizations should establish clear goals and performance indicators before implementing their knowledge management strategy. This will help define expectations and effectively measure the implemented initiatives' impact.
Continuous Improvement in Knowledge Management
Effective knowledge management is not a one-time effort but an ongoing process requiring constant evaluation and adaptation. To stay ahead of the curve, businesses must prioritize continuous improvement in their knowledge management practices.
There are several ways to achieve continuous improvement in knowledge management. One approach is to evaluate the effectiveness of existing strategies and tools regularly. This may involve conducting surveys or gathering employee feedback to identify improvement areas.
Another key aspect of continuous improvement is fostering a culture of continuous learning and development. Encouraging employees to engage in ongoing training and development can help keep knowledge management practices up-to-date and relevant.
Finally, businesses should prioritize the implementation of new technologies and tools that can streamline knowledge management processes and improve efficiency. This may involve investing in new knowledge management software or adopting new tools and techniques for capturing and sharing knowledge.
Conclusion
Effective knowledge management is essential for achieving business success. Organizations can enhance productivity, innovation, and overall performance by implementing best knowledge management practices. Knowledge-sharing techniques can improve decision-making, collaboration, and problem-solving capabilities.
Select the right knowledge management system that fits your organization's needs and fosters an employee knowledge management culture. To overcome common challenges, continuously evaluating and improving knowledge management practices is important.
By prioritizing knowledge management, businesses can stay ahead of the curve in today's ever-changing competitive landscape.
FAQs
What is a common practice of knowledge management?
A common knowledge management practice involves understanding your organization's underlying challenges before initiating a Knowledge Management program. This helps in addressing specific issues and tailoring your approach.
What are the identified best practices in KMS (Knowledge Management Systems)?
Knowing your organization's problems and challenges.
Measuring metrics to assess the effectiveness of your knowledge management efforts.
Scaling your knowledge-sharing efforts to reach a wider audience.
What are the 5 P's of knowledge management?
People: Focusing on the individuals involved in knowledge management.
Process: Establishing efficient processes for creating, sharing, and updating knowledge.
Platform: Utilizing appropriate tools and technology for knowledge management.
Performance: Measuring the impact and success of knowledge management efforts.
Promotion: Actively promoting knowledge sharing and collaboration within the organization.
What are examples of best business practices?
Examples of best business practices include developing a strong corporate culture, investing in employee training and development, implementing effective communication protocols, and maintaining high-quality control standards.
What are the key components of knowledge management?
Knowledge Creation: Generating new insights, ideas, and information.
Knowledge Capture: Collecting and organizing existing knowledge.
Knowledge Sharing: Distributing knowledge across the organization.
Knowledge Storage: Storing knowledge in accessible formats and repositories.
Knowledge Application: Applying knowledge to solve problems and make informed decisions.