Disclaimer: We sometimes use affiliate links in our content. For more information, visit our Disclaimer Page. 
In today's ever-changing job market, understanding the distinction between being terminated and laid off is crucial for employees navigating their careers.
While both scenarios signify an end to employment, they carry different implications, affecting everything from unemployment benefits eligibility to future job prospects.
This blog post will explore the key differences between termination and layoff, shedding light on their impact on your professional journey.
Key Takeaways
Being laid off is a business decision that isn't usually the employee's fault, while termination is often due to poor performance or misconduct.
Laid-off employees may be eligible for severance pay and unemployment benefits, but terminated employees may not always receive either of these entitlements.
COBRA insurance offers an option for temporary healthcare coverage after losing a job. Still, it can be expensive as individuals are responsible for paying the full premium plus an administrative fee.
Coping with job loss requires staying positive and focusing on finding new opportunities. Strategies include taking time for self-care, evaluating career goals, updating resumes and online presence, networking with others in the industry, seeking out new learning opportunities, and maintaining a positive attitude.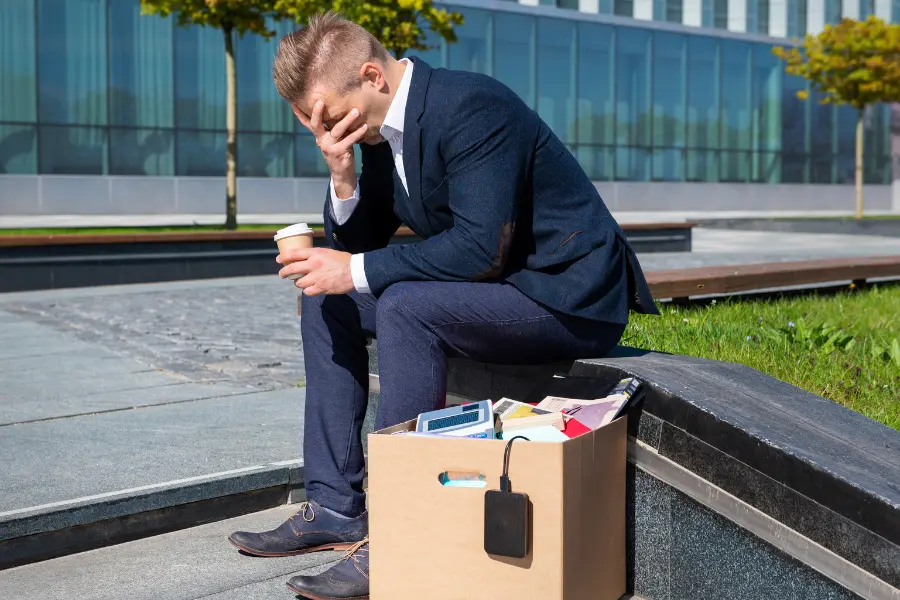 Terminated vs. Laid Off Understanding The Differences
Being laid off is due to a business decision made by the company, whereas termination is often based on an employee's performance or behavior.
Laid Off: Reasons And Implications
In the world of employment, being laid off is an unfortunate reality for many workers. It occurs when a company decides to let go of employees due to financial constraints, restructuring, or changes in market demand—factors that are typically out of an employee's control.
The implications of being laid off can be both challenging and life-changing for affected individuals. The sudden loss of income can create immediate financial hardships while simultaneously forcing them to confront an uncertain future.
One silver lining for those who have been laid off is that they're generally eligible for unemployment benefits (provided they meet specific criteria), which provide temporary financial assistance while seeking new employment.
Additionally, employers may offer severance packages as a gesture of goodwill and support during this difficult period – typically based on factors such as tenure within the company and prior performance reviews.
Termination: Reasons And Implications
Termination refers to the end of employment due to an employee's poor performance or misconduct. Employers may choose to terminate employees for various reasons, including consistent failure to meet job expectations, violation of company policies, unethical behavior, or even criminal activity.
The implications of termination can be serious and long-lasting for both the employer and the employee.
Sometimes, employers may offer terminated employees severance pay as compensation for their service. However, this is not always guaranteed and usually depends on any prior agreements between the employer and employee.
For employers, termination can be a difficult decision that requires careful consideration of labor laws and regulations. It's crucial for companies to document all instances leading up to an employee's termination in case of legal disputes down the line.
Being Fired: Reasons And Implications
Firing an employee is a serious action the employer takes when there are issues related to poor performance, misconduct, or violation of company policies.
Reasons for firing an employee may include consistent tardiness, repeated absences from work without prior notice or permission, drug and substance abuse at work, stealing from the organization or customers, and harassment of colleagues.
The implications of being fired can be severe for employees as it affects their employment records and career prospects. It can make it difficult to secure future employment opportunities as most companies will seek references from previous employers before hiring them.
Being fired puts a negative mark on the individual's resume that shows up in job applications which could significantly reduce their chances of finding good-paying jobs that match their skill set in competitive industries.
Legal Rights And Entitlements For Laid-Off And Terminated Employees
Eligible laid-off employees are entitled to severance pay, while terminated employees may not be eligible.
Severance Pay: What It Is And Who Is Eligible
Severance pay is a type of compensation that an employer may offer to laid-off employees. Essentially, it's a financial package provided as a way to help employees during the transition period after losing their job.
The amount of severance pay varies but is typically based on how long the employee has been with the company and their position within the organization.
For example, if an employee is laid off due to budget cuts, they may be eligible for several weeks' worth of salary as severance pay which could help them cover expenses while they search for another job.
However, if an employee is terminated due to poor performance or misconduct, they are unlikely to receive any form of severance pay upon departure from the organization.
Unemployment Benefits: How To Apply And Eligibility Requirements
To help cushion the blow of job loss, laid-off employees may be eligible for unemployment benefits. Here are some essential things to know about applying and eligibility:
Eligibility for unemployment benefits varies by state, but generally, to qualify, you must have lost your job through no fault of your own (such as due to a layoff) and meet specific requirements, such as having worked a minimum number of hours or earning a minimum amount of wages in a specific period.
You typically need to apply for unemployment benefits online or by phone with your state's unemployment insurance program soon after losing your job. Be prepared to provide information about yourself and your previous employer(s), including dates of employment, wages earned, and reasons for separation from the job.
After applying, you may have a waiting period before you receive benefits. If approved, you will likely receive weekly payments (usually up to a certain percentage of your previous earnings) for several weeks or until you become re-employed.
To continue receiving benefits, you may need to meet ongoing requirements, such as actively seeking suitable work and reporting any income earned while receiving benefits. Failure to meet these requirements could result in the suspension or termination of benefits.
Remember that unemployment benefits are intended as temporary assistance during times of job loss and that they do not replace all lost income or provide long-term financial stability.
COBRA Insurance: Understanding Your Options For Healthcare Coverage
If you have been laid off or terminated, one of your primary concerns may be how to continue paying for healthcare. COBRA insurance offers an option for temporary healthcare coverage after losing a job.
COBRA benefits can last up to 18 months after employee termination or layoff. However, it is essential to note that the individual is responsible for paying the full premium plus an administrative fee which can make it expensive.
Coping With Laid Off Or Termination
– Stay positive and focus on finding your next opportunity.
– Develop a job search plan and create achievable goals.
– Network with professionals in your industry for referral opportunities.
Moving On: Strategies For Staying Positive And Moving Forward
After being laid off or terminated from a job, it is important to take steps to stay positive and move forward. Here are some strategies to consider:
Take time for self-care: Allow yourself time to grieve and process the loss before jumping into job searching. Take care of your physical and mental health by exercising, eating well, and practicing relaxation techniques.
Evaluate your career goals: Use this opportunity to assess your career goals and determine if you need to change direction. Consider what skills you have that are transferable to other industries or roles.
Update your resume and online presence: Polish up your resume, LinkedIn profile, and other professional profiles. Tailor each application for the specific job you're applying for.
Network with others: Connect with former colleagues, industry peers, or mentors, and attend relevant events or industry conferences. Networking can lead to new opportunities or provide valuable advice during these times.
Seek out new learning opportunities: Consider taking online courses or attending workshops to help you develop new skills that will make you more marketable in the workforce.
Stay positive: Maintaining a positive attitude is key when moving on after a layoff or termination. It's important not to dwell on the negative and instead keep an optimistic outlook while actively pursuing new opportunities.
You can take control of your career and confidently move forward by staying proactive during this difficult time.
Job Search And Career Planning: Tips For Finding Your Next Opportunity
Looking for a new job after being laid off or terminated can be overwhelming, but you can take steps to make the process easier. Here are some tips for finding your next opportunity:
Update your resume and LinkedIn profile to make sure they accurately reflect your skills and experience.
Use job search websites such as Indeed or Glassdoor to browse open positions in your field.
Consider working with a recruiter who specializes in placing candidates in your industry.
Attend job fairs and networking events to connect with other professionals and potential employers.
Reach out to former colleagues or managers for referrals or references.
Consider taking temporary or freelance work while you search for a permanent position.
Research companies you are interested in and tailor your application materials to fit their culture and needs.
Don't be afraid to apply for jobs that may seem like a stretch – you never know what opportunities may arise.
Remember, finding a new job takes time and effort, but by staying proactive and cheerful, you can find success in your job search.
Networking And Referrals: Building A Strong Professional Network
Networking and referrals can be valuable tools for employees who have been laid off or terminated to find their next job opportunity. Here are some tips for building a strong professional network:
Attend industry events and conferences to meet new people and learn about job opportunities.
Join professional organizations related to your industry to connect with like-minded individuals and industry leaders.
Reach out to former colleagues, managers, and mentors for referrals or suggestions of potential job openings.
Use social media platforms like LinkedIn to connect with professionals in your field and showcase your skills and experience.
Consider working with a career coach or counselor who can help you develop a strong networking strategy.
By building a strong professional network, individuals who have been laid off or terminated can increase their chances of finding their next job opportunity quickly and efficiently.
Conclusion:
It's essential to understand the key differences between being laid off and terminated. While both may indicate the end of employment, they have different implications and legal rights for the employee.
Being laid off is usually a business decision that isn't the employee's fault and may provide an opportunity for new career options. On the other hand, termination is often based on poor performance or misconduct and carries a negative connotation.
By understanding these differences, employees can confidently move forward in their next steps toward finding new opportunities and building their careers.
FAQs:
What is the difference between being terminated and laid off from a job?
Being terminated means an employee has been fired or dismissed from their position for reasons such as poor performance, violation of company policies, or ethical misconduct. Laid off, on the other hand, refers to a situation where employees are let go by their employer due to financial constraints, restructuring, or downsizing.
How can I determine if I have been laid off or terminated?
You can determine if you have been laid off or terminated by checking with your employer for clarification regarding your employment status. Generally speaking, the termination will result in immediate dismissal, whereas layoffs tend to be planned in advance, with prior notification given before termination occurs.
What precautions should individuals take when facing possible termination or layoff?
Individuals facing possible termination or layoffs should start preparing early and exploring different options, such as seeking help from HR professionals within the organization, consulting legal advice if necessary, and developing alternative career strategies, which may include finding new ways to work within related industries outside of current fields.
What rights do employees have when they're faced with being laid off vs terminated?
Employees facing either being laid off or getting fired may differ based on state law. Still, generally, it's essential for both groups to understand their rights which include receiving written notice ahead of time (in certain jurisdictions) and severance pay depending on terms stipulated within contracts/agreements signed prior to leaving the organization.