Disclaimer: We sometimes use affiliate links in our content, meaning, at no additional cost to you, we will earn a commission if you click through and make a purchase. For more information, visit our Disclaimer Page. 
The income elasticity of demand is a concept that can be very useful to businesses and marketers. It helps us understand what goods appeal to higher-income individuals and which ones may attract lower-income customers. In today's post, we'll explore the meaning behind this economic term, how it works in formula form, as well as some ways you could use it for your business decisions!
What is the definition of elasticity?
Elasticity is a measure of how much something changes in response to another variable, such as price.
What Is Income Elasticity of Demand?
The income elasticity of demand concept measures how much the quantity demanded changes when there is a percentage change in our incomes.
Income elasticity of demand measures the responsiveness between consumers' income and the quantity demanded of a certain good. It can be positive, negative, or even non-responsive, depending on what product it relates to. Some products may be very sensitive to changes in incomes, while others are relatively insensitive.
A customer's income can affect their purchasing behavior. If they experience a change in financial status, the number of goods they buy will also be altered. Income elasticity of demand measures how much and by what degree (or percentage) demand changes when there is an alteration in consumer incomes.
If a customer's income increases, they are more likely to buy the good. If their income decreases, they're less likely to purchase it. Income elasticity is how much of an effect changes in consumer incomes have on demand for this product.
Why is Income Elasticity of Demand important?
Understanding income elasticity of demand is useful in managerial decision-making because it provides insight into the income sensitivity of a product. Income elasticity tells you how much the quantity demanded changes when there are fluctuations in consumers' incomes, so it can be used to understand what goods and services people will buy more or less as their incomes change.
Since all good's and service's include elements such as luxury or necessity, understanding which ones have higher/lower levels of responsiveness could help businesses make better choices about pricing strategies for certain products if they want to increase sales during times with low consumer spending (such as an economic recession).
Related Article: Determinants of demand
Income Elasticity of Demand Formula
The income elasticity of demand is the ratio between percentage change in quantity demanded and percentage change in consumer's income. The formula for calculating this type of elasticity tells you how much the quantity demanded will change concerning changes in people's incomes. For example, it can be calculated as the following formula: 

A higher-income elasticity means the demand is more sensitive concerning changes in income. It can be positive or negative depending on whether it's a normal or inferior good.
Normal Good: A normal good is a product that increases in demand with an increase in income. Examples of this include food staples, clothing, and household appliances.
Inferior Good: An inferior good is an item that becomes less desirable as the incomes of its consumers increase. This happens because when consumer's income increases, they will generally spend it on something better than the low-quality product such as normal or luxury goods instead. Typically, store-brand grocery products such as noodles and canned or frozen foods are considered inferior goods.
Example
Suppose a consumer's income increases by 10%. This results in an increase in demand for the commodity by 10%. Thus, income elasticity is 1; this implies that it's normal good. On the other hand, if a 15% hike in the consumers' incomes causes a decline of 4.5% in their demand for commodities, its income elasticity will be -0.3 and hence an inferior good.
Types of Income Elasticity of Demand
There are five different types of income elasticity of demand. These include:
High elastic
Unitary elastic
Low elastic
Zero elastic
Negative elastic
High Elastic Demand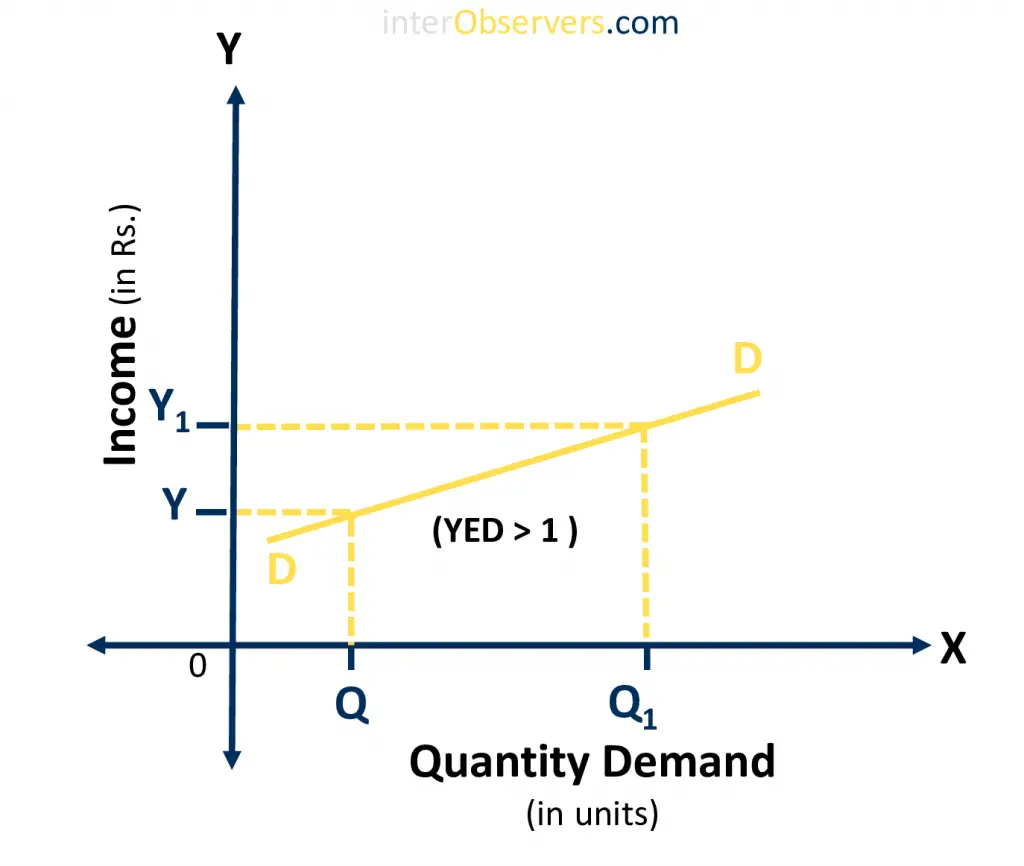 The quantity demanded rises when income rises. As a result, the income elasticity of demand is defined as high if the proportionate change in demand is greater than the proportional rise of income. As a result, it may be regarded as a positive income elasticity.
Luxury goods are a type of normal goods associated with income elasticities of demand greater than one. This means that consumers will buy proportionately more luxury products compared to a percentage change in their incomes.
Imagine, for example, that there is a 15% increase in income. As such, his demand would be increased by 40%. In this case, the Income elasticity of Demand (YED) > 1 means it's relatively high compared to others because the change in quantity demanded changes more than proportionately concerning increase in income.
Unitary Elastic Demand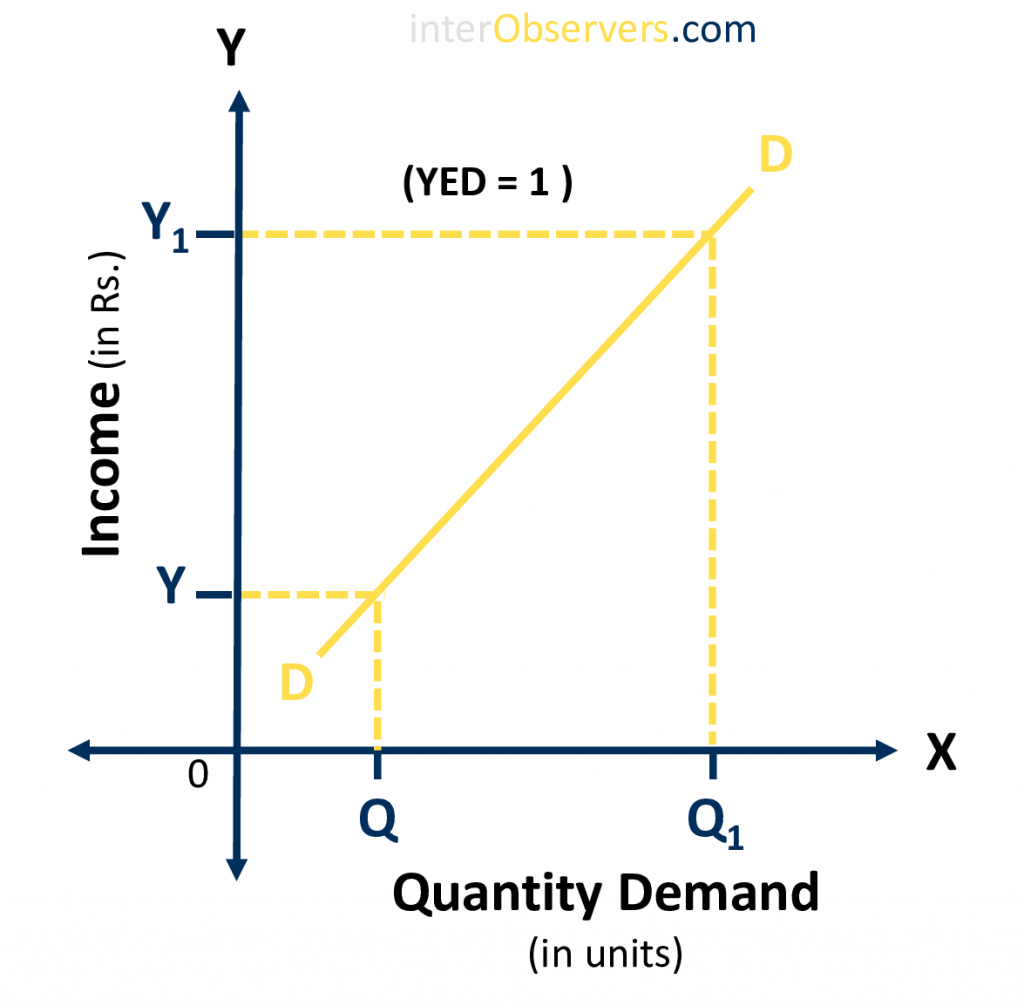 If the proportionate change in quantity demanded is equal to the proportional change in income, then elasticity will be called unitary. 
For example, suppose a consumer's income increased by 30%, which then caused their demand for products or services to rise by 30%. In this case, YED = 1 and therefore have unitary elasticity since both changes are of similar magnitude.
Low Elastic Demand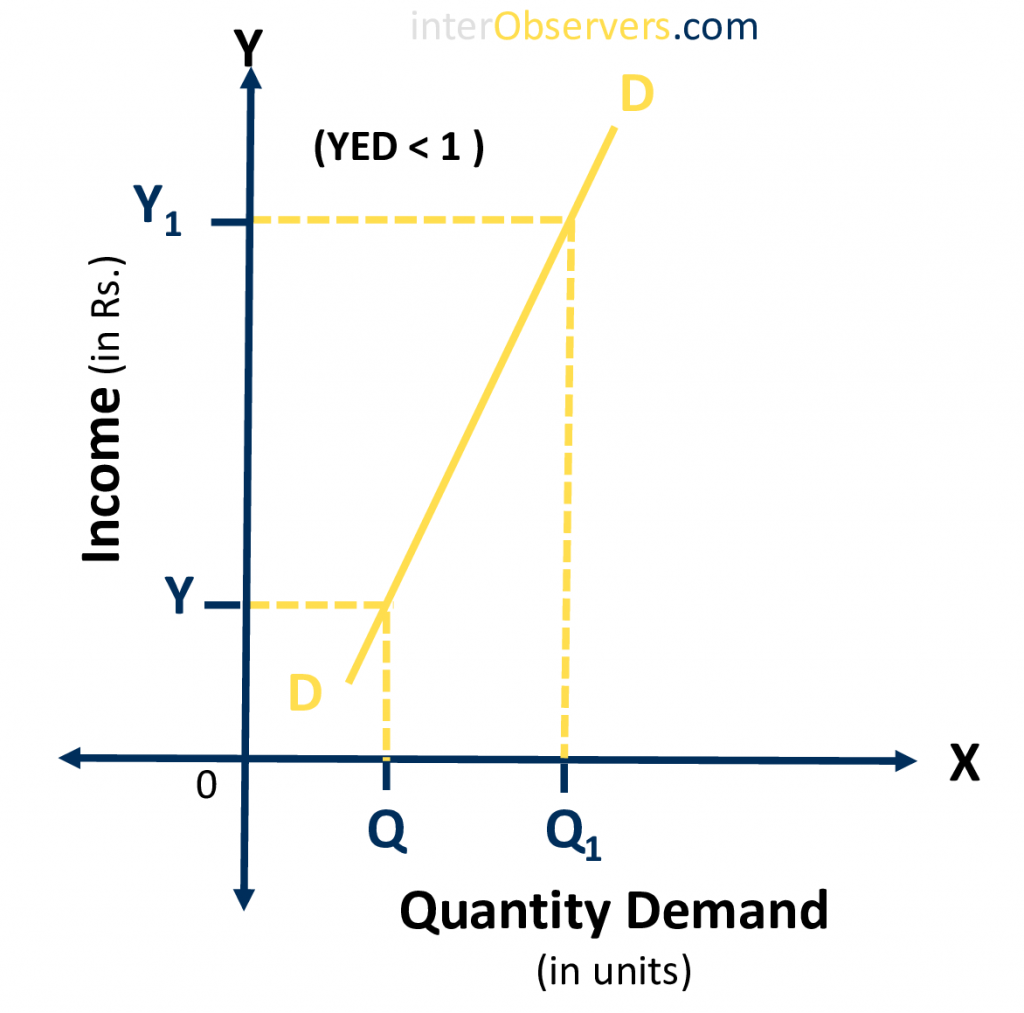 If the proportional change in quantity demanded is less than the proportionate change in income, it can be regarded as low-income elasticity. For example, assume that if an individual's income increases by 60%, but he only demands 30% more of product X–the demand for this particular good has a low-income elasticity YED<1.
Zero Elastic Demand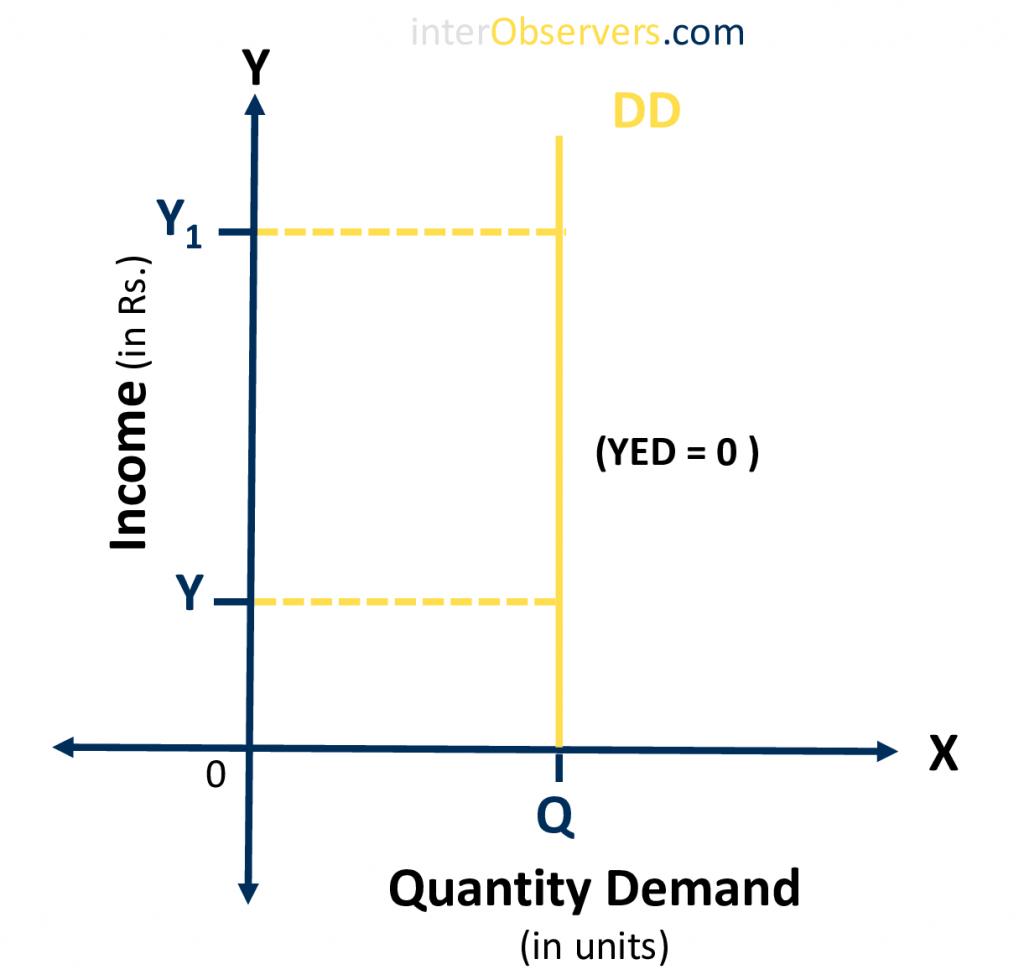 A zero income elasticity of demand means that an increase in the consumer's income does not change their consumption quantity.
When there is no change in the quantity demanded concerning changes in consumer's income, it can be said that YED=0. Thus, for example, when examining 'necessary goods,' which are not sensitive to price or income for their demand (i.e., consumers buy them regardless of prices and incomes), then YED will equal 0 because of an increase/decrease in our disposable income has absolutely zero effect on how much we consume.
Negative Elastic Demand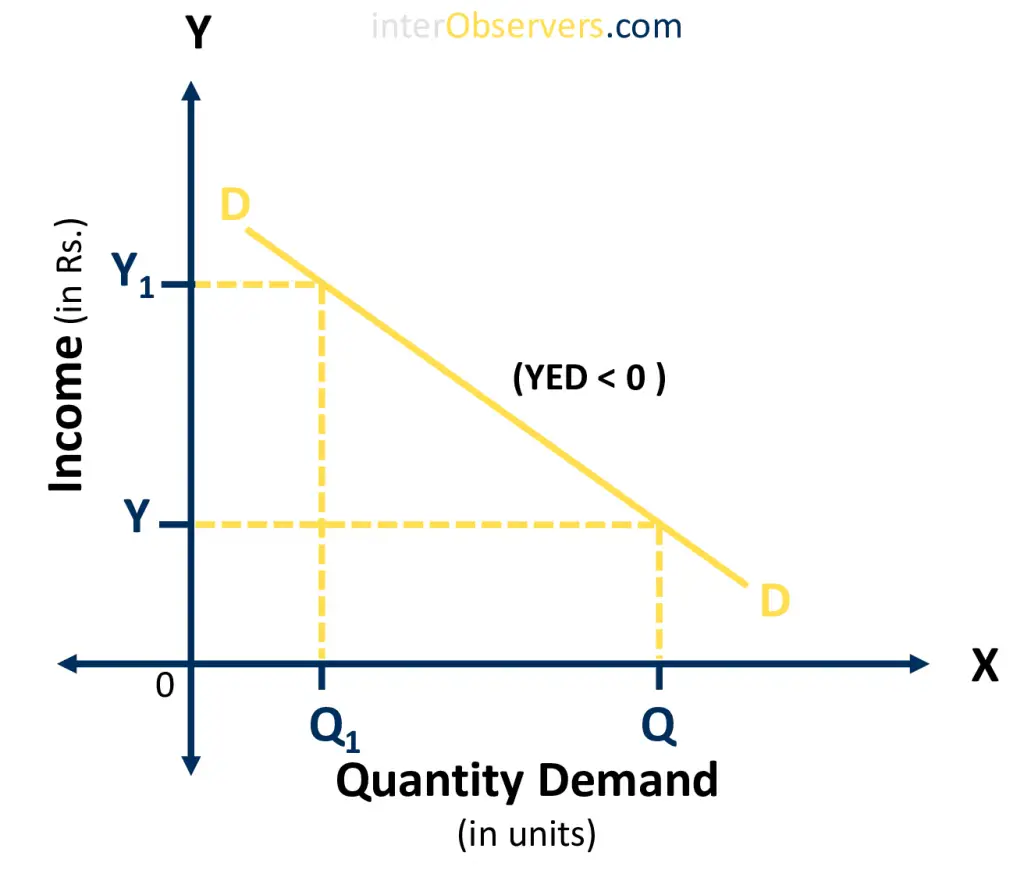 When an increase in income causes a decrease in the number of goods purchased, it is referred to as negative income elasticity. This happens when inferior goods are consumed; for example, if someone's income increases, they would prefer buying first-hand clothes instead of second-hand ones. Second-hand clothing is inferior, and therefore the elasticity for this good tends to be negative (YED < 0).
Why is Income Elasticity of Demand useful?
1. Identify normal and inferior goods.
Normal goods are those products that people purchase more of as their income rises. On the other hand, inferior goods are purchased less frequently by consumers when they earn higher incomes.
The nature of a product is important for producers to consider when deciding how best to produce and sell their goods.
2. Understand market behavior and predict stock movement
As the income of consumers rises, demand for normal goods increases. However, as people earn more money, they start buying better quality products and, in turn, reduce their consumption of inferior items such as cheap food or clothes that have a poor reputation.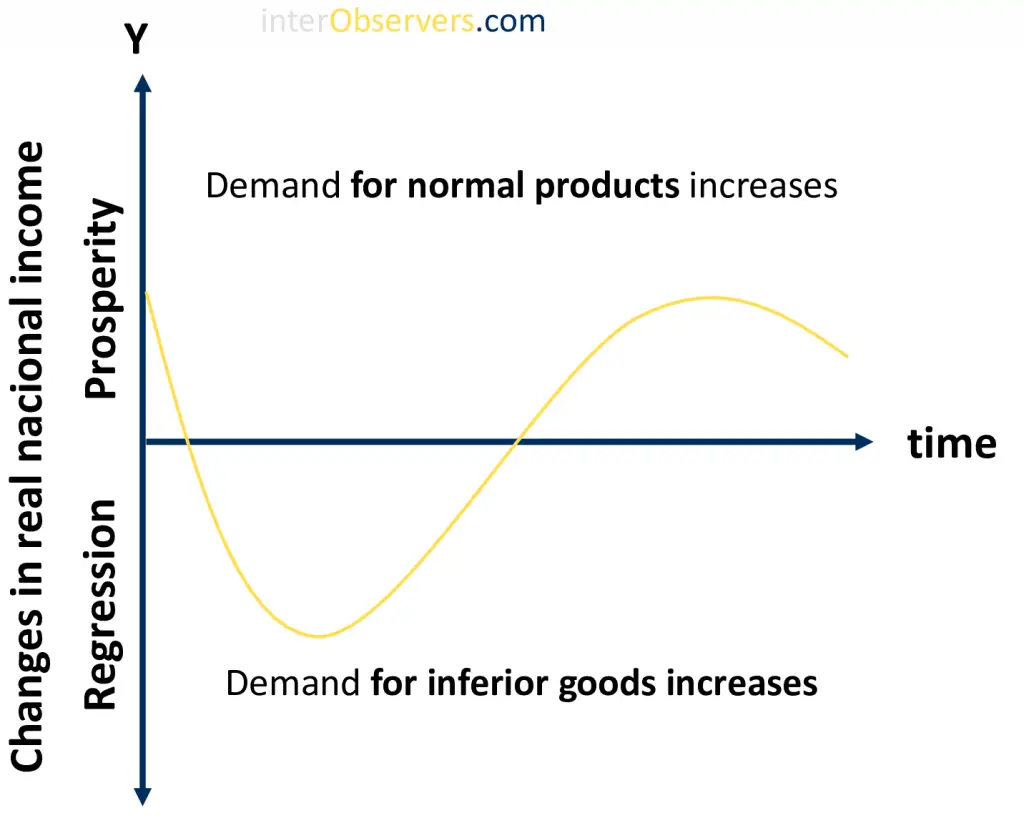 The demand for normal goods decreases during regression and increases in prosperity. In contrast, the demand for inferior goods usually follows a reversed pattern: they increase when conditions are bad and decrease when times get better. 
3. Forecasting demand
The idea of demand forecasting implies that a substantial change in wages will impact the demand for commodities. When buyers become aware of a shift in income, they will modify their preferences and expectations, significantly affecting future demand.
Related: 5 Determinants of demand
4. Pricing Strategy
To determine the price of goods, a businessperson needs to know income elasticity. If an item has positive income elasticity and consumers' incomes fall, they will reduce demand for that product, so it may be wise to decrease its price to increase sales revenue as compensation.
5. Investment decisions
Investors tend to invest in markets where they predict that demand for commodities is related to a growth in national income. This means that the elasticity of demand must be greater than negligible, which can help investors make more accurate predictions about future trends and demands on particular types of products.
Related Terms:
Conclusion
Today, we've explored the meaning behind income elasticity of demand, how it can be used for business decisions, and some ways you could use this economic term to your advantage. In summary, income elasticity is a concept that helps us understand which goods appeal to higher-income individuals and which ones may attract lower-income customers.
As marketers or business owners trying to get ahead in an increasingly competitive marketplace, understanding key concepts like these will help ensure success. So what do you think? Have I convinced you about the usefulness of this term? If so, share this post with anyone else who might find it interesting!
Frequently Asked Questions 
Can Income Elasticity of Demand Be Negative?
Yes. For example, with certain inferior goods, people are less likely to buy cheaper products in favor of higher quality ones as they have more money.
Income Elasticity of Demand Measures How
Income elasticity of demand measures how much the quantity demanded changes in response to a change in income. The formula for calculating it is
Income Elasticity = % Change In Quantity Demanded / (% Change Income).
Why is Income Elasticity of Demand Important?
Income elasticity of demand is important because it tells us how much quantity demanded varies with a change in income. It also determines whether the good being sold is normal or inferior.
Why is Income Elasticity of Demand Negative for Inferior Goods?
Inferior goods have a negative income elasticity because when incomes rise, people switch to better alternatives.
What is Cross-price Elasticity?
Cross-price elasticity is a way to measure how sensitive the demand for one product will be affected by changes in the price of another related good. Sometimes, some products are directly or indirectly linked together. Thus, a change in prices can positively or negatively affect each other's demands.