Disclaimer: We sometimes use affiliate links in our content. For more information, visit our Disclaimer Page. 
Navigating the job market can be a challenging and overwhelming experience, but landing that coveted job offer makes it all worthwhile. But what happens after you've received that offer? How do you respond in a way that showcases your professionalism while ensuring the best possible outcome for yourself?
In this comprehensive guide on "How to respond to a Job offer," we'll walk you through every process step, from understanding and evaluating job offers to crafting well-considered responses, negotiating terms, and sealing the deal confidently.
Key Takeaways
Understanding the different elements of a job offer and identifying your non-negotiables can help you make informed decisions when responding to an offer.
When responding to a job offer, it's essential to be professional and express gratitude while asking for clarification, negotiating salary and benefits, or making a counteroffer if necessary.
Declining a job offer professionally and respectfully can help maintain good relationships with potential employers. Remember always to keep communication open throughout the process.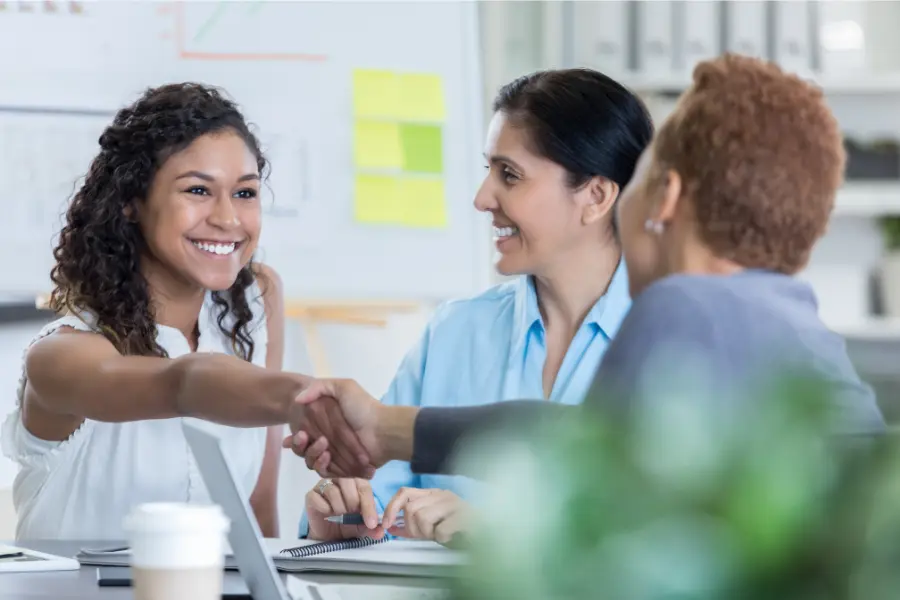 Understanding The Job Offer
Before responding to a job offer, it's essential to understand the different elements of the offer and consider factors such as job responsibilities, compensation, benefits, company culture, and work-life balance.
Elements Of A Job Offer
A job offer typically consists of various components that outline the terms and conditions of employment. It is essential to understand each element to make an informed decision. Here are some common elements included in a job offer:
Job title: The specific role you will take within the company.
Salary: The amount of compensation you can expect, often expressed as an annual figure or hourly rate.
Benefits: Additional perks such as health insurance, retirement plans, or vacation time.
Equity or stock options: A form of non-cash compensation that grants ownership stakes in the company.
Start date: The date when your employment is expected to begin.
Work schedule: Details about the typical hours and days you must work.
Location: The office location or remote work setup where you will perform your duties.
Reporting structure: Information about your supervisor and chain of command within the organization.
Responsibilities and expectations: Briefly describe your primary tasks and performance goals.
Probationary period (if applicable): A period during which either party can terminate the employment relationship without cause or penalty.
Duration of employment (if applicable): When a contract position will last, if not permanent.
Non-compete or confidentiality clauses (if applicable): Restrictions on sharing specific information about the company or working with competitors after leaving the job.
Understanding these elements can help you evaluate whether a job offer aligns with your career goals and personal needs, allowing you to make an informed decision when responding.
Factors To Consider Before Making A Decision
Before responding to a job offer, it's essential to take some time to review and consider the following factors carefully:
The compensation package, including salary, benefits, and equity
The job responsibilities and opportunities for growth
The company culture and work environment
The location of the job and commute time
The hiring manager's communication style and leadership approach
The company's reputation and financial stability
Compatibility with personal values and professional goals
Potential for work-life balance and flexibility
Taking these factors into consideration can help you make an informed decision about whether or not to accept a job offer or negotiate the terms of employment.
Identifying Non-negotiables
Before responding to a job offer, it is crucial to identify your non-negotiables. These factors you must maintain may include salary expectations, work schedule, location, benefits package, or job duties.
For instance, if a flexible work schedule is important to you due to family commitments or other reasons, this should be listed as a non-negotiable.
Similarly, if healthcare coverage is critical for yourself or a dependent, this should also be considered in evaluating the overall compensation package being offered.
How to Respond to a Job Offer? Simple Ways
Job seekers have three options when responding to a job offer: accepting the offer, negotiating terms of employment, or declining the offer.
Accepting The Offer
It's time to respond once you have carefully reviewed the job offer and decided. If you decide to accept the job offer, follow these steps:
Express gratitude: Let the hiring manager know you appreciate the job offer and are excited about the opportunity.
Confirm details: Clarify any remaining details, such as start date, schedule, or location.
Accept the terms: Use clear language to confirm that you accept the terms of employment as presented in the job offer.
Follow up: Send a formal acceptance letter or email to confirm your acceptance and provide any additional information requested by the hiring manager.
Express enthusiasm: End positively by reiterating your excitement about joining the team and thanking them for their time and consideration.
Remember to keep your communication professional and concise when accepting a job offer. This will ensure you make a good impression on your new employer from the very beginning.
Negotiating Terms Of Employment
To ensure that you secure the best possible job offer, it's essential to be prepared to negotiate the terms of employment. Here are some tips:
Do your research: Make sure you know industry standards for salary and benefits and the company's history of offering compensation packages. This will provide you with a baseline for negotiations.
Identify your priorities: Determine which aspects of the job offer are most important to you and what you're willing to negotiate on. It could be salary, benefits, vacation time, or other perks.
Be confident: Approach negotiations with confidence and clarity about what you want. Be professional but assertive in making your case.
Find common ground: Find ways to compromise where possible and find a middle ground that works for both parties.
Keep communication open: Remember that negotiations are a two-way street, so keep lines of communication open and listen carefully to feedback from the hiring manager.
Following these negotiation tips can increase your chances of securing a job offer that meets your expectations and sets you up for success in your new role.
Declining The Offer
If you have decided that the job offer is not the right fit for you, it's essential to decline it professionally and respectfully. Here are some tips for declining a job offer:
Respond promptly: When you decide you don't want to accept the job offer, let the employer know. This will show respect for their time and allow them to move forward with other candidates.
Express gratitude: Thank the employer for offering you the position and express your appreciation for their interest in you.
Provide a reason (if appropriate): You are not required to provide a reason for declining an offer, but if a specific concern or issue led to your decision, it may be helpful to share this feedback with the employer.
Keep it brief: Your response should be concise and to the point. Avoid going into too much detail or over-explaining your decision.
Offer to stay in touch: If you had a positive experience interacting with the employer during the hiring process, consider offering to stay in touch or connect on LinkedIn.
Remember, even if you decline an offer, maintaining a professional and courteous tone can help build your reputation within your industry and may lead to future opportunities.
Crafting Your Response
Crafting your response involves expressing gratitude and appreciation, asking for clarification or additional information, negotiating salary and benefits, and making a counteroffer if necessary.
Expressing Gratitude And Appreciation
When responding to a job offer, expressing gratitude and appreciation for the essentiality is essential. This shows professionalism and leaves a positive impression on the hiring manager.
Begin your response by thanking the employer for offering you the job and for their confidence in your abilities.
For example: "Thank you for extending this job offer! I'm truly grateful for the opportunity to work with such a fantastic company and team. The salary and benefits package is very generous and much appreciated."
Asking For Clarification Or Additional Information
It's essential to clearly understand the job offer before making any decisions. If there are areas that you're unsure about or require more information, it's perfectly acceptable to ask for clarification or additional details.
When asking for clarification or additional information, be specific in your inquiry and courteous in your phrasing.
Negotiating Salary And Benefits
Negotiating salary and benefits is an essential part of the job offer process. Here are some tips to help you negotiate effectively:
Do your research: Before negotiating, research industry standards and salaries for similar roles in your area.
Know your worth: Determine your value based on your skills, experience, and what you can bring to the company.
Prioritize: Identity what benefits matter most to you, such as health insurance or flexible work arrangements.
Timing is critical: Wait until after receiving a job offer before beginning negotiations about salary and benefits.
Be realistic: While it's important to negotiate for fair pay and benefits, be realistic about what the employer can offer.
Practice active listening: Listen carefully to the employer's needs and concerns during negotiations to find mutually beneficial solutions.
Express gratitude: Show appreciation for the employer's willingness to discuss compensation and benefits with you.
Keep communication open: Work collaboratively with the hiring manager to find common ground that meets both parties needs.
By following these best practices, you can successfully negotiate favorable terms within your job offer while building a positive relationship with the employer.
Making A Counter-offer
When negotiating terms of employment, job seekers may choose to make a counter offer if they feel the initial offer does not meet their needs or expectations.
A counter-offer is typically a proposal for revised terms, such as salary or benefits, that are more favorable to the candidate.
For example, a job seeker might receive a lower starting salary offer than they hoped. In response, they could prepare a counter-offer that outlines specific reasons why they believe their skills and experience warrant a higher salary.
Expressing gratitude for the initial offer is crucial while clearly stating what changes are being requested in the counter-offer. Candidates should be prepared to provide justification for their proposed changes and consider potential compromises that both parties could make.
Finalizing The Job Offer
After responding to a job offer, handling the final steps with professionalism and care is essential. This section covers everything from seeking feedback for future opportunities to respectfully confirming acceptance or declining the offer.
Handling Rejection With Professionalism
If a job offer is rejected, handling the situation with professionalism and grace is crucial. This may be disappointing or uncomfortable, but there are steps you can take to make sure you retain your professional reputation.
Firstly, respond promptly to the hiring manager with a gracious email expressing appreciation for their time and consideration, reiterating any positive aspects about the company or position.
Secondly, reaffirm your interest in working at this organization if any suitable openings arise while reflecting on why you declined this opportunity.
Lastly, seek feedback from the hiring manager to improve on areas of weakness for future opportunities.
Seeking Feedback For Future Opportunities
After declining a job offer, seeking feedback on your interview and application process is always valuable. This feedback will help you identify areas for improvement to better prepare for future job opportunities.
You should promptly request feedback from the hiring manager or recruiter after declining the job offer. Be sure to express gratitude for their time and consideration in your initial email and provide context on why you seek feedback.
Following Up On The Job Offer
After responding to a job offer, following up and confirming the details is essential. Here are some steps to take:
Send a thank-you email: Show appreciation for the job offer and reaffirm your interest in the position.
Ask for clarification if necessary: If you have any questions or concerns about the job offer, ask the hiring manager for clarification or additional information.
Confirm your acceptance: If you've decided to accept the offer, confirm your acceptance and reiterate your start date.
Negotiate any remaining terms: If there are still terms that need to be negotiated, such as salary or benefits, continue negotiating until both parties agree.
Follow up after accepting: Once you've accepted the offer, contact the hiring manager periodically to check in and stay connected before starting your new role.
Remember to maintain professionalism throughout this process and keep communication lines open with the employer. This will help establish a positive relationship from the start.
Confirming Acceptance
Once you've decided to accept a job offer, it's essential to confirm your acceptance professionally and promptly. This shows your enthusiasm for the role and helps the employer finalize their hiring decision and make necessary arrangements for your start date.
The first step is to respond with appreciation, expressing gratitude for the opportunity to join the team and excitement about starting the new position.
For example: "Thank you for offering me this incredible opportunity! I'm thrilled to formally accept this position at [company name], effective on [start date]. I appreciate all our time discussing my role's responsibilities and expectations and negotiating my salary and benefits package, which we agreed upon.
Confirming acceptance is not just good etiquette; it's crucial in ensuring a smooth transition into a new role.
Declining The Offer Professionally
If you have decided to decline a job offer, it is essential to do so with professionalism and gratitude. Start by expressing appreciation for the opportunity to interview and be considered for the role.
Remember that even though you may not accept this particular job offer, maintaining a positive relationship with the hiring manager or company could open doors for future opportunities.
Thank them again for their time and consideration, and let them know that you would welcome any feedback they might have.
Conclusion
Mastering the art of responding to job offers is crucial. With this step-by-step guide, you can confidently navigate the process and make informed decisions about your career.
Whether accepting a job offer or negotiating terms and conditions, it's essential to be professional and courteous in all interactions with hiring managers.
Always express gratitude for the opportunity presented while advocating for yourself when necessary.
FAQs:
How should I respond to a job offer?
When responding to a job offer, expressing gratitude for the opportunity and negotiating key details such as salary and start date, if necessary, is essential. It is also important to carefully review the terms of the offer before accepting or declining.
What if I need more time to consider a job offer?
If you need more time to consider a job offer, requesting an extension on the deadline for your response is acceptable. Be sure to communicate clearly and professionally with the hiring manager so that they understand your needs and can work with you accordingly.
What should I do if I have multiple job offers?
If you have multiple job offers, it's essential to weigh your options carefully and make an informed decision based on salary, benefits, company culture, growth opportunities, etc. You can also negotiate with each employer to see if additional perks or incentives could sway your decision.
Is it ever okay to decline a job offer after accepting it?
While it is not ideal, there may be circumstances where you need or want to decline a job offer after already accepting it. In this case, communication is critical – be honest about why you cannot follow through on your acceptance and try your best not to burn bridges with the employer in question by being professional and diplomatic throughout the process.