Disclaimer: We sometimes use affiliate links in our content. For more information, visit our Disclaimer Page. 
Navigating the waters of romance in a professional setting can seem like navigating a tightrope—where one must balance personal desires with workplace dynamics. Knowing how to ask out a coworker involves more than courage; it requires a discreet approach that respects professional boundaries and the organic development of mutual interest. You may have an office crush, but proceeding tactfully and understanding your unique environment's subtleties is key to avoiding any awkwardness.
This guide offers the insight and strategies needed to elevate your confidence and handle this delicate situation gracefully.
Key Takeaways
Maintaining professionalism is paramount when considering how to ask out a coworker.
Respecting workplace dynamics ensures that both parties feel comfortable and the work environment remains unaffected.
Understanding and observing professional boundaries is crucial to approaching an office crush appropriately.
A discreet approach aids in preserving the integrity of both personal and professional relationships.
Ensuring there is a mutual interest through subtle, respectful interaction can prevent potential awkwardness.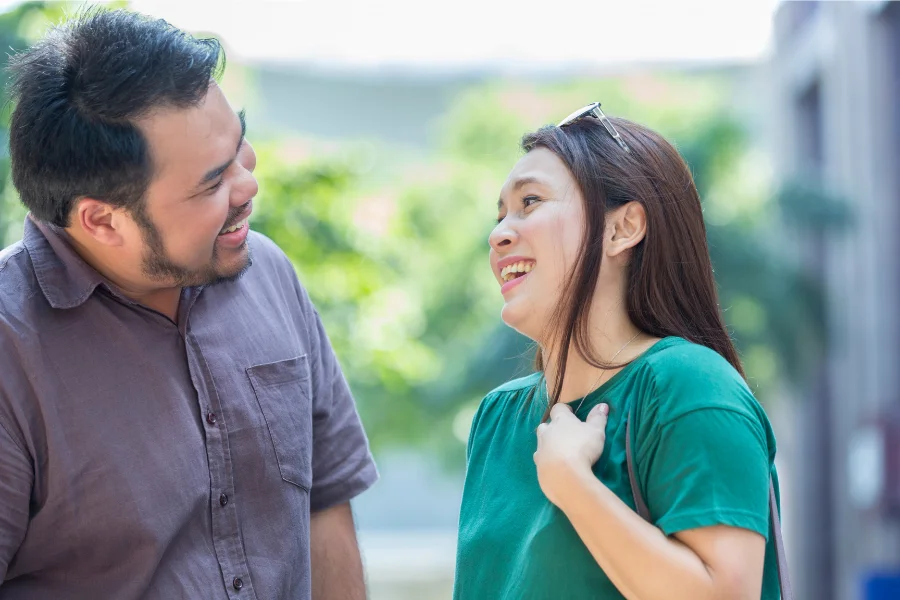 Understand How to Ask Out a Coworker
Recognizing the complexities of workplace dynamics is vital before considering entering into a romantic relationship with a colleague. To navigate this sensitive terrain, awareness of company dating policy and adherence to HR policies are non-negotiable.
It's not just about following rules; it's about honouring the professional space consecrated for collective goals while being acutely conscious of the ethical considerations that undergird our actions.
The fabric of team cohesion can be delicate, and introducing personal relationships within the work sphere requires a thoughtful and strategic approach.
Unveiling workplace dating restrictions, understanding the ripple effects of power dynamics, and forecasting the social milieu after such disclosure are considerations that must not be overlooked. Below is a breakdown of essential elements to reflect upon pre-embarking on an office romance:
| Element | Description | Why It Matters |
| --- | --- | --- |
| Company Dating Policy | Ensures you are aware of limitations and processes, reducing chances of professional misconduct. | Assists in understanding the boundaries and provides protocols on how to proceed or disclose relationships. |
| HR Policies | Human Resources framework on professional relationships. | Helps maintain integrity respect for colleagues, and mitigates conflict of interest scenarios. |
| Power Dynamics | The hierarchy influenced interplay between employees of different status. | It's essential to recognize inherent inequalities in authority, which could influence perceived or real consent. |
| Team Cohesion | The unity and collective effectiveness of a working group. | Fosters a collaborative atmosphere; dating within the team could disrupt productivity and workplace morale. |
| Workplace Dating Restrictions | Limits set by a company on employee relationships. | Understanding these allows individuals to make informed decisions that align with company culture. |
Before taking any steps toward sparking a romance at the office, having a clear view of the landscape is crucial. It is not just about what is allowed within the corporate climate but also about what should be done to preserve the sanctity of the professional environment you thrive in.
"The most important step in developing a relationship with a coworker is ensuring actions are informed, consensual, and respectful of the community and space you share."
By carefully contemplating these factors, you can balance pursuing personal interests and upholding a professional demeanour. Such an approach affirms your respect for personal boundaries and your dedicated commitment to the collective success of your team and company.
Evaluate Mutual Interest Through Casual Conversation
When we consider the delicate concept of sparking romance in the office, the art of casual conversation emerges as a primary tool. Tactfully conducted, these conversations can act as a litmus test for mutual interest while maintaining emotional intelligence and professional decorum.
Steering Clear of Office Gossip with Subtle Queries
Launching into a direct line of enquiry about romantic interest is a common faux pas. To avoid the snare of workplace gossip, one must exercise subtlety. Instead, inquire about general well-being or shared interests. For instance, discussing a new restaurant or book creates a pathway to understanding the other's hobbies and values without overstepping boundaries. Here's how to keep it discreet:
Avoid probing personal questions that can circulate as gossip.
Lead with work-related topics and segue into light personal interests.
Be mindful of your coworker's responses: openness indicates interest and brief answers suggest otherwise.
Gauging Interest: Coffee Break Cues and After-Work Chat
The informal settings of a coffee break or an espresso run are ripe for evaluating mutual interest. Observe body language and engagement. An invitation to continue the conversation over lunch or an after-work activity can indicate more than professional courtesy.
Use these opportunities to share shared hobbies in a comfortable environment, fostering an organic and discreet way to connect personally.
Here are indicators to watch for in these scenarios:
| Indicator | Significance | Action |
| --- | --- | --- |
| Consistent Eye Contact | May suggest a keen interest. | Maintain eye contact, signaling your engagement. |
| Open Body Language | Indicates comfort and receptiveness. | Respond with open gestures, mirroring their ease. |
| Exclusivity in Conversation | Choosing to speak to you over others may hint at interest. | Value their choices by giving undivided attention. |
Professional Decorum: Maintaining Respectfulness in Pursuit
Maintaining a respectful relationship within the workplace means upholding a sense of professionalism in romance. Any indication of interest should be met with mutual respect and discretion. Whether navigating remote work challenges or sitting across from each other, always prioritize a comfortable environment for both parties.
Remember the following when maintaining professional decorum:
Respect the other person's space and privacy; do not pressure for personal information or meetings outside of work.
Use inclusive language that upholds mutual respect and does not single out or embarrass.
Remain aware of workplace policies and your actions' broader impact on team dynamics.
The foundation of building any meaningful connection lies in a sequence of respectful interactions that align with both personal comfort and professional standards.
Planning the Perfect Moment to Extend a Date Invitation
The subtle art of issuing a date invitation to a coworker hinges on finding the perfect moment. Each step in building a connection at work can contribute a brick to the bridge of mutual understanding necessary for a genuine personal relationship. Securing the right timing is a dance between professional responsibilities and emerging personal interests, ensuring your actions are welcomed and reciprocated rather than intrusive.
Striking the balance requires an acute awareness of the environment and emotional intelligence. For rapport building, remember that consistency is key. Regular interactions rooted in shared workplace experiences can gradually foster a sense of ease and familiarity. If such rapport has been established, transitioning to an invitation for a date becomes much more natural and less daunting.
Besides being a staple of strong professional relationships, open communication facilitates clarity and honesty. It is the medium through which authentic interactions can thrive, laying a solid groundwork where a date invitation is the next logical step rather than an unexpected leap. Here are some practical steps to help orchestrate the right moment:
Pick a time when work stress is minimal, such as after completing a big project.
Ensure the chosen moment allows for private conversation, free from colleagues' prying eyes or ears.
Monitor the flow of your previous interactions for signs of mutual comfort and interest.
"The success of extending a date invitation often lies in the buildup—fostering genuine connections through consistent rapport and sincere communication."
As the stage is set, and anticipation hangs in the air, consider these factors to determine if the moment is ripe:
| Moment Factor | Relevance | Consideration |
| --- | --- | --- |
| Workplace Atmosphere | An environment free from immediate tension or pressure. | Choose a relaxed day, possibly after work hours or during a calm work cycle. |
| Colleague's Mood | Their emotional state can heavily influence receptiveness. | Be observant; an upbeat or positive mood can serve as a green light for personal dialogue. |
| Privacy Level | Protects the dignity and comfort of both parties. | Avoid public settings within the office where the conversation can be easily overheard. |
| Recent Interactions | Consistency in rapport indicates a stable ground for deeper connection. | Reflect on recent conversations—have they been progressively more personal and engaging? |
In essence, patience, awareness, and respectful engagement are the compasses by which you can navigate this delicate endeavour. By assuring these elements align, you are more likely to offer a date invitation that feels right and respectful, resonating with the established rapport and the genuine connections you have nurtured in your workplace.
Setting the Tone for a Respectful Relationship
When navigating the subtle nuances of workplace romance etiquette, establishing a respectful tone sets the stage for healthy, professional boundaries. Interweaving personal and professional lives demands a high degree of awareness regarding relationship boundaries to prevent potential conflicts of interest and promote ethical workplace behaviour.
Workplace Romance Etiquette: Boundaries and Professionalism
Professionalism must be maintained at every step of coworker interaction, especially when personal feelings are involved. Key aspects of workplace romance etiquette revolve around discretion, respect for others, and adherence to the company's policy. Adhering to these principles not only minimizes the potential for workplace disruption but ensures that all parties feel comfortable and respected.
| Aspect of Etiquette | Intent | Impact on Professionalism |
| --- | --- | --- |
| Discretion in Romance | To keep intimate details private and separate from work | Preserves personal dignity and maintains workplace focus |
| Clear Communication | To establish and affirm relationship boundaries | Avoids misunderstandings and ensures all actions are consensual |
| Respect for Policy | To align personal actions with company standards | Reduces risk of conflict of interest and fosters trust |
| Acknowledging Power Dynamics | To be conscious of hierarchical structures within the workplace | Avoids exploitation of power and promotes equity |
Coworker Dating Tips: Clear Intentions for Workplace Harmony
In the delicate dance of coworker dating, expressing clear intentions to maintain workplace harmony is crucial. Being honest and upfront about one's intentions ensures transparency and reduces the chances of any confusion or misunderstandings, often at the heart of workplace romance complications.
Communicate openly about your intentions with your coworkers, avoiding ambiguity.
Practice moderation when sharing the development of your relationships in the workplace to avoid disruption.
Always prioritize consent and comfort levels, never applying pressure.
Every interaction in a workplace romance should contribute positively to a culture of respect, inclusion, and ethical behavior. Ensuring clear intentions not only fosters personal connection but also safeguards the collective workplace harmony.
Ultimately, incorporating these considerations into one's approach to coworker dating tips can lead to a personally fulfilling and professionally appropriate relationship. By exercising discretion in romance, one demonstrates respect for one's partner and colleagues, setting an example for ethical and considerate workplace behaviour.
Conclusion
As we draw this discussion close, the nuances of coworker relationships and in-office romance are markedly clear. Navigating these interactions professionally is essential, guided by the compass of office romance guidelines.
Integrating these principles with ethical dating practices is pivotal to formulating a foundation for successful office relationships. Keeping professionalism and respect as your north star guarantees that your personal desires and professional obligations coexist.
Commitment to these paradigms not only facilitates a respectful and genuine connection with a coworker but also upholds workplace integrity.
Balancing personal interest with corporate etiquette is not a mere tightrope walk but a strategic journey—paved with thoughtful consideration, emotional intelligence, and adherence to the contextual ethos. As you reflect upon these insights, let them steer your pursuit of romance in a way congruent with your professional landscape.
FAQs
How can I ask out a coworker while maintaining professionalism?
Approach your coworker in a discreet, respectful manner that aligns with your workplace's dynamics and professional boundaries. Assess mutual interest through casual conversation before making your intentions clear. Ensure that this approach is consistent with your company's HR policies.
What are some discreet ways to evaluate whether a coworker is interested in dating?
Engage in casual conversation during coffee breaks or after-work events to gauge interest, paying close attention to body language and verbal cues. Shared hobbies and comfortable, authentic interactions can also be good indicators of mutual interest while remaining respectful and professional.
How do I set the tone for a respectful office romance?
Begin by communicating clearly and maintaining strong professional boundaries. Demonstrate respect and mutual understanding, keep your personal interactions discreet, and navigate any potential conflicts of interest with integrity. Follow workplace romance etiquette to uphold a professional demeanor and contribute to workplace harmony.
Are there ethical concerns with dating a coworker?
Yes, ethical concerns include potential conflicts of interest, favouritism, and power imbalances, particularly in manager-subordinate relationships. It's important to evaluate the situation carefully, maintain transparency with HR, and follow all guidelines to ensure the relationship doesn't impact your and others' professional well-being.
What should I do if my advances are not reciprocated?
Handle rejection with grace and professionalism. Continue to maintain a cordial and respectful relationship with the coworker in a work setting. It's important not to take the rejection personally and to respect their boundaries, ensuring no uncomfortable tension affects your workplace environment.