Disclaimer: We sometimes use affiliate links in our content. For more information, visit our Disclaimer Page. 
A college interview is an essential part of the application process for many students. One of the most common college interview questions that interviewers ask is, "Tell me about yourself."
In this blog post, we will discuss how to answer tell me about yourself college interview questions and provide helpful tips to make your response memorable and engaging. Keep reading to learn more about answering this crucial question and nailing your college interview!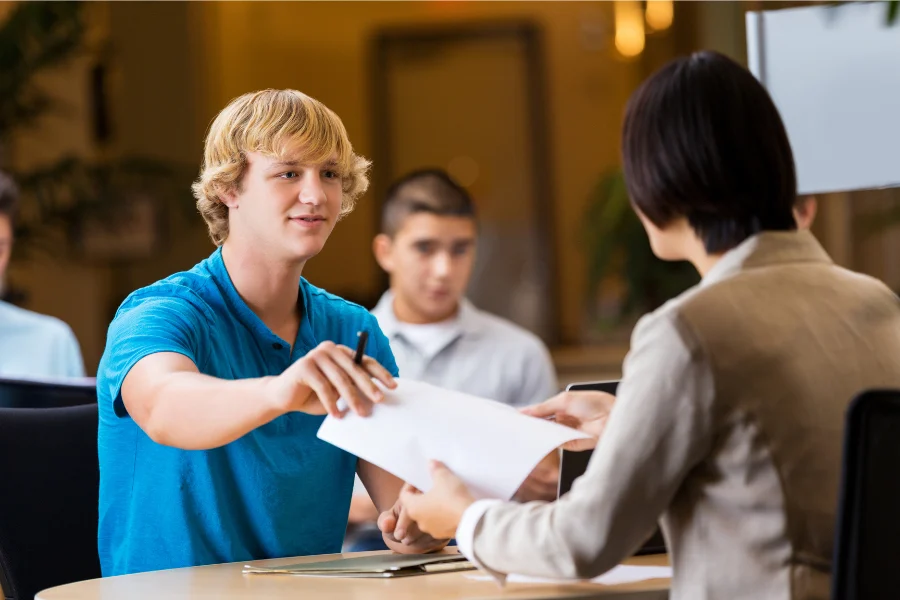 Mastering the Art of Answering "Tell Me About Yourself" in College Interviews
Answering the "Tell me about yourself" question may seem simple, but it's actually a fantastic chance to showcase your personality, interests, and experiences. To create a compelling response, follow these guidelines:
Stick to the Past, Present, and Future Formula
A simple formula to answer this interview question is to structure your response around your past, present, and future experiences. Begin by talking about your life story, including your home life, elementary school experiences, and any formative moments that shaped your interests and values.
Next, discuss your current situation, such as your educational background, academic interests, and extracurricular activities. Be sure to mention any significant achievements or recent experiences that demonstrate your growth and potential.
Finally, touch on your future goals regarding your college years and long-term career objective. Share your dream university, your desired major, and how you plan to contribute to the student body and community. This past-present-future strategy provides a coherent response that showcases your personal strengths and aspirations.
Focus on Relevance
When answering this college interview question, keep in mind that the interviewer is genuinely interested in learning more about you but also wants to gauge your fit for the university. Ensure your response highlights your academic background, interests, and experiences that align with the school's values and programs.
For example, if you're applying for a political science major with a focus on international relations, mention any relevant experiences, such as participating in a Model United Nations conference or interning at a local political organization.
Be Authentic and Showcase Your Personality
Interviewers want to get a sense of who you are as a person, so be honest and let your personality shine through. Share anecdotes or personal experiences that reveal your values, hobbies, or personal interests. Remember, college interviewers are not just evaluating your academic achievements but also looking for students who can contribute to a vibrant campus community.
For instance, if you're passionate about theatre arts, talk about your involvement in local theatre productions or your love for musical theatre. Sharing these experiences shows the interviewer that you're a well-rounded individual with diverse interests.
Practice, Practice, Practice
The key to delivering a compelling answer during your college interview is practice. Consider doing a mock interview with a friend, family member, or mentor to help you refine your response and feel more comfortable speaking about yourself. This preparation will enable you to answer questions confidently and avoid going off-topic or rambling during the interview.
Related: Examples of Leadership Roles in High School
Sample Answers for "Tell Me About Yourself" in a College Interview
To give you an idea of how to craft your own response, let's look at a few sample answers for the "Tell me about yourself" college interview question.
Sample Answer #1
"Growing up in a small town, I always dreamed of studying at [Dream University] because of its fantastic programs and such great professors. I recently graduated from high school, where I was an avid reader and editor of our school newspaper. My passion for journalism led me to intern at our local news station, where I learned the importance of accurate reporting and developed strong communication skills.

In my free time, I enjoy volunteering at the local animal shelter and hiking with my friends. I am especially interested in majoring in Communications at [Dream University] because I believe it will provide me with the skills and opportunities I need to pursue a career in journalism. I'm excited about the prospect of joining the university's student newspaper and contributing to its award-winning content. In the future, I hope to work as an investigative journalist, uncovering stories that have a positive impact on society."
Sample Answer #2
"I was born and raised in a landlocked state, which ignited my fascination with the ocean and marine life. As a child, I would spend hours reading books about the ocean, and my parents even took me on a trip to the coast so I could experience it firsthand. That trip solidified my passion for marine biology, and I've been determined to pursue a career in this field ever since.
Currently, I'm a senior in high school, where I excel in science classes and serve as the president of our school's environmental club. Last summer, I had the opportunity to participate in a marine biology research program, where I learned valuable research and data analysis skills. I am eager to attend [Dream University] and major in Marine Biology, as I believe it offers a top-notch program and fantastic research opportunities. In the long run, I aim to contribute to marine conservation efforts and inspire future generations to protect our oceans."
Sample Answer #3
"Ever since I was a child, I've been passionate about helping others. My mother, a nurse, has always been my role model, and her dedication to her patients inspired me to pursue a career in the medical field. Throughout high school, I've been an active volunteer at a local hospital, assisting with various tasks and learning the importance of empathy and compassion in patient care.
In addition to my passion for healthcare, I've also excelled academically, particularly in my science and math courses. I believe that attending [Dream University] and majoring in Biology would provide me with a solid foundation for medical school and ultimately help me achieve my goal of becoming a physician. I'm also excited about the prospect of engaging in undergraduate research and joining the university's pre-med club, where I can connect with like-minded students and gain valuable insights into the medical profession."
Related: Related: What To Say at An Interview
More Interview Tips for College Interviews
In addition to mastering the "Tell me about yourself" question, here are some more interview tips to help you excel in your college interviews:
Research the university: Familiarize yourself with the university's programs, values, and student life. This knowledge will help you tailor your answers to show your genuine interest in the school and demonstrate your fit for the institution.
Prepare for common college interview questions: Practice answering other common college interview questions, such as "Why do you want to attend this university?" or "What challenges have you overcome?"
Dress professionally: First impressions matter, so dress appropriately for your college interview. Opt for business casual attire, such as a dress shirt and slacks or a modest dress.
Ask thoughtful questions: Prepare a few questions to ask your interviewer, as this shows your engagement and interest in the university. You might inquire about campus life, research opportunities, or even the interviewer's personal experience as a student or faculty member.
Follow up with a thank-you note: After the interview, email your interviewer, expressing gratitude for their time and reiterating your interest in the university.
Related: Examples of Leadership Experiences
Conclusion
Answering the "Tell me about yourself" college interview question can be challenging. Still, with the right approach and plenty of practice, you can craft a compelling response that showcases your unique experiences, interests, and aspirations. Remember to focus on the past, present, and future formula, maintain relevance to the university, be authentic, and practice your response.
By mastering this crucial interview question and following our additional interview tips, you'll be well-prepared to shine in your college interviews and increase your chances of securing a spot at your dream university. Good luck!
Frequently Asked Questions (FAQs)
How long should my answer to "Tell me about yourself" be during a college interview?
Aim for a response that is around 1-2 minutes long. This is enough time to provide an engaging and informative answer without overwhelming the interviewer or taking up too much time.
Should I mention my weaknesses or challenges when answering "Tell me about yourself"?
While it's essential to be authentic, focus on showcasing your strengths, achievements, and interests when answering this question. If the interviewer asks about your weaknesses or challenges later in the interview, be prepared to discuss them openly and highlight how you've worked to overcome them.
Can I use humor in my response to "Tell me about yourself"?
Using humor can help you connect with your interviewer and showcase your personality. However, ensure the humor is appropriate and doesn't detract from the main points you want to convey.
What if I don't have any significant accomplishments or experiences to mention in my answer?
Focus on the experiences and interests that have shaped your values and passions. Discuss your academic background, extracurricular activities, and personal interests, and highlight how they prepared you for college and your future goals.
How do I avoid sounding arrogant or boastful when talking about my achievements?
Be genuine and humble when discussing your accomplishments. Explain the effort and hard work that went into achieving them, and express gratitude for any support you received along the way. This approach will help you come across as confident without seeming arrogant.