Disclaimer: We sometimes use affiliate links in our content. For more information, visit our Disclaimer Page. 
As a manager, making tough decisions is a part of your daily routine. While your instincts might serve you well in some scenarios, relying solely on them can lead to errors in judgment. Going beyond gut instincts and developing strong decision-making skills is crucial for success in any managerial role.
Key Takeaways:
Effective decision-making is a crucial skill for managers to possess.
Relying solely on gut instincts can lead to errors in judgment.
Developing decision-making skills through training, learning from past experiences, and seeking feedback is important.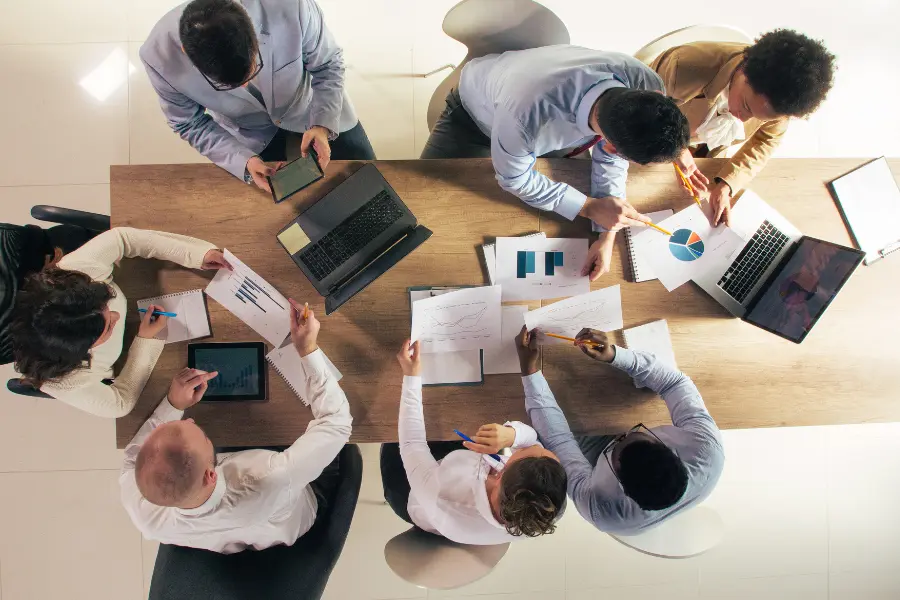 Beyond Gut Instincts How Managers Make Tough Decisions Every Day
Every day, managers are faced with tough decisions that have the potential to make or break their business. While some may rely on gut instincts to guide their choices, a more systematic approach can lead to better outcomes. Let's explore the decision-making process that managers typically follow.
The Steps Involved
Effective decision-making typically involves the following steps:
Identifying the problem or goal: The first step is to clearly define the issue that needs to be addressed or the outcome that needs to be achieved. This involves gathering relevant data and information.
Generating alternatives: Once the problem or goal has been identified, managers must consider various options. This may involve brainstorming or consulting with others.
Evaluating alternatives: Once a list of alternatives has been generated, managers must evaluate each option based on its feasibility, costs, benefits, and potential risks.
Making a choice: After evaluating the alternatives, managers must choose the best option based on the available information and data.
Implementing the decision: Once a decision has been made, it must be implemented. This may involve delegating tasks or communicating the decision to others.
Reviewing the decision: Finally, managers should evaluate the effectiveness of their decision and make any necessary adjustments for the future.
Decision-Making Strategies
There are a variety of decision-making strategies that managers may employ to make tough choices:
Rational decision-making: This approach involves weighing all available options and choosing the one that maximizes benefits and minimizes risks.
Intuitive decision-making: This approach relies on gut instincts and past experiences to make quick, confident decisions.
Data-driven decision-making: This approach uses data and analytics to support decision-making and reduce uncertainty.
Managers may use a combination of these strategies, depending on the situation.
Effective Decision-Making Techniques
Effective decision-making requires various techniques, and managers must be able to apply the right approach to each situation they face. Here are some popular techniques:
Rational Decision-Making
Rational decision-making is a systematic approach that involves gathering data, evaluating options, and making a logical choice based on available information. This technique is particularly useful when decisions must be made quickly and with minimal risk.
Data-Driven Approaches
Data-driven approaches involve analyzing large amounts of information to identify patterns and trends. This method allows managers to make decisions based on facts and evidence rather than relying on intuition or gut instincts.
Intuitive Decision-Making
Intuitive decision-making is a technique that relies on the manager's instincts and experience. This method is particularly useful when faced with complex and uncertain situations requiring quick decisions. Managers can hone their intuition by regularly practicing and seeking feedback on their decision-making skills.
It is important to note that each technique has its strengths and weaknesses and should be used in the appropriate context to maximize effectiveness.
Developing Decision-Making Skills
Effective decision-making is a skill that can be developed over time. Managers must invest time and effort into honing their abilities to become competent decision-makers. Here are some practical tips for developing decision-making skills:
Training: Managers can improve their decision-making skills by attending formal training sessions. These sessions can cover various topics, from data analysis to risk management.
Learning from past experiences: Managers can learn from their past experiences by reflecting on previous decisions and analyzing the outcomes. This can help them identify patterns, strengths, and weaknesses that can inform their future decision-making.
Seeking feedback: Managers can seek feedback from colleagues and team members to gain insights into their decision-making approach. This can help them identify blind spots and areas for improvement.
Managers can make more informed and effective decisions by investing in their decision-making skills, positively impacting their team and organization.
The Role of Data in Decision-Making
Data-driven decision-making has become increasingly important in the business world. By using data to inform decisions, managers can reduce bias and make more informed choices. Evidence-based decision-making provides a solid foundation for strategy, which can lead to more successful outcomes.
There are a variety of ways that managers can use data to support their decision-making processes. For example, analyzing past performance data can help identify areas of improvement or reveal patterns that can inform future decisions. Collecting and analyzing customer feedback can provide valuable insights into customer preferences and needs.
When using data to make decisions, it is important to ensure that it is accurate, relevant, and up-to-date. It is also important to interpret the data correctly and avoid making assumptions or drawing conclusions not supported by the evidence.
Overall, data-driven decision-making can be a powerful tool for managers. By using evidence to inform their choices, managers can make more informed and effective decisions that are more likely to lead to successful outcomes.
Building a Decision-Making Framework
Developing a decision-making framework is essential for managers who want to make consistent and effective decisions. A decision-making framework involves creating a set of guidelines or criteria that can be used to evaluate different options and make informed choices.
When building a decision-making framework, it's important to consider some key factors:
Decision context: What is the decision about? What are the specific goals or objectives that need to be achieved?
Critical success factors: What are the most important elements that must be in place for the decision to be successful? What factors could potentially hinder success?
Risk tolerance: How much risk is the organization willing to take on for this decision? What is the potential downside if the decision does not work out?
Stakeholder analysis: Who are the key stakeholders affected by the decision? What are their interests, and how will different options impact them?
Evaluation criteria: What key factors will be used to evaluate different options? How will these be weighted and prioritized?
By carefully considering these factors, managers can develop a framework tailored to their decisions. This can help ensure that all important elements are considered and that decisions are made consistently and objectively.
Once a decision-making framework has been created, it's important to use it consistently and refine it over time. This can help to build confidence in decision-making abilities and improve outcomes over the long term.
Managers often face complex and challenging business decisions that require careful consideration. In such situations, relying on gut instincts or taking shortcuts that may lead to poor outcomes can be easy. To effectively navigate these challenges, managers can follow some proven strategies:
Take a step back: When faced with a complex challenge, it's important to take a step back and consider all options. Don't rush into deciding without fully understanding the situation and the implications of different choices.
Collaborate: Seek input and feedback from others with diverse perspectives. This can help identify blind spots and ensure all relevant factors are considered.
Break it down: Break down the challenge into smaller, more manageable parts. This can help identify potential roadblocks and develop strategies to overcome them.
Consider the long-term: When making tough decisions, it's important to consider the long-term implications. This may involve weighing short-term sacrifices against long-term benefits.
By following these strategies, managers can effectively navigate complex business challenges and make informed and sound decisions.
Honing Intuition in Decision-Making
Intuition is often viewed as a mysterious, unexplainable phenomenon. However, it is a valuable tool that can be honed and developed to help managers make informed decisions.
One way to hone intuition is to focus on gut feelings and inner voices. These may be subtle signals that something is amiss or a great opportunity exists. By recognizing and acknowledging these feelings, managers can consider them when making decisions.
Another way to hone intuition is to gather diverse perspectives and information. This may include seeking the advice of experts, consulting with colleagues, and conducting research. By exposing themselves to various viewpoints, managers can develop a more holistic understanding of a situation and enhance their intuition accordingly.
Finally, managers can hone their intuition by reflecting on past experiences. By analyzing the outcomes of previous decisions and reflecting on the decision-making process, managers can identify patterns and learn from mistakes. This can help them make more informed and effective decisions in the future.
Conclusion
In today's fast-paced business world, managers face tough daily decisions. While gut instincts can be helpful, they are not always reliable, and managers need to develop more effective decision-making strategies. Managers can make more informed and confident decisions by following a structured decision-making process, using data to support decisions, and honing intuition.
It's also essential for managers to continuously develop their decision-making skills. Seeking feedback, learning from past experiences, and undergoing training can all help managers become more effective decision-makers. Building a decision-making framework can also provide consistency and clarity when faced with complex challenges.
Beyond gut instincts, managers have a range of strategies to make tough decisions. Managers can confidently lead their teams and achieve success in their roles by focusing on developing their decision-making skills and using data to support their decisions.
FAQs
What is the significance of gut instincts in managerial decision-making?
Gut instincts play a significant role in managerial decision-making by providing quick, intuitive insights based on experience and subconscious processing. Managers often rely on their instincts to make decisions when faced with time constraints or complex situations.
How does intuition complement rational analysis in decision-making?
Intuition complements rational analysis by adding an emotional and experiential component to decision-making. While rational analysis involves logical thinking and data evaluation, intuition draws from past experiences, emotions, and patterns to provide a more holistic perspective.
Can intuition be trusted in complex decision-making situations?
Yes, intuition can be trusted in complex decision-making situations. Research shows that intuition is valuable when managers have expertise in a specific domain. However, it's important to balance intuition with careful analysis, especially in situations where the stakes are high
How can managers develop and enhance their decision-making instincts?
Managers can develop and enhance their decision-making instincts by gaining deep expertise in their field, exposing themselves to diverse experiences, reflecting on past decisions, and practicing mindfulness. Regularly seeking feedback and learning from successes and failures can refine intuitive decision-making skills.
What challenges might arise from relying solely on gut instincts for decisions?
Relying solely on gut instincts for decisions can lead to biases, incomplete information, and inaccuracies. It might hinder objective analysis and overlook critical data. To mitigate these challenges, managers should balance instincts with data-driven analysis, especially for major decisions.