Disclaimer: We sometimes use affiliate links in our content. For more information, visit our Disclaimer Page. 
Breaking into the job market with no experience can feel like an insurmountable challenge. Yet, everyone has to start somewhere – it's all about knowing how to leverage your existing skills and adopting a strategic approach.
This blog will provide you with tried-and-true strategies for landing your first job without any prior experience, setting you on the path toward a successful career.
Key Takeaways
Focus on your transferable skills and highlight them in your resume and cover letter.
Build your network by attending events, joining professional groups, and volunteering at relevant organizations.
Gain experience through volunteer work, internships, or online courses to improve your chances of landing a job with no experience.
Be proactive in your job search by being open-minded and flexible about the roles you apply for, utilizing social media to showcase your skills, and following up after applications or interviews.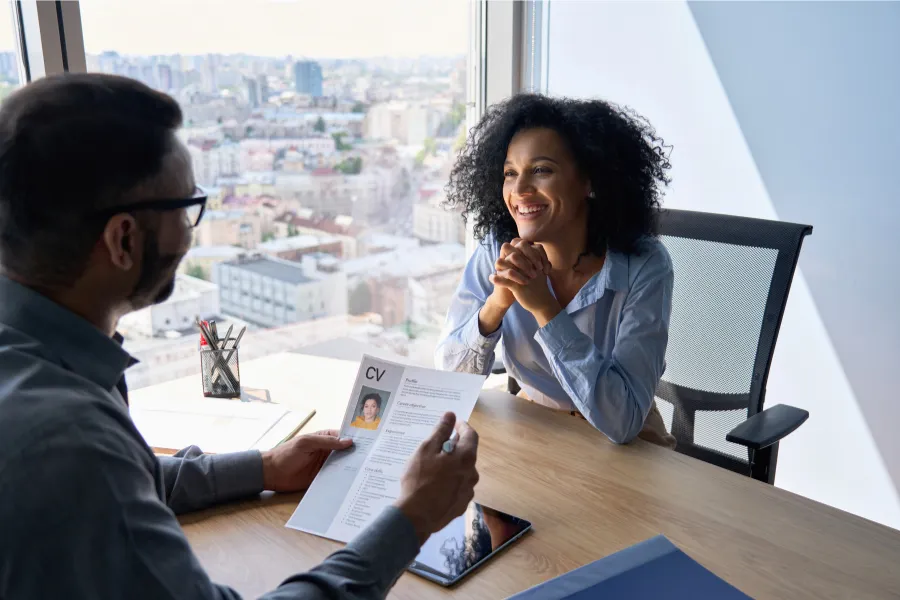 Strategies For Landing A Job With No Experience
Focus on transferable skills, such as communication, problem-solving, and leadership abilities that you may have developed in previous jobs or through extracurricular activities.
Focus On Transferable Skills
One of the most effective strategies for landing a job with no experience is to focus on your transferable skills. These are abilities and talents you've acquired throughout your life that can be applied to various roles, regardless of industry or specific job title.
To highlight these invaluable assets, make sure that they take center stage on both your resume and cover letter. Identify three to five core competencies most relevant to the position you're applying for and illustrate them with examples from past experiences – whether it's school projects, volunteer work, internships, or even personal pursuits like blogging or running a small online business.
Build Your Network
Building your network is a crucial step in finding a job with no experience. Start by reaching out to family, friends, and former colleagues who could help you find opportunities or connect you with people in your desired industry.
Attend networking events, trade shows, and conferences relevant to the field you want to work in. Join professional groups on LinkedIn or Facebook and start participating in conversations or ask for advice from experienced professionals.
A new study initially shared by Lou Adler on LinkedIn has disclosed that networking is responsible for filling a significant 85% of all jobs. This essential fact underscores the importance of not undervaluing networking as a strategy when trying to secure a job, especially for those without prior experience.
Gain Experience Through Volunteer Work And Internships
If you don't have any experience, the best way to gain it is through volunteer work and internships. Here are some tips on how to do so:
Look for relevant volunteering opportunities in your community.
Check with local non-profits, charities, or community organizations to find out about volunteer positions available.
Participate in related extracurricular activities like organizing charity events, fundraising campaigns, or social media marketing for non-profits.
Seek internship opportunities within your field of interest.
Ask friends and family if they know of any companies offering internships or post about your interest on social media platforms like LinkedIn using relevant hashtags.
Research potential employers and reach out to them directly with a brief introduction of yourself along with a clear proposal for an internship opportunity.
Ensure that the work you do as an intern is meaningful and that you learn as much as possible from the experience.
Use your volunteering and internship experiences to build real-world examples of your skills in action to include on your resume.
Volunteer work and internships can be stepping stones toward building a solid foundation for future career growth while also providing opportunities for personal fulfillment and networking.
Consider Taking Online Courses
One way to gain knowledge and skills in a particular field is to take online courses. Here are some tips for choosing the right online courses:
Look for reputable sources: Choose courses from reputable sources that offer recognized certifications, such as edX, Coursera, or Udemy.
Know what you need: Identify the specific skills and knowledge you need to acquire, and look for courses that meet those needs.
Check the syllabus: Review the course syllabus before enrolling in any course to ensure it covers all the topics you need.
Read reviews: Read reviews from previous students to get an idea of whether a course is worth your time and money.
Seek expert advice: Talk to professionals in your desired field about which courses they recommend, or seek out recommendations from your network.
By taking advantage of online courses, you can improve your skills and qualifications without committing to a traditional academic program or spending too much money on education.
Customize Your Resume And Cover Letter
When applying for a job with no experience, it's important to emphasize the skills and experiences you do have. One way to do this is by customizing your resume and cover letter for each position you apply for.
Start by carefully reading the job description and highlighting keywords or phrases that match your skills or experiences. Then, incorporate those keywords into your resume and cover letter in a natural way, using specific examples whenever possible.
By customizing your resume and cover letter in this way, you can show potential employers that even though you may not have direct experience in their field, you possess valuable transferable skills that make you an excellent candidate for the position.
Related: Is It Bad to Apply to Multiple Jobs at the Same Time
Be proactive in your job search by reaching out to potential employers and networking connections, and follow up diligently after submitting applications or attending interviews to show your enthusiasm for the position.
Be Open-Minded And Flexible
As someone starting out in the job market with no experience, it is important to be open-minded and flexible when it comes to finding employment. You may need to explore roles that are outside of your desired field or consider lower-paid opportunities initially to gain valuable experience.
Another way to showcase flexibility is by being willing to work unconventional hours or taking on temporary work while you continue your job search. Remember, every opportunity presents a chance for growth and learning.
Be Proactive And Persistent
When searching for a job with no experience, it's important to be proactive and persistent. This means actively seeking out opportunities, following up after applying or interviewing, and not giving up even if you face rejection.
Don't just wait for the perfect opportunity to come your way – make connections, attend networking events, and reach out to potential employers.
Persistence is key when looking for a job with no experience. You might have to apply to many positions before getting an interview or offer. Don't let rejection discourage you – keep refining your resume and cover letter, practice interviewing skills with friends or family members, and continue building your skills through online courses or volunteer work.
Use Social Media To Your Advantage
As a job seeker with no experience, social media can be an invaluable tool for connecting with potential employers and building your personal brand. Start by cleaning up your existing profiles and creating professional accounts on platforms like LinkedIn.
In addition, utilize Twitter to follow relevant companies and hiring managers, retweeting posts that resonate with you or commenting on their updates.
Finally, consider using Instagram and other visually-driven platforms as a way to showcase your portfolio or work samples.
Follow Up After Applying Or Interviewing
After you apply for a job or have an interview, it's important to follow up with the hiring manager or recruiter. This shows that you are serious about the position and interested in learning more.
A simple email thanking them for their time and reiterating your interest can go a long way.
If a week goes by without hearing back, don't hesitate to send another follow-up message. Keep in mind that companies receive hundreds of applications and may take some time to review each one thoroughly.
An example of a good follow-up email could be:
Subject: [Your Name] – [Job Title] Application Follow-up

Dear [Hiring Manager's Name],

I hope this email finds you well. I recently applied for the [Job Title] position and had the pleasure of discussing the role during an interview on [Date]. I wanted to take a moment to express my sincere appreciation for the opportunity.

I found our conversation extremely insightful and am even more excited about the possibility of contributing to your team. The role aligns perfectly with my skills and experience, and I believe I could bring significant value to [Company Name].

I understand the need for a thorough review of each application and the time that involves. However, I would be grateful if you could provide any updates on the status of my application or the next steps in the process.

Once again, thank you for considering my application. I look forward to potentially having the opportunity to contribute to your team.

Best regards,

[Your Name]

[Your Contact Information]
Real-Life Success Stories: Inspiration And Insights
We've interviewed professionals who have landed jobs with no experience, learn how they did it, and what you can do too.
Interviews With Professionals Who Landed A Job With No Experience
I had the privilege of speaking with several professionals who landed jobs with no prior experience. One was able to secure a marketing role despite coming from a non-marketing background by highlighting transferable skills like project management and communication.
What stood out among these individuals was their willingness to take risks and explore opportunities they didn't think were possible. Many took advantage of lower-paid or unpaid opportunities to gain hands-on experience in their desired field.
It's important to note that landing a job without prior experience often takes patience, perseverance, and creativity.
How They Did It And What They Learned
I was fortunate enough to interview several professionals who landed jobs with zero experience. One common thread among them was identifying their transferable skills and how they could be applied in the workplace.
For example, one woman had volunteered at her church for years and had organized events managed schedules, and communicated effectively with a team – all of which translated well into an administrative assistant role.
Another thing these individuals did was network. They talked to people they knew or met through social media or LinkedIn and made connections in their desired fields.
Finally, each of these successful job-seekers emphasized the importance of being proactive and persistent throughout their search process – reaching out to recruiters directly via phone or email after submitting applications online or even stopping by in person for company visits just so they could get some time with relevant hiring managers/committees/personnel.
By focusing on transferable skills, and networking aggressively while also keeping in mind tips like being open-minded/flexible with opportunities as well as taking training courses when needed – anyone can land that first job without any prior work history!
Mastering The Interview
Research the company and role to prepare for specific interview questions.
Research The Company And The Role
When preparing for an interview, it is essential to research the company and role you are applying for. This will help you tailor your responses and demonstrate your understanding of their business.
Start by visiting the company's website, social media pages, and recent news articles to gain insight into its mission, values, products/services, and current initiatives.
Additionally, review the job description carefully to understand what they are looking for in a candidate. Make note of any specific skills or experiences they mention and think about how you can showcase those during the interview.
Practice Common Interview Questions
One key aspect of job searching is mastering the interview process. While you may not have a lot of experience to draw from, practicing common interview questions can help you feel more confident and prepared. Here are some common interview questions to practice:
Can you tell me about yourself?
What interests you about this position/company?
What are your strengths and weaknesses?
How do you handle challenges in the workplace?
Give an example of a time when you had to problem-solve in a difficult situation.
How do you work under pressure/deadlines?
Why should we hire you?
Do you have any questions for us?
By practicing these questions and coming up with thoughtful, articulate responses, you'll be better equipped to handle interviews and impress potential employers with your preparedness and professionalism
Related: The Best Way to Answer "Why Do You Want This Job"
Show Confidence And Enthusiasm
When it comes to nailing the interview, confidence and enthusiasm are key. Employers want to see that you're excited about the opportunity and confident in your abilities, even if you don't have much experience.
One way to show enthusiasm is by asking thoughtful questions about the company and role during the interview. Research the company beforehand so you can ask informed questions that demonstrate your interest.
As for confidence, practice ahead of time by rehearsing common interview questions with a friend or family member. This will help you feel more comfortable and prepared when it's time for the real thing.
Remember that while showing confidence is important, there's a fine line between being confident and coming across as arrogant or entitled. Be humble but assertive in discussing what you bring to the table and how eager you are to learn new things on the job.
Use Examples From Your Past Experiences
When you're interviewing for a job with no experience, it's important to make the most of any relevant experiences you've had in the past. Even if you haven't worked in the exact same field before, there are likely skills and experiences from your past that can be applied to this new role.
It's also important to practice telling stories about these experiences during your interview. Use specific examples to illustrate your strengths and how they relate to the requirements of the job.
The more detail you can provide, the better – this helps demonstrate your ability to think critically and problem-solve on behalf of an employer.
Related: How To Be Confident In Online Job Interviews
Conclusion: Confidence And Creativity, Keys To Success
Landing a job with no experience can seem like a daunting task, but it's not impossible. By focusing on your transferable skills, building your network, and gaining experience through volunteer work and internships, you can create opportunities for yourself.
Customizing your resume and cover letter to highlight relevant experiences is also crucial. Don't forget to be open-minded and flexible throughout the job search process and use social media to your advantage.
Remember that confidence and creativity are key to success in any career path.
FAQs
Is it possible to get a job with no work experience?
Yes, it is possible to secure a job without having previous work experience by highlighting your transferable skills and demonstrating your willingness to learn on the job.
How do I showcase my transferable skills when applying for jobs?
You can highlight your transferable skills in a cover letter or resume by providing examples of how you have developed these skills through personal projects, volunteer work, or extracurricular activities. Make sure to tailor this information to align with the requirements of the role you are applying for.
What strategies can I use during interviews to compensate for my lack of experience?
During interviews, focus on conveying your enthusiasm, willingness to learn, and strong work ethic through specific examples from past experiences, even if they were not employment-related. Additionally, research the company beforehand and prepare questions that show your interest in its mission and values.
Are there any entry-level jobs that don't require prior experience?
There are several industries such as retail sales, food service, customer service, or housekeeping where employers may hire individuals without previous work experience since training is usually provided onsite. It's important to keep an open mind about opportunities within these types of roles as they often provide valuable learning experiences that can be applied elsewhere in future career paths.