Disclaimer: We sometimes use affiliate links in our content. For more information, visit our Disclaimer Page. 
Welcome to your guide to career development! Whether you're just starting your professional journey or seeking to take it to the next level, this article will provide valuable insights and practical tips for success. Career development is a lifelong process that involves continuous learning, personal development, and proactive career planning. It's a journey of self-discovery and growth, where you'll discover your strengths, interests, and potential, and learn how to leverage them for professional success.
This article is divided into ten sections, each focusing on a key aspect of career development. We'll explore why career development matters, the key elements of career development, the importance of continuous learning, setting career goals, building a strong professional network, overcoming challenges, achieving work-life balance, and enhancing skills in the digital age.
Key Takeaways:
Career development is a lifelong process that involves continuous learning, personal development, and proactive career planning.
This article covers ten key aspects of career development, including why it matters, the key elements, continuous learning, setting career goals, building a professional network, overcoming challenges, work-life balance, and enhancing digital skills.
By investing in your career development, you'll be better positioned to achieve professional success and satisfaction.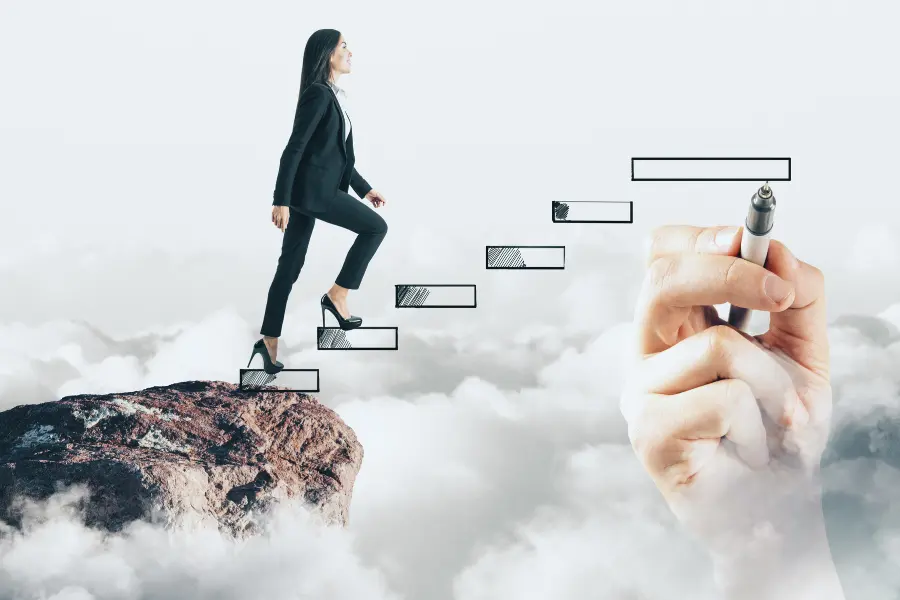 Why Career Development Is a Lifelong Process?
Career development is not just a buzzword or a one-time task. It's an ongoing process that should be a part of our lives, whether we're just starting our careers or seasoned professionals. Investing time and effort into professional growth significantly impacts our personal and financial well-being.
When we focus on our career development, we become better at what we do, gain new skills, and become more valuable to our organizations. Professional growth can lead to promotions, better salaries, and increased job security. Moreover, it can create opportunities for us to explore new roles and industries.
Career development is not just about climbing the corporate ladder – it's about finding fulfillment in what we do. We become more engaged and passionate about our work when continuously enhancing our skills and taking on new challenges. This translates to a higher sense of purpose and satisfaction in our careers.
Key Elements of Career Development
Career development is a lifelong process that requires intentional effort to achieve professional success. It involves several key elements, including:
Career Planning: Developing a career plan can help define your goals, identify your strengths and weaknesses, and create a roadmap for success. Start by assessing your skills, interests, and values, and match them to potential career paths.
Self-Improvement: Continuously improving your skills and knowledge can provide a competitive advantage in the job market and increase your potential for career advancement. Seek feedback, take courses and workshops, and consider a mentor to expand your expertise.
Career Advancement: Identifying career growth and advancement opportunities is essential for professional success. Watch for internal promotions, pursue additional responsibilities, and volunteer for new projects that challenge you and leverage your strengths.
Focusing on these key elements can enhance your career development and increase your potential for long-term success.
Continuous Learning for Career Growth
Continuous learning is essential for career growth in today's fast-paced job market. As new technologies and methods emerge, staying up-to-date with your industry's latest trends and best practices is important. This helps you stay relevant and in demand as an employee and can open up new career opportunities.
One way to ensure continuous learning is attending conferences, workshops, and seminars related to your field. These events provide opportunities to network with other professionals, learn from experts in your industry, and gain new insights and perspectives.
Another way to enhance your skills is by taking online courses. Many universities and companies offer online courses and certifications that can be completed independently. These courses expand your knowledge and demonstrate initiative and dedication to your career.
Investing in continuous learning is an investment in your career success.
Setting Career Goals for Success
Setting clear career goals is essential for achieving professional success. Without a clear direction, it's easy to get sidetracked and lose sight of what you want to achieve. You can take steps toward personal and professional growth by setting meaningful goals, creating action plans, and tracking progress.
Why Set Career Goals?
Having clear career goals helps you focus your efforts and make informed decisions regarding your career. When you have a specific goal, you can identify the skills and knowledge you need to acquire to achieve it. Additionally, setting career goals allows you to measure your progress and celebrate your successes.
Creating Meaningful Goals
Making career goals specific, measurable, attainable, relevant, and time-bound is essential. This approach, known as SMART goal setting, helps you create realistic and achievable goals. It's also important to ensure your goals align with your personal values and aspirations.
Specific: Define your goals as clearly as possible.
Measurable: Determine how you'll measure progress toward your goals.
Attainable: Make sure your goals are realistic and achievable.
Relevant: Ensure that your goals align with your values and aspirations.
Time-bound: Set a deadline for achieving your goals.
Creating Action Plans
Once you've set your career goals, you'll need to create a plan of action for achieving them. An action plan should identify specific steps you'll take to achieve your goals and set timelines for completion. Breaking down your goals into smaller, more manageable steps helps you avoid feeling overwhelmed and keeps you motivated.
Tracking Progress
Regularly tracking progress toward your career goals helps you stay on track and adjust as needed. Celebrating small successes can also help motivate you to achieve your ultimate goal.
Building a Strong Professional Network
Building a strong professional network is essential for career development. A network of colleagues, peers, and mentors can provide support, guidance, and access to new career opportunities. Networking can also enhance your reputation and visibility within your industry.
Here are some practical tips for building a strong professional network:
Attend industry events: Attend industry conferences, seminars, and events to meet new people and stay up-to-date on industry trends. Take advantage of networking sessions to connect with other professionals in your field.
Join professional organizations: Join professional organizations and associations relevant to your field. This can provide opportunities for networking, as well as access to resources and training.
Connect on social media: Use social media, such as LinkedIn, to connect with other professionals in your field. Share content, engage in conversations, and build relationships.
Be a giver: Networking is a two-way street. Offer to help others in your network and share your knowledge and expertise. This can help build trust and foster meaningful connections.
Embracing Challenges and Overcoming Obstacles
Embracing challenges and overcoming obstacles are key elements of career development. Many people have found their greatest professional successes after overcoming significant challenges. However, it's important to remember that challenges can be daunting, and feeling overwhelmed is natural.
One approach to overcoming challenges is to develop resilience and a growth mindset. Resilience means being able to bounce back from setbacks and adversity, while a growth mindset involves seeing challenges as opportunities for learning and growth.
Learning from failures is also an essential part of embracing challenges. Rather than seeing mistakes as setbacks, view them as stepping stones towards success. Analyze the situation, pinpoint what went wrong, and use it as a learning experience to improve for the next time.
"Success is not final. Failure is not fatal. It's the courage to continue that counts." – Winston Churchill
It's often helpful to seek advice and support from colleagues, mentors, and coaches when faced with challenges at work. They may be able to offer a fresh perspective and provide guidance on how to overcome obstacles effectively.
Ultimately, embracing challenges and overcoming obstacles is crucial to professional growth and development. Remember to keep a positive attitude and maintain a growth mindset as you face challenges.
Balancing Work and Personal Life for Career Satisfaction
Achieving work-life balance is crucial for career satisfaction and personal well-being. Work and personal life collide can lead to burnout and stress, ultimately impacting job performance. Finding balance is key to success in all aspects of life.
To manage responsibilities effectively, setting boundaries and prioritizing self-care is important. Here are a few tips to help you balance work and personal life:
| Tip | Description |
| --- | --- |
| 1 | Set realistic goals |
| 2 | Manage your time efficiently |
| 3 | Create a schedule that works for you |
| 4 | Set aside time for self-care |
| 5 | Turn off work notifications during personal time |
Remember, everyone's work-life balance will look different. It's important to find what works best for you.
Prioritizing work-life balance benefits not only your personal life but also your career. Studies show that employees with a good work-life balance are more productive, have better performance ratings, and are likelier to stay with their employer.
"Work-life balance is not an entitlement or benefit. Your company cannot give it to you. You have to create it for yourself." – Matthew Kelly
Prioritize Your Well-Being
To maintain a healthy work-life balance, it's essential to prioritize your well-being. This means getting enough sleep, exercising regularly, and taking time for mental health.
Find an exercise routine you enjoy and stick to it
Practice mindfulness or meditation
Take regular breaks throughout the day
Unplug from technology regularly
Remember, taking care of yourself is not selfish. It's essential for achieving success in all areas of life.
Assessing and Enhancing Skills in the Digital Age
The digital age has brought about significant changes in the job market, with new technologies constantly emerging and transforming how we work. As such, assessing and enhancing your skills is important to stay relevant and competitive in your career.
Identifying Skill Gaps
The first step in enhancing your skills is identifying gaps in your current skill set. Take a personal inventory of your skills and compare them to those required for your target career. This will help you determine which skills you need to develop and prioritize.
Online Learning Resources
Online learning resources provide a convenient and cost-effective way to upskill and learn new skills. Websites such as Udemy, LinkedIn Learning, and Coursera offer various courses covering various skills and topics. Consider taking courses that align with your career goals and interests.
Networking and Mentorship
Networking and mentorship can enhance your skills, providing access to experienced professionals and opportunities for learning and growth. Attend industry events, join professional organizations, and seek mentorship from experts in your field.
Certifications and Professional Development Programs
Certifications and professional development programs are valuable in demonstrating your expertise and dedication to your field. Research industry-specific certifications and training programs that can enhance your skills and knowledge.
By assessing and enhancing your skills, you can increase your value as a professional and remain competitive in the digital age job market.
Conclusion
Career development is a lifelong process that requires continuous learning, personal development, and career planning. By prioritizing professional growth and enhancing skills, individuals can open doors to new career opportunities and improve their chances of career advancement.
To ensure success, it is crucial to set clear career goals, develop a plan for achieving them, and track personal and professional growth progress. Building a strong professional network can also create opportunities for career growth and accessing new career prospects.
Although challenges and obstacles may arise, embracing them and using setbacks as stepping stones to success is important. Balancing work and personal life is also essential for achieving career satisfaction, so managing responsibilities, setting boundaries, and prioritizing personal well-being is important.
FAQs
Is career development a lifelong process?
Yes, career development is indeed a lifelong process. It involves continuous growth, learning, and adaptation to changes throughout an individual's professional journey.
Is a career a lifelong process?
Yes, a career is a lifelong process. It encompasses various stages of growth, exploration, establishment, and advancement, requiring ongoing development and learning.
Is career development a lifelong process in which individuals?
Absolutely, career development is a lifelong process in which individuals engage. It involves becoming aware of, interested in, and skilled within a chosen career path over the course of one's life.
What is the lifelong development process?
The lifelong development process refers to the ongoing journey of personal and professional growth that individuals experience throughout their lives. It involves continuous learning, skill enhancement, and adapting to new challenges and opportunities.
Why development is a lifelong process?
Development is a lifelong process because individuals continue to learn, evolve, and adapt. As circumstances change, new challenges arise, and opportunities emerge, ongoing development ensures individuals can effectively navigate their personal and professional journeys.