Disclaimer: We sometimes use affiliate links in our content. For more information, visit our Disclaimer Page. 
A captivating self-introduction can set you apart from the crowd if you're in a networking event, a job interview, or presenting yourself at a conference. You can leave a lasting impression in just one minute leading to new connections, job offers, or future collaborations.
But crafting a compelling self-introduction can be challenging, especially when under pressure. You may be overwhelmed with thoughts on what to say or how to present yourself.
Don't worry; we've got you covered. In this article, we'll provide an ideal 1 minute self introduction sample to help you make a memorable impact in any situation. We'll also guide you through crafting an engaging introduction, highlighting your achievements and skills, adding personal touches, and tailoring your delivery to different situations.
Key Takeaways:
A captivating self-introduction can set you apart from the crowd in networking events, job interviews, or conferences.
Crafting an engaging self-introduction involves knowing your audience, highlighting your unique qualities, and using captivating opening lines.
A well-structured self-introduction ensures you convey your message effectively within a limited time frame.
Adding personal touches can help connect your audience and make your introduction more relatable and memorable.
Tailoring your introduction to different situations can enhance its impact and relevance.
Engaging with your audience during and after your introduction can create meaningful interactions that strengthen connections.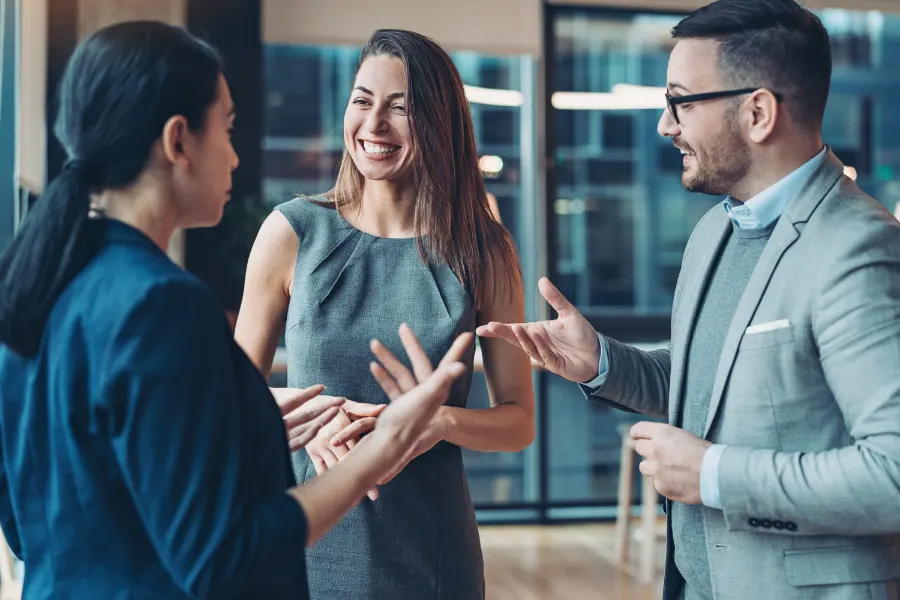 Crafting an Engaging Introduction
An engaging self-introduction can make a lasting impression and set you apart from others. Below are some tips on how to create an introduction that captivates your audience:
Know Your Audience
Before crafting your introduction, consider who will be listening. Tailor your message and tone to fit the audience's expectations and preferences. A humorous approach may work in a social setting but may not be appropriate in a business context.
Highlight Your Unique Qualities
Identify what makes you stand out and use those qualities to your advantage. Whether it's your expertise in a specific area or your personal experiences, showcasing your unique qualities will help your introduction be memorable.
Show Confidence
Confidence is key when it comes to delivering a strong introduction. Practice your delivery to help alleviate nerves and remember to speak clearly and with conviction.
Overall, a well-crafted self-introduction can set the tone for a successful interaction. Remember these tips when creating your introduction to leave a positive and lasting impression on your audience.
Structuring Your Introduction
A captivating self-introduction should follow a logical structure that grabs your audience's attention and leaves a positive impression. Here's a step-by-step guide on how to structure your 1-minute self-introduction:
| Elements | Comments |
| --- | --- |
| Opening | Start with a brief greeting and an attention-grabbing statement. |
| Your Background | Provide a brief overview of your education, professional background, and expertise. |
| Achievements and Skills | Highlight your relevant accomplishments and skills that relate to the situation. |
| Personal Touches | Add personal anecdotes or experiences that demonstrate your values and personality. |
| Closing | Wrap up with a memorable statement that calls to action or invites questions. |
Remember to keep your introduction concise and relevant to the situation. Practice your delivery to ensure that you're confident and engaging. With the right structure, your self-introduction will be a powerful tool to create lasting professional connections.
Captivating Opening Lines
The first few seconds of your self-introduction are crucial for making a strong impression. One effective way to grab attention is to start with a thought-provoking question. For example, "Have you ever wondered what makes a successful team?" This piques the audience's curiosity and sets the stage for your introduction.
Another approach is to use a compelling anecdote related to your topic or profession. For instance, "When I was working on a project for a non-profit organization, I witnessed firsthand the impact of community support on the success of their initiatives."
You can also begin with a memorable quote or a surprising fact that aligns with your message. For example, "Did you know that over 80% of hiring managers make their decision within the first minute of an interview?" This illustrates the importance of a strong self-introduction and primes the audience for what's to come.
Highlighting Your Achievements and Skills
Your self-introduction is an excellent opportunity to showcase your achievements and skills. Doing so can highlight your strengths and prove your worth to your audience. Here are a few things to keep in mind when highlighting your accomplishments:
Be concise: Avoid being too lengthy or using technical jargon that may not be familiar to your audience. Simplify your language and focus on the most relevant aspects of your accomplishments.
Focus on relevant experiences: Highlight experiences that are relevant to the context and show how they demonstrate your skills and expertise in the field.
Demonstrate results: Focus on the outcomes of your accomplishments and how they contributed to the success of a project, team, or organization.
Here are some sample phrases that you can use to highlight your achievements and skills:
| Phrases to Use | Examples |
| --- | --- |
| "I have extensive experience in" | "I have extensive experience in project management, having successfully led several teams in delivering complex projects on time and within budget." |
| "I am proficient in" | "I am proficient in various programming languages, including Java, Python, and C++, and have developed several software products that have been widely adopted by customers." |
| "I have a track record of" | "I have a track record of delivering high-quality work, as evidenced by the numerous awards and recognitions I have received from my peers." |
Using these phrases and focusing on the most relevant aspects of your achievements, you can create a self-introduction that effectively showcases your skills and expertise.
Adding Personal Touches
While it's important to convey your achievements and skills in your self-introduction, adding personal touches can help make it more memorable and engaging. Here are some tips:
Share a personal anecdote: Begin your self-introduction with a short story or experience demonstrating your values or personality. For example, if you're introducing yourself at a networking event, you could share how you got interested in your field.
Show your passion: If you're particularly passionate about something related to your work or hobbies, mention it in your introduction. This will help you come across as more authentic and enthusiastic.
Use humor: If appropriate, add some humor to your self-introduction. This will help keep your audience engaged and make your introduction more memorable.
Be relatable: Adding personal touches can help you connect with your audience. If you've experienced a challenge or setback related to your work, share how you overcame it. This will show that you're human and relatable.
Practicing and Perfecting Your Delivery
Once you have crafted your ideal 1-minute self-introduction, it's time to perfect your delivery. A confident and engaging delivery can make all the difference in leaving a lasting impression. Here are some tips to help you practice and perfect your delivery:
Memorize the key points: While you don't want to recite your self-introduction word for word, it's important to understand the key points you want to convey clearly. This will help you stay on track and deliver your message effectively.
Practice in front of a mirror: Practicing in front of a mirror allows you to see how you appear to your audience. You can observe your body language, facial expressions, and tone of voice and adjust them accordingly to create a confident and engaging delivery.
Record yourself: Recording yourself while practicing allows you to review your performance and identify areas where you can improve. Listen to your tone of voice, pace, and pronunciation, and make adjustments where necessary.
Get feedback: Ask a trusted friend or colleague to listen to your self-introduction and provide constructive feedback. This can help you identify blind spots and make improvements to your delivery.
By practicing your delivery and incorporating feedback, you can feel confident and prepared when it's time to deliver your self-introduction. Remember to speak, maintain eye contact, and use appropriate body language to convey confidence and engagement.
Tailoring Your Introduction to Different Situations
Adapting your self-introduction to different situations can enhance its impact and relevance. While the core elements of your introduction remain the same, tailoring it to specific contexts can help you better connect with your audience. Here are some tips on how to modify your self-introduction to suit different situations:
Networking events
When attending networking events, your self-introduction should focus on your professional background and goals. Mention any relevant experience, skills, or achievements that impress potential business partners or employers. Keep it concise and avoid oversharing personal information. Remember to exchange business cards and follow up with your new contacts after the event.
Job interviews
For job interviews, your self-introduction should emphasize your qualifications and suitability for the position. Tailor your language and tone to match the company culture and the role you are applying for. Research the company and the job description beforehand to ensure your introduction aligns with their values and requirements. Don't forget to express your enthusiasm for the opportunity and eagerness to contribute to the team.
Professional conferences
Professional conferences typically attract a diverse audience, so your self-introduction should be adaptable and inclusive. Instead of focusing solely on your accomplishments, consider how you can contribute to the industry or the community. Share your insights, ask thought-provoking questions, and offer your expertise to engage with other attendees. Make sure your introduction stands out among the many others by adding a personal touch or a unique perspective.
Engaging with Your Audience
A successful self-introduction is not only about presenting yourself but also about engaging your audience. Below are some strategies to help you create a meaningful interaction:
Ask open-ended questions: Instead of asking yes or no questions, ask questions that require more than a one-word answer. This will encourage your audience to share more about themselves and will help you establish a connection.
Listen actively: When your audience responds to your questions, listen to what they say. This means paying attention, asking follow-up questions, and acknowledging their responses.
Make eye contact: Eye contact is essential to nonverbal communication and can help establish rapport with your audience. Make eye contact with different people in the room and hold their gaze for a few seconds.
Share relevant experiences: If you have had similar experiences as your audience, share them in your self-introduction. This can help establish common ground and create a more personal connection.
Show interest: Show interest in your audience by asking them questions and responding thoughtfully to their answers. This will make them feel valued and heard.
Engaging with your audience during and after your self-introduction can create a more memorable and impactful experience for you and your audience.
Conclusion
Crafting a captivating 1-minute self-introduction is crucial in various professional and social settings. With the tips and sample phrases provided in this article, you now have the tools to create a lasting impression on any audience. Remember to tailor your introduction to specific contexts, highlight your unique achievements and skills, and inject personal touches to make your introduction more relatable. Additionally, practicing and perfecting your delivery, engaging with your audience, and ending with a strong closing will help you leave a lasting impact.
With practice and confidence, your self-introduction will become a powerful tool for building professional relationships and making new connections. So, don't be afraid to step out of your comfort zone and put these tips into practice. Good luck!
FAQs
How can I introduce myself in 1 minute? 
To introduce yourself in 1 minute, start with a friendly smile and a positive comment about the event or topic. Briefly mention your name, your current role or occupation, and a key accomplishment. Tailor your introduction to the audience and keep it concise and engaging.
What should be included in a 1 minute introduction?
In a 1 minute introduction, include your name, a positive remark about the event or subject, your current position or role, relevant work experience, and a notable achievement. Focus on key details that highlight your qualifications and engage the audience.
What is the best self introduction sample?
The best self introduction sample is one that effectively conveys your name, positive attitude, current role, relevant experience, and a noteworthy accomplishment. Customize your introduction to suit the context and audience, making it concise, engaging, and memorable.
How to introduce yourself professionally in 1 minute? 
To introduce yourself professionally in 1 minute, start with a smile and a positive comment about the event. State your name, provide a brief overview of your current position and experience, and highlight a significant achievement. Keep the introduction focused, confident, and relevant to the occasion.
How do I introduce myself in a 1-minute self-introduction video? 
When creating a 1-minute self-introduction video, begin with a warm greeting and positive energy. Introduce yourself by sharing your name, current role, and a quick overview of your experience. Highlight a key accomplishment and express your enthusiasm for the opportunity. Keep the video concise, engaging, and tailored to the intended audience.