Disclaimer: We sometimes use affiliate links in our content. For more information, visit our Disclaimer Page. 
The workplace can be a minefield of emotions and competition, with jealousy often rearing its ugly head. Although it's a natural part of human nature, dealing with jealous coworkers can be both challenging and draining.
This article will explore 15 telltale jealous female coworkers signs and offer practical tips to handle such situations effectively. By recognizing the signs, you'll be better equipped to navigate workplace tensions and maintain a positive attitude.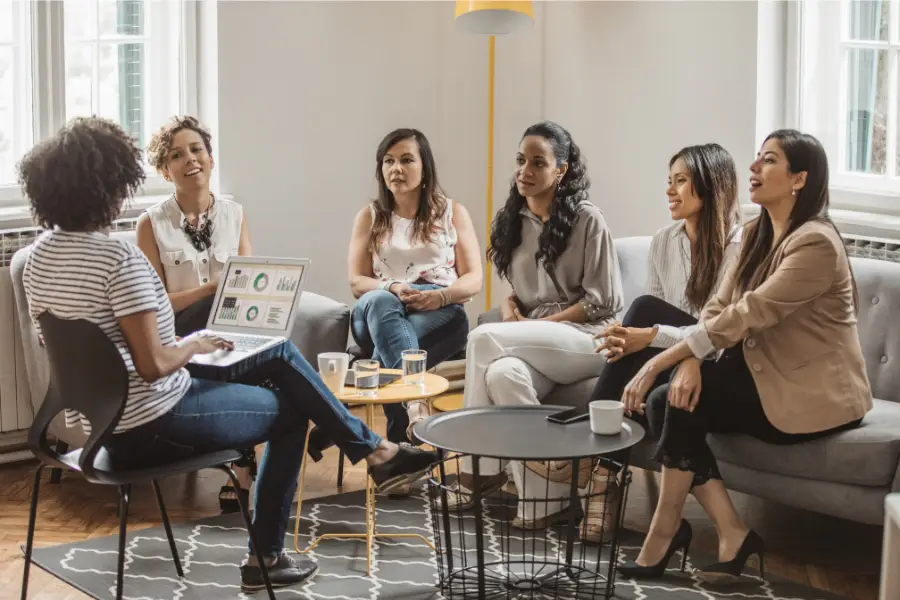 Jealous Female Coworkers Signs
Identifying jealousy in female coworkers helps you address the issue and maintain a positive work atmosphere. In this section, we'll uncover signs that indicate jealousy, empowering you to take appropriate action and foster healthy work dynamics.
1. Exhibiting Negative Body Language
Jealous female coworkers may display negative body language when you're around. This can include crossing their arms, avoiding eye contact, or even rolling their eyes. Pay attention to these subtle cues, as they can indicate underlying feelings of jealousy.
2. Giving Only Backhanded Compliments
A jealous coworker might offer backhanded compliments that seem positive on the surface but actually contain a hidden insult. For example, they might say, "You did a great job on that presentation, considering you had no prior experience." Watch out for these veiled put-downs, as they can be a sign of jealousy.
3. Spreading Rumors
One of the most common tactics of jealous coworkers is to spread rumors or gossip about you. They may try to undermine your reputation by sharing false information, exaggerating your mistakes, or twisting your words. Be aware of what's being said about you and take steps to set the record straight when necessary.
4. Criticizing You Openly or Behind Your Back
Jealous colleagues may openly criticize your work or make snide comments about you to other colleagues. They might also criticize you behind your back, hoping to turn others against you. Stay calm in such situations and address any legitimate critiques head-on while ignoring petty put-downs.
5. Avoiding You in Social Situations
If a female coworker avoids you during informal meetings, lunch breaks, or social events like happy hours, it may be because they are jealous of your success or relationships with others. Be mindful of this behavior, as it can create an unhealthy work environment.
6. Sabotaging Your Work
A jealous female coworker might actively sabotage your work to make you look bad or gain an unfair advantage. This can include missing deadlines, not sharing important information, or even intentionally making errors you must fix. Stay vigilant and document any instances of sabotage to protect yourself.
7. Taking Credit for Your Work
Another sign of jealousy is when coworkers take credit for your work or ideas. They may present your contributions as their own or downplay your role in a project's success. If you suspect this is happening, calmly address the issue and ensure that your contributions are recognized.
8. Constant Comparison and Endless Competition
Jealous coworkers may constantly compare themselves to you and turn everything into a competition. They might belittle your achievements, focus on your past failures, or try to one-up you at every opportunity. Recognize this behavior for what it is and don't get drawn into their competitive games.
9. Overly Possessive of Friends or Allies
A jealous female coworker might become overly possessive of friends or allies within the workplace, trying to monopolize their time and attention. This behavior can create a tense atmosphere and make it difficult for you to build connections with others.
10. Invasion of Personal Space
If a coworker becomes overly interested in your personal life or tries to insert themselves into your friendships outside of work, this could be a sign of jealousy. Set boundaries and maintain a healthy balance between your work and personal life.
11. Exclusion from Group Activities or Conversations
A jealous female coworker might try to exclude you from group activities, conversations, or decision-making processes. They may intentionally leave you out of email chains, coffee conversations, or informal meetings to make you feel isolated and powerless. If you notice this happening, reach out to colleagues and make an effort to be included in relevant discussions.
12. Changes in Facial Expressions
A jealous person's facial expressions can reveal they're true feelings, even if they try to hide them. Watch for changing facial expressions when you share good news or accomplishments, such as a sudden frown or forced a smile. This can be an indication that your coworker is jealous of your success.
13. Reporting You to Other Managers or HR
In some cases, jealous coworkers may report you to other managers or HR for perceived issues or conflicts. They might exaggerate minor disagreements or misrepresent your actions to paint you negatively. If you find yourself in such a situation, remain calm, provide your side of the story, and gather any supporting evidence to refute false claims.
14. Passive Aggressiveness
A jealous female coworker may exhibit passive-aggressive behavior, such as making sarcastic remarks, giving you silent treatment, or sending mixed messages through digital communication. Recognize these signs and address any underlying issues directly rather than engage in passive-aggressive exchanges.
Finally, if you sense intense tension whenever you're in shared spaces like the lunch room or break area, it could be a sign that your coworker is harboring feelings of jealousy. This tension can make your work environment uncomfortable and even impact your well-being. Be aware of the atmosphere and consider discussing the issue with your coworker or supervisor if necessary.
Related: Dealing with a Two-Faced Coworkers
How to Deal with Jealous Coworkers
Now that we've explored the signs of jealous female coworkers let's discuss a few ways to handle such situations and maintain a positive work environment.
1. Remain Calm and Professional
When dealing with jealous colleagues, it's important to remain calm and professional. Avoid getting drawn into arguments or drama, and always treat your coworkers with respect, even if they don't reciprocate.
2. Focus on Your Work
One of the best ways to combat jealousy is by continuing to excel in your job. Stay focused on your tasks and goals, and let your success speak for itself. By doing so, you'll demonstrate your value to the team and may even inspire your jealous coworkers to improve their own performance.
3. Maintain Open Communication
Address any issues or misunderstandings head-on by engaging in open, honest conversations with your coworkers. This can help to clear the air, rebuild trust, and foster a more positive work environment.
4. Set Boundaries
It's important to set boundaries with jealous coworkers to protect your well-being and maintain a healthy work-life balance. This might include limiting personal conversations, saving emails or other documentation as evidence, and ensuring your work is properly credited.
5. Build a Support System
Having a strong support system can be invaluable in dealing with jealous coworkers. Cultivate positive relationships with other colleagues who can provide guidance, encouragement, and camaraderie in challenging situations.
6. Seek Advice from HR or Management
If you're struggling to handle a jealous coworker alone, consider seeking advice from HR or management. They can provide guidance, mediate conflicts, and take appropriate action if necessary.
7. Reflect on Your Own Behavior
While it's important to recognize the signs of jealousy in others, it's also essential to reflect on your own behavior. Ensure that you're not inadvertently contributing to jealousy or tension in the workplace by being overly boastful, dismissive, or exclusive. Strive to be a supportive and inclusive coworker to create a positive work environment for everyone.
8. Stay Positive and Resilient
Dealing with jealous coworkers can be emotionally draining, but it's crucial to maintain a positive attitude and stay resilient. Focus on your accomplishments, celebrate your successes, and don't let negativity bring you down.
9. Offer Help and Encouragement
Sometimes, jealousy stems from a person's own feelings of inadequacy or insecurity. By offering help and encouragement to your jealous coworkers, you can foster a more collaborative and supportive atmosphere and potentially alleviate some of their negative feelings.
10. Consider a Change
If the situation with a jealous coworker becomes unbearable or significantly impacts your job performance and well-being, it may be worth considering a change. This could involve requesting a transfer, seeking a new role within the company, or exploring opportunities outside of your current organization.
Related: How to Deal with Mean Female Coworkers
Conclusion
Jealousy is an unfortunate reality in many workplaces, but by recognizing the signs and taking proactive steps to address the issue, you can navigate these challenges and maintain a positive, productive work environment. Remember to remain calm, focus on your work, communicate openly, and build a strong support system to help you overcome the obstacles posed by jealous female coworkers.
Frequently Asked Questions (FAQs)
How can I differentiate between legitimate criticism and jealousy from coworkers?
Legitimate criticism is usually constructive and aimed at helping you improve your performance or work quality. On the other hand, jealousy often manifests as petty put-downs, backhanded compliments, or attempts to undermine your success. Pay attention to the intent behind the comments, and if they seem more focused on bringing you down rather than offering helpful feedback, it's likely a sign of jealousy.
How can I prevent jealousy from forming among my coworkers?
While it's not possible to completely prevent jealousy, you can take steps to create a positive and inclusive work environment. This includes acknowledging the accomplishments of others, offering help and encouragement, promoting open communication, and fostering a sense of teamwork and collaboration.
Is it normal to feel jealous of a coworker's success?
Feeling jealous or envious of a coworker's success is a natural human emotion. However, it's important to recognize and manage these feelings so they don't negatively impact your work environment or colleague relationships. Focus on your growth and accomplishments, and use the success of others as motivation to improve your performance.
How should I respond if a coworker accuses me of being jealous?
If you're accused of being jealous, it's important to remain calm and professional. Take a moment to reflect on your behavior and consider whether there may be any truth to the accusation. If necessary, apologize and work to improve your behavior. If the accusation is unfounded, address the issue directly with the coworker and seek to resolve any misunderstandings.
What if my jealous coworker is my supervisor or manager?
Dealing with a jealous supervisor or manager can be particularly challenging. Maintain open communication, address any issues professionally, and document instances of unfair treatment or harassment. If necessary, seek advice or support from HR or higher-level management to resolve the issue.