Disclaimer: We sometimes use affiliate links in our content. For more information, visit our Disclaimer Page. 
We've all been there – that sinking feeling of dread as you face another day at work, devoid of motivation and struggling to find purpose in your tasks. The "I Dont Want to Work" blues can strike anyone, impeding productivity and taking a toll on mental health.
But fear not! In this blog post, we will explore 10 effective strategies designed to reignite your passion for work by tapping into your innate motivations and uncovering the true meaning behind each task.
Key Takeaways
Identifying the root cause of the "I don't want to work" blues and addressing them head-on with appropriate solutions is crucial for overcoming demotivating feelings.
Breaking down larger, long-term goals into smaller, more manageable tasks and creating a healthy work environment are effective strategies for finding motivation and purpose at work.
Dealing with procrastination, overcoming fear of failure or success, avoiding burnout and fatigue through self-care practices, finding inspiration/accountability, and seeking support/guidance are all vital components in sustaining motivation and productivity. Remember that balancing work responsibilities and personal well-being is crucial for long-term health maintenance.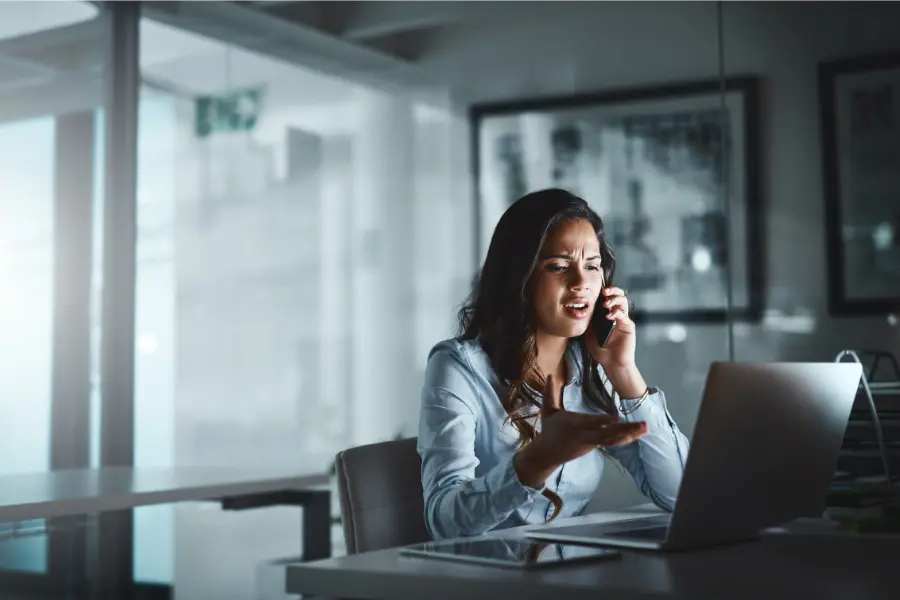 Understanding The "I Don't Want To Work" Blues
Identify the root causes and understand the effects of feeling unmotivated on mental health and productivity.
Identifying The Root Causes
To effectively overcome the "I don't want to work" blues, it's crucial to identify the root causes behind this feeling. This lack of motivation sometimes stems from external factors such as a toxic workplace, uninteresting tasks, or unrealistic expectations.
Reflect on your current situation and ask yourself questions like 'Am I feeling overwhelmed by workload?', 'Do I feel valued in my job?' or 'Is there a recurring issue that consistently affects my motivation?'.
Additionally, consider whether personal circumstances may be influencing your mindset at work. For example, financial struggles or relationship issues could impact your ability to remain focused on professional tasks.
Effects On Mental Health And Productivity
Feeling unmotivated to work can have a significant impact on both mental health and productivity. When we lack motivation, stress levels tend to increase, leading to feelings of anxiety and depression over time.
Research has shown that burnout is also a common side effect of feeling unmotivated at work. Burnout can lead to physical exhaustion, decreased job satisfaction, and increased absenteeism.
By taking small steps like setting achievable goals or prioritizing self-care through breaks throughout the day or counseling sessions with a licensed therapist or counselor can help improve overall mental wellness while increasing productivity in the long run.
Strategies For Finding Motivation And Purpose
To find motivation and purpose, try setting meaningful goals, breaking tasks into smaller steps, creating a healthy work environment, practicing self-care and taking breaks, and finding inspiration/accountability.
Setting Meaningful Goals
Setting meaningful goals is crucial in overcoming the "I don't want to work" blues. It's essential not only to have goals but also to ensure they are achievable and aligned with your values and interests.
One effective way of doing this is by breaking down larger, long-term goals into smaller, more manageable tasks that can be tackled daily or weekly. For example, if your goal is to write a book, break it down into smaller steps, such as brainstorming ideas for the plot, outlining chapters, conducting research, or writing a certain number of pages daily.
Having specific goals gives you direction and purpose while also providing opportunities for progress and personal growth.
Breaking Tasks Into Smaller Steps
Breaking tasks into smaller steps can effectively overcome the "I don't want to work" blues and increase motivation. Here are some tips on how to break tasks down:
Start by creating a list of all the tasks that must be completed.
Break each task down into smaller, more manageable steps.
Prioritize the steps in order of importance or urgency.
Schedule time for each step, ensuring that they fit into your overall schedule.
Focus on completing one step at a time rather than tackling everything at once.
Celebrate each small achievement along the way, as it will keep you motivated and help you see progress.
Remember that completing small steps will eventually lead to accomplishing larger goals.
By breaking larger tasks down into smaller, more achievable steps, you can minimize feelings of overwhelm and gain a sense of control over your workload. This approach also helps create momentum and encourages productivity.
Creating A Healthy Work Environment
A healthy work environment is essential for maintaining motivation and productivity. This includes both physical and mental aspects of the workplace. Physical factors such as lighting, temperature, and noise level can significantly impact job satisfaction.
Additionally, it's crucial to cultivate positive relationships with colleagues and superiors to create a supportive atmosphere.
On the mental health front, offering opportunities for professional growth and development can provide a sense of purpose in one's career. This may include attending industry conferences or training sessions or even taking on new projects within the company.
Overall, creating a healthy work environment involves addressing the unique needs of each employee while promoting an inclusive workplace that values well-being as much as productivity.
Practicing Self-care And Taking Breaks
Prioritizing self-care and taking necessary breaks are essential to maintaining motivation and productivity. It's easy to get lost in work when you're feeling unmotivated, but neglecting your physical and emotional needs can lead to burnout.
Additionally, prioritizing self-care practices like getting enough sleep or eating a healthy meal can contribute significantly to overall well-being.
By doing so, you create space for yourself mentally and physically that allows for optimal performance during working hours.
Finding Inspiration And Accountability
Finding inspiration and accountability are essential components in overcoming the "I don't want to work" blues. One way to find inspiration is by identifying what truly motivates you, whether it's a personal passion or a career goal.
This can help reignite your sense of purpose and create excitement for your work. Accountability can come from external sources, such as colleagues or mentors who provide feedback and support, or from internal sources, such as setting goals and tracking progress.
Another way to find accountability is by creating a rewards system for yourself. By setting milestones that align with your goals, you give yourself something tangible to aim toward while celebrating small wins.
Overcoming Obstacles To Staying Motivated
Learn how to deal with procrastination, overcome the fear of failure or success, avoid burnout and fatigue, and seek support and guidance in order to stay motivated.
Dealing With Procrastination And Distractions
Procrastination and distractions are common obstacles to productivity and can contribute to the "I don't want to work" blues. Here are some strategies for dealing with them:
Identify the source of your procrastination and distractions.
Create a distraction-free work environment by turning off notifications, closing unnecessary tabs, and minimizing noise.
Use time-blocking techniques to schedule specific times for working on tasks.
Break larger tasks into smaller, manageable steps to prevent overwhelm.
Set deadlines for yourself and hold yourself accountable.
Practice mindfulness exercises or meditation to improve focus.
Avoid multitasking and focus on one task at a time.
Use positive self-talk to combat negative thoughts or feelings of overwhelm.
Take breaks when needed but set a time limit for them.
Ask for help when needed or delegate tasks that aren't essential for you to complete.
By implementing these strategies, you can overcome procrastination and distractions that may hinder your work motivation and productivity.
Overcoming The Fear Of Failure Or Success
One obstacle to staying motivated and finding purpose in work is the fear of failure or success. This fear can be paralyzing, leading to procrastination and avoidance of tasks that could potentially lead to positive outcomes.
To overcome this fear, shifting your mindset from focusing on the outcome to the process is essential.
Another strategy is to celebrate small wins along the way. Recognizing progress and accomplishments, no matter how small can help build momentum towards achieving larger goals.
It's also helpful to remind yourself that failure is a natural part of growth and learning.
Additionally, seeking support from colleagues or a therapist can provide encouragement and guidance when facing challenging tasks or situations.
Avoiding Burnout And Fatigue
Maintaining a healthy work-life balance is crucial in avoiding burnout and fatigue. It's essential to prioritize self-care, take breaks when necessary, and engage in activities that bring joy and relaxation outside of work.
Additionally, setting realistic boundaries with your workload can prevent overwhelming stress levels and exhaustion. For instance, if there are tasks that can be delegated or postponed without significant repercussions, consider doing so to avoid taking on too much at once.
Understanding your limits and being aware of warning signs of burnout, such as decreased motivation or increased irritability, also prevent it from occurring further.
Seeking Support And Guidance
It's important to remember that you don't have to go through the "I don't want to work" blues alone. Seeking support and guidance from others can be a powerful way to overcome these feelings of demotivation.
Talking with someone who has been through a similar experience can also provide valuable insight and perspective on how they overcame their own struggles with motivation.
Additionally, joining a supportive community or group focused on personal growth and development can help keep you accountable and motivated toward your goals.
The Importance Of Self-reflection And Growth Mindset.
Self-reflection and having a growth mindset are key components to overcoming the "I don't want to work" blues. When we take time to reflect on our thoughts, feelings, and behaviors, we gain insight into what motivates us and what may be holding us back.
It allows us to evaluate our goals, assess our progress, and adjust as needed. Additionally, having a growth mindset means embracing challenges as opportunities for learning and personal development rather than viewing them as obstacles.
This mindset encourages us to approach tasks with curiosity and openness to new experiences.
Conclusion:
Maintaining motivation and purpose requires ongoing effort, self-reflection, and a growth mindset. Maintaining motivation and purpose is critical to achieving long-term success in any endeavor. To do so, it's important to regularly re-evaluate your goals and values and adjust them as necessary.
Creating a routine that includes regular self-care practices like exercise, meditation, or spending time with loved ones can also help maintain motivation and purpose by reducing stress levels.
Additionally, regularly rewarding yourself for accomplishments can encourage you to keep going. Finally, seeking support from a therapist or counselor can be an effective way to deal with burnout or overwhelming feelings.
FAQs:
What are some common causes of feeling unmotivated at work?
Some common causes of feeling unmotivated at work include a lack of clear goals or direction, feeling undervalued or unappreciated, having an overwhelming workload, and experiencing burnout.
How can I find more purpose in my work?
To find more purpose in your work, start by reflecting on your values and how they align with the mission and values of your company or organization. You may also want to consider setting personal goals for professional development or seeking out new challenges within your role.
What are some strategies for overcoming procrastination at work?
Strategies for overcoming procrastination at work include breaking tasks into smaller, more manageable steps; creating a detailed schedule or to-do list; eliminating distractions like social media notifications or email alerts; and using methods like the Pomodoro Technique to structure focused bursts of activity.
If you have tried self-help techniques but still feel consistently unmotivated or unhappy in your job, it may be appropriate to seek the support of a trained mental health professional such as a counselor or therapist. They can help you explore underlying issues that may be impacting your motivation levels and develop personalized strategies for moving forward toward greater fulfillment in both your personal and professional life.