Disclaimer: We sometimes use affiliate links in our content, meaning, at no additional cost to you, we will earn a commission if you click through and make a purchase. For more information, visit our Disclaimer Page. 
When it comes to business software suites, Zoho is the best CRM solution and one of the most popular options on the market. It offers a wide variety of features that cater to businesses of all sizes and industries, including CRM functionality, accounting, project management, invoicing, and more.
But what makes Zoho so great? And is it the right choice for your business?
In this comprehensive review, we will look at all of the features that Zoho has to offer and compare it to some of its biggest competitors.
We'll also discuss pricing and customer service to help you decide if Zoho is the right fit for your business.
So let's get started!
About Zoho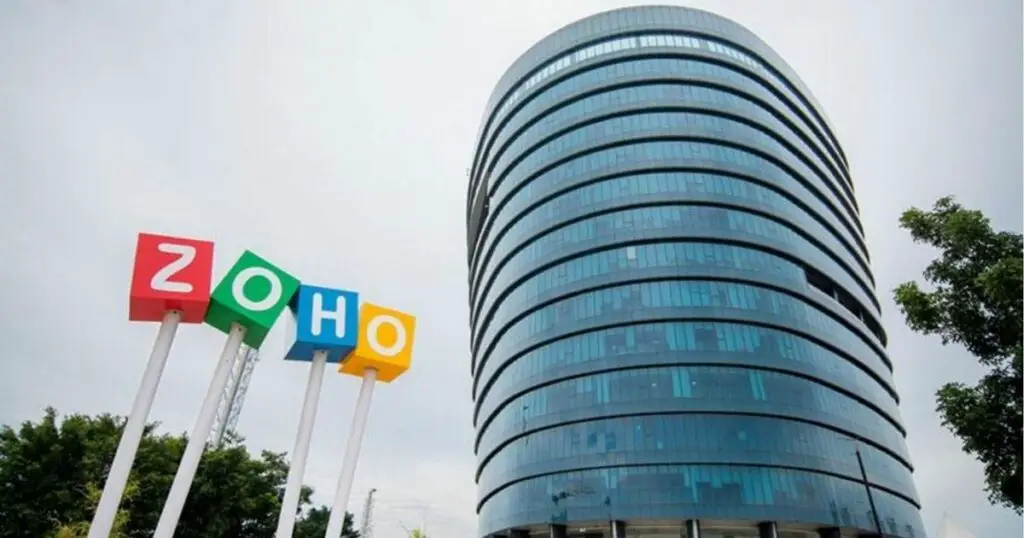 The company was founded in Pleasanton, California, in 1996 by Sridhar Vembu and Tony Thomas. At the time, they were working on a software project for their alma mater, the University of Illinois at Urbana-Champaign.
They soon realized a more significant market opportunity for this type of software and started their own company. The first version of the Zoho CRM software was released in 2005.
The company has since grown into one of the world's leading providers of online business applications. Today, Zoho CRM is used by more than two million businesses in over 180 countries.
Zoho CRM Features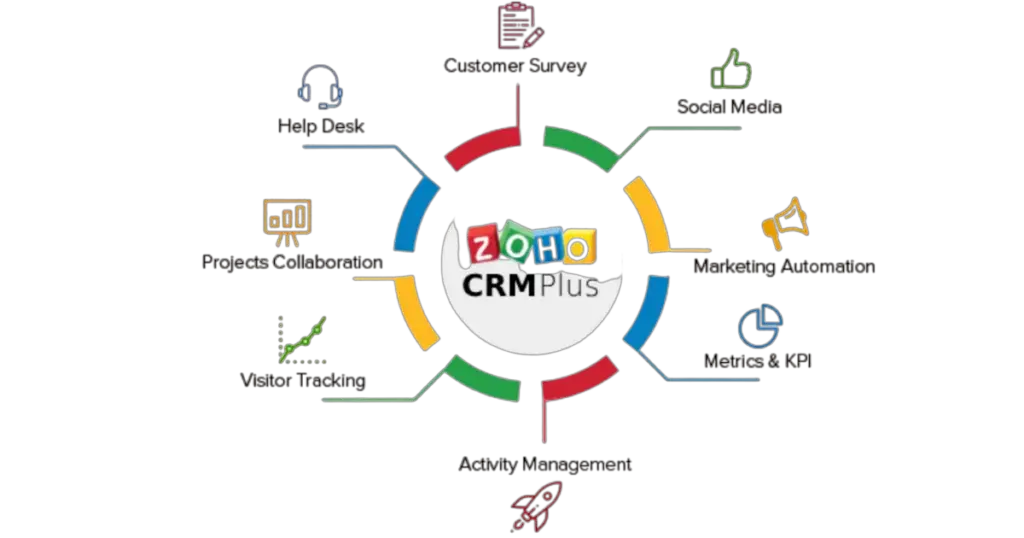 Email
Zoho offers a robust email solution with customizable templates, folders, rules, and filters to keep your inbox organized and streamlined. You can also easily access your email from any device or computer.
CRM
Zoho's CRM software is one of the most popular on the market, and for a good reason. It's easy to use and can be customized to fit the needs of any business. For example, you can track leads, sales, and customers and manage and measure sales team performance cons, activities, and tasks.
Calendar
Keep track of your appointments and meetings with Zoho's powerful calendar tool. You can easily share your calendar with others and even sync it with your smartphone or computer.
Documents
With Zoho's document creator, you can easily create, edit, and share documents online. You can also collaborate on documents with others in real-time, making teamwork a breeze.
Spreadsheets
Create and manage budgets, track expenses, or any other kind of data with Zoho's powerful spreadsheet tool.
Projects
Organize your projects and tasks with Zoho's project management software. You can track deadlines, assign tasks to team members, and even generate reports to help you stay top of your work.
Pros
1. User-friendly interface
It's easy to learn and use, even for those who aren't very tech-savvy. This makes it an excellent choice for businesses of all sizes and industries.
Plus, you can access Zoho from any device or computer, so you can always stay connected to your business no matter where you are.
2. Easy to setup
You can be up and running in minutes, and there is plenty of tutorials and support available to help you get started. Zoho is also a great choice for businesses that need a lot of customization options.
You can easily tailor the software to meet the specific needs of your business, and there are tons of templates and add-ons available to help you do so.
3. Wide variety of features and integrations
Zoho is the best-integrated CRM platform that makes it an ideal choice for businesses that want to streamline their operations.
In addition, Zoho integrates with various other software programs, making it a versatile solution for any business. Some of the most popular integrations added to the Zoho marketplace include:
– QuickBooks
QuickBooks integrates with Zoho's cloud accounting software to provide a complete small business management solution. It also constantly syncs data between the two programs, meaning that no matter how long your day is, your accounting never has to wait. You can create invoices and send them directly from QuickBooks or use the Box feature to store copies of records like customer emails for later reference.
– DropBox
You can upload files into Dropbox then push them out to everyone on the team that has access. In addition, there is an option for automatically uploading new folders and subfolders as they are added so that every member will be instantly updated, making sure no important documents are ever missed.
– Microsoft Outlook
One of Zoho's notable features is its Microsoft Outlook integration that provides contextual information management with files from PST archives in an easily searchable interface. Teams can use this intuitive software plug-in to get instant access to all company data while protecting their investments in Microsoft solutions. This effectively turns Office 365 into a single seamless product. Update contact details on the fly, store important documents within easy reach, or instantly forward messages without leaving Outlook – Zoho has you covered wherever you are!
– Salesforce
Zoho CRM integrates with Salesforce so you can manage your leads and accounts in one place. You can also track sales opportunities, create quotes and invoices, and more. With Zoho CRM, you'll have a complete view of your sales pipeline and can make better decisions about where to focus your efforts.
4. Stellar feature set
It offers a comprehensive solution that includes email, CRM, calendar, documents, spreadsheets, and projects, all in one easy-to-use package.
Additionally, Zoho's software is easy to customize to fit the needs of any business. And with 24/7 customer support, you can always get help when you need it.
5. Competitive pricing
While some of its competitors are quite expensive, Zoho offers a wide range of pricing options to fit any budget. You can choose from various subscription plans or purchase individual software modules a la carte.
And if you're not happy with Zoho's service, you can always cancel your subscription without any penalties. It offers an excellent value for the features it provides, and there are no hidden fees or contracts.
6. Gamification modules
Gamification modules can be a great way to encourage employees to increase their productivity. With Zoho's gamification modules, you can award points and badges to employees for completing tasks and reaching goals. Zoho CRM emphasis on this can help motivate employees to keep working hard and achieve more.
Cons
1. Complex features
The software can be overwhelming for beginners, with many features and options to choose from. It can be challenging to figure out how to utilize all of its tools best.
The software is highly versatile and customizable, but it can take some time to learn how to use.
Zoho's pricing can be a bit steep for small businesses and startups. However, the lowest pricing tier is $14 per user per month, quickly adding up for companies with many employees.
Additionally, the more features you want, the more you'll pay. This can be a significant downside for small businesses on a tight budget.
3. Customer service can be slow to respond
While it's generally good, there have been reports of long wait times and difficulty getting help when needed.
It can take a while to get help from customer service, and when you do reach out, you might not always get a helpful response or solve your problem.
This can be frustrating, especially if you're trying to get a critical task done and Zoho slows you down. In addition, customer service can be challenging to reach.
There is no phone number to call, and the only way to contact customer service is through an online form. This can be inconvenient if you need help with your account quickly.
Pricing Zoho CRM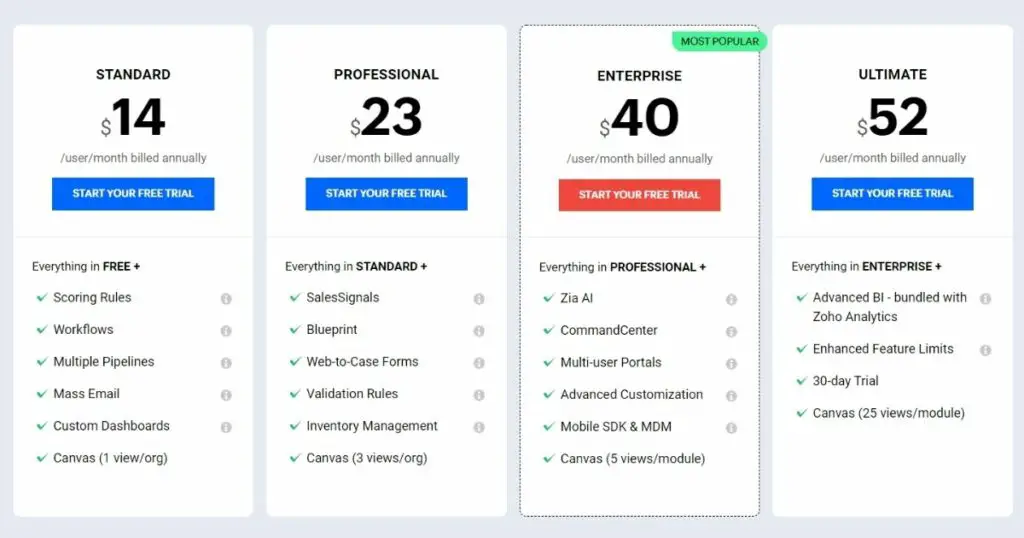 Free
Zoho CRM's Free pricing plan is perfect for small businesses just starting. It offers all of the basic features such as contact management, lead tracking, sales pipeline, and more, and functionality of the paid plans, but with a smaller customer limit.
This makes it easy to try out Zoho CRM without significant investment. Plus, Zoho CRM's free plan comes with enough customer support, so you can always get help when you need it.
Standard
The Standard pricing plan for Zoho CRM is $14/month per user. This plan includes all of the features of the Free plan, plus unlimited storage for your contact data, lead scoring, and advanced reporting.
It also allows you to create custom fields, automate workflows, and more. For example, suppose you need to do sales forecasting. Conduct marketing campaigns or manage complex customer relationships; this is the plan for you.
Professional
The Zoho CRM Professional plan offers all of the features of the Standard plan, plus a few extras. It is $23 per user per month and includes features like custom fields and workflow automation.
This plan is ideal for businesses that need more from their CRM, such as advanced reporting and forecasting tools, customizable automation rules, inventory management, and robust business intelligence (BI) capabilities.
Additionally, this plan includes access to Zoho's App Store, which gives you access to over 1,000 third-party applications that can help you streamline your business processes.
Enterprise
Zoho CRM's Enterprise pricing plan is designed for more than 1,000 employees businesses. This plan is priced on a case-by-case basis but typically starts at around $40 per user per month. In addition, it offers all of the features and benefits of the lower-priced plans, plus a few extras such as workflow automation.
With this plan, businesses can create unlimited custom fields, reports, and dashboards and customize their sales process to fit their unique needs.
They also get priority support from Zoho's team of experts, which means they'll always have someone available to help them get the most out of the software.
Elite
Zoho CRM's Elite pricing plan is designed for businesses that have outgrown the Standard and Enterprise plans. With this plan, you get all of the features of Standard and Enterprise, plus advanced capabilities like forecasting, pipeline management, and Salesforce integration.
This plan also gives you unlimited users and storage space so that you can keep track of all your customer data in one place.
Ultimate
Zoho's Ultimate pricing plan includes all of the features of the Standard and Professional plans, as well as a few extra goodies that make it perfect for larger businesses. You'll get access to Zoho's powerful reporting features, which give you deep insights into how your business is performing.
Plus, you'll be able to manage and optimize your sales processes with Zoho, SalesIQ, and Zapier integrations. And if you need any help getting started, Zoho's customer service team is always there to lend a hand.
Comparing Zoho with some other best CRM Softwares
When comparing Zoho with other best CRM software, it's important to understand that they all have unique features and benefits. So which platform is right for your business? The answer depends on your specific needs and budget.
Zoho CRM vs. Salesforce CRM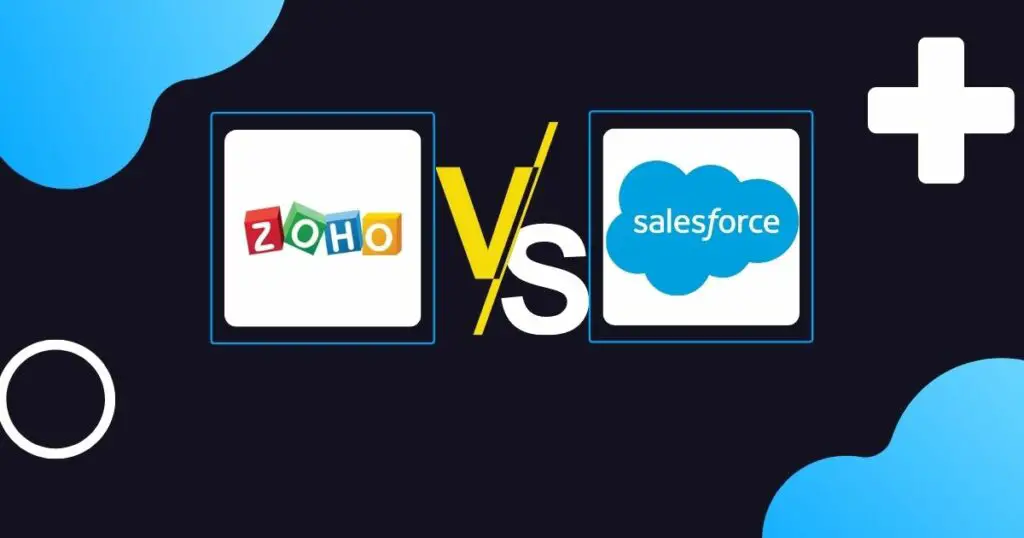 Salesforce is one of the most popular CRM (customer relationship management) software suites on the market. It's been around for a long time and has a large user base, but does that mean it's the best choice for your business? Let's look at some of the features that Zoho has to offer and compare them to Salesforce.
Zoho offers a wide range of features, and it's suitable for businesses of all sizes and industries, while Salesforce is geared towards larger companies. Zoho also provides a much lower price point than Salesforce, making it a more affordable option for small businesses.
However, Salesforce offers more features than Zoho, and its customer service is considered superior. So if you're looking for a comprehensive CRM suite with lots of features and excellent customer service, Salesforce may be the better choice for your business. But if you're looking for an affordable all-in-one solution that offers a wide range of features, Zoho is a great option.
Zoho vs. Hubspot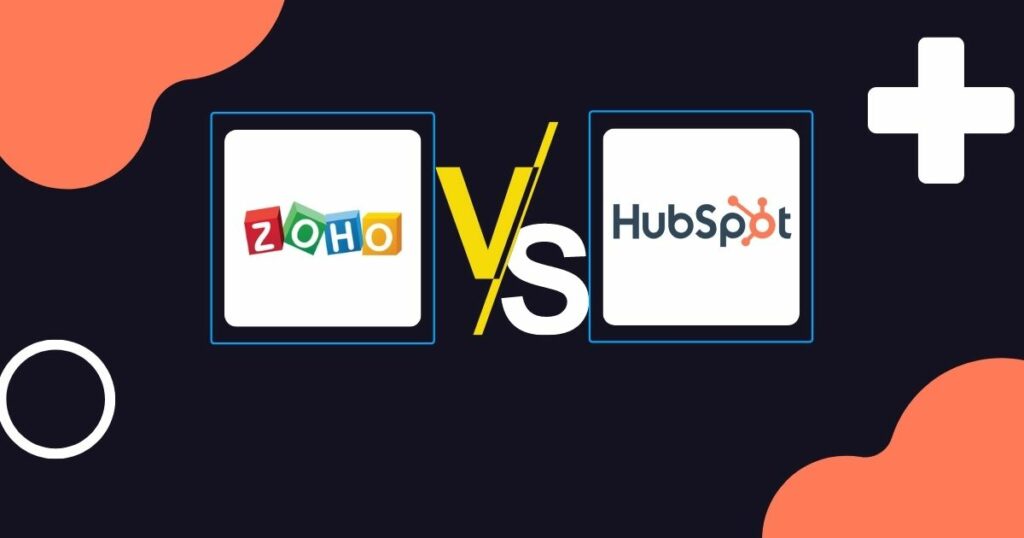 HubSpot and Zoho both offer comprehensive suites of business tools that can meet the needs of businesses of all sizes and industries. But what makes each suite different? And which one is the best fit for your business? Let's compare them head-to-head.
HubSpot's marketing tools are specifically designed to track campaigns, measure their performance, and analyze data to optimize strategies. Additionally, HubSpot offers sales and customer service tools that Zoho does not.
On the other hand, Zoho's suite is more comprehensive than Hubspot's, with offerings in HR, accounting, and project management in addition to its core marketing, sales, and customer service tools.
While HubSpot's pricing is transparent and straightforward, it can be expensive for small businesses; Zoho offers a variety of pricing plans to accommodate businesses of all sizes. Finally, HubSpot has a reputation for providing excellent customer service, while Zoho's customer service quality is moderate.
Zoho vs. SugarCRM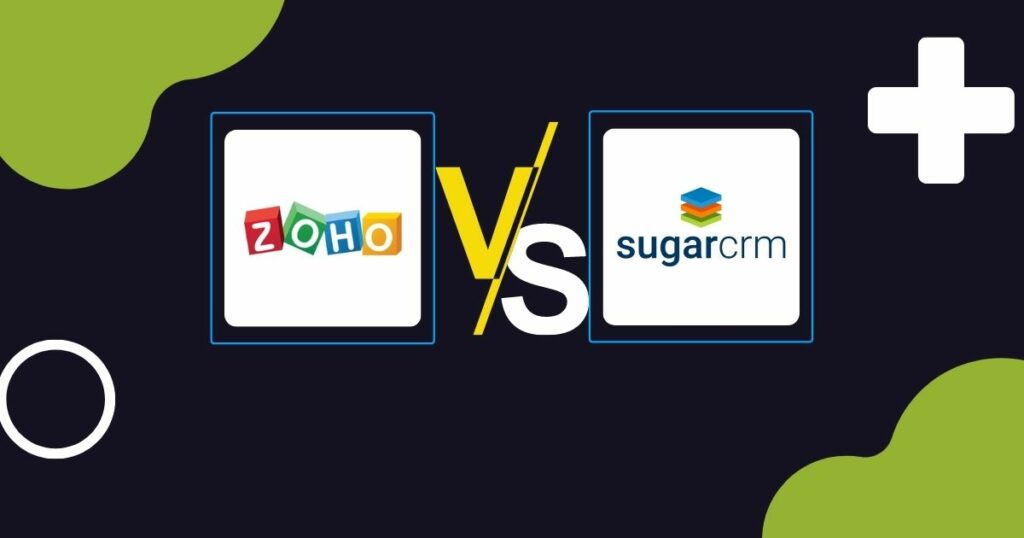 SugarCRM is powerful business software that allows companies to simplify their customer relationships from a single interface. In addition, the CRM provides concrete insight on the effectiveness of market investments, providing an easy-to-read dashboard for executives.
Sugar automatically captures leads and opportunities as they happen or are created, allowing teams to focus on qualifying leads and then setting up a follow-up strategy based on each situation.
With an intuitive user interface and dashboard access, any user-level has what they need within seconds of signing in – without ever clicking more than one link.
Sugar features comprehensive importing tools with connections to most popular social media platforms such as Google+, Yelp!, Facebook, Bing Local Scout, and so much more!
It also features HR management services that streamline the process of tracking employee performance and goals and onboarding new hires.
Overall, SugarCRM is a great CRM solution that allows businesses to manage their customer relationships easily. It has an intuitive interface, comprehensive importing tools, HR management services, and a robust reporting engine.
Zoho vs. Oracle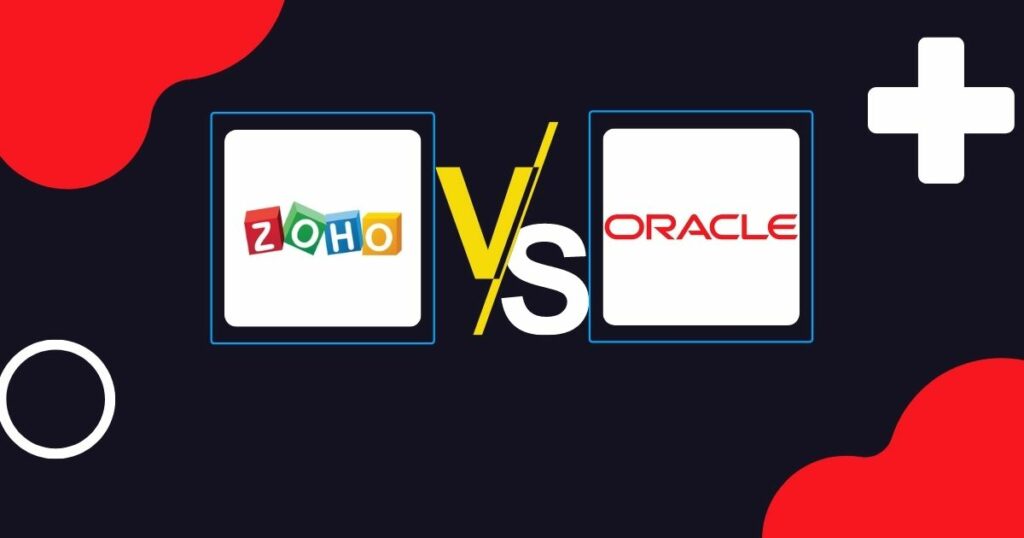 Zoho is known for its user-friendly interface and cheap pricing plans. It's an excellent option for small businesses or freelancers just starting. Oracle, on the other hand, is more geared towards larger companies. It has a more complex interface and can be expensive, especially for those who need access to all its features.
Oracle helps customers organize, manage and analyze business data across various industries. Initially, a developer of one of the world's first relational database management systems, Oracle offers comprehensive products and services from its hardware to cloud computing to consulting.
In other words, Oracle is a multinational software corporation providing enterprise applications for managing an organization's delivery process and integrating with other business applications to execute customer service or ease global procurement processes.
Is Zoho CRM worth it?
The answer is a resounding yes! ZohoCRM is a comprehensive solution for managing your sales and customer relationships. It offers everything you need to track leads, manage contacts, and close deals.
Plus, there are plenty of add-on modules and integrations available to extend its functionality even further. And best of all, it's affordable and easy to use.
However, like any CRM, it's not a one-size-fits-all solution. Instead, you'll need to evaluate your needs and make sure ZohoCRM has the features you need to run your business effectively. But if it does, then you can't go wrong with this powerful CRM tool.
The Review
Zoho CRM is a cloud-based customer relationship management (CRM) solution for small and medium businesses. Zoho CRM helps you track leads, manage contacts, follow up with customers, run marketing campaigns, and more—all from your browser or mobile device.
PROS
The free version of Zoho CRM
User-friendly interface
Easy to setup
Wide variety of features and integrations
Stellar feature set
Competitive pricing
Gamification modules
CONS
Complex features
Hidden costs
Customer service can be slow to respond
Workflow automation limited to Professional Tier
Review Breakdown
Ease of Use

Customer Service

Ease of Setup