Disclaimer: We sometimes use affiliate links in our content. For more information, visit our Disclaimer Page. 
Imagine working for a manager who constantly hovers over your shoulder, scrutinizing every detail of your work. You feel suffocated and trapped as if you're incapable of making decisions without their approval. If this sounds familiar, you may have experienced micromanagement.
But what is micromanagement, and how does it impact employees and organizations? In this article, we'll explore the nuances of micromanagement, its effects on employees and teams, and how to overcome this restrictive management style.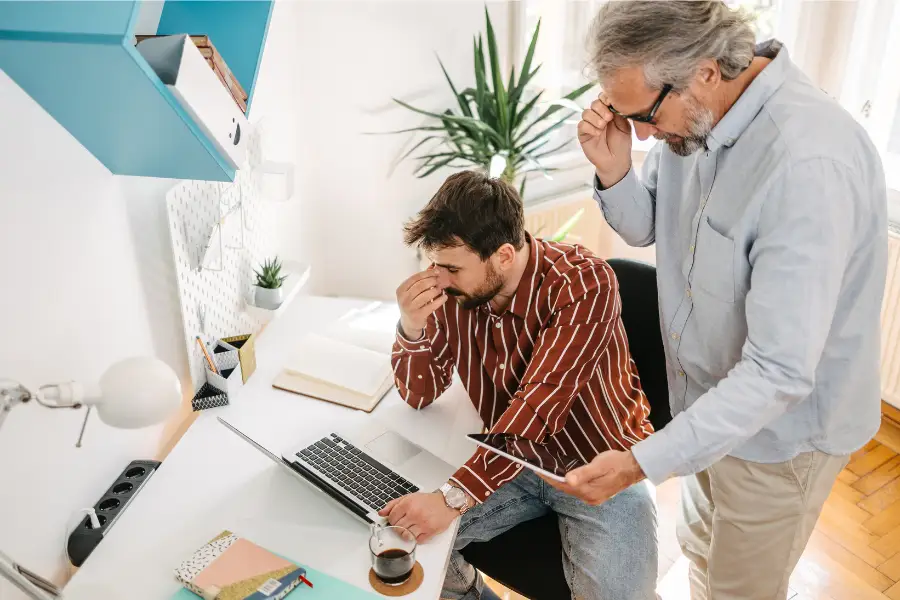 What is Micromanagement?
Micromanagement is a management style where a manager closely observes, controls, and directs the work of their employees. This often results in excessive supervision and control, stifling the employees' ability to make decisions and complete tasks independently.
The Micromanaging Manager
Managers tend to be overly involved in the day-to-day tasks of their team members, focusing on small details instead of the bigger picture. They often insist on being part of every decision-making process and may even complete tasks themselves instead of delegating them to their employees.
In some cases, a micromanaging manager might have good intentions, believing that their excessive involvement will lead to better results. However, this management style typically has the opposite effect, hindering employees' growth, damaging team morale, and ultimately hurting the overall productivity of the team.
The Impact of Micromanagement on Employees
Micromanagement can have serious consequences for employees. Here are some of the ways that this management style can negatively affect employees:
Constantly Monitored and Controlled
Employees working under a micromanaging boss may constantly feel their employee's work is watched and judged, leading to a sense of unease and anxiety in the workplace. This can make it difficult for employees to concentrate on their work, as they may worry about making mistakes or being criticized by their manager.
Hindered Growth and Development
A micromanaging manager can prevent employees from developing their skills and gaining valuable experience. By constantly taking over tasks or making decisions for employees, the manager limits their opportunity to learn and grow in their role. This not only affects individual employees but also the team's ability to succeed as a whole.
Low Morale and High Turnover
The excessive control and constant criticism that come with micromanagement can lead to low morale among team members. Employees may feel undervalued and unappreciated, which can result in high turnover rates as they seek out more supportive work environments.
Strained Work Relationships
Micromanagement can damage the work relationship between a manager and their employees, leading to a lack of trust and respect. This can make it difficult for the team to work effectively and cooperatively.
The Effects of Micromanagement on Teams and Organizations
While micromanagement can have serious consequences for individual employees, it can also impact the overall performance and success of a team or organization. Here are some ways that micromanagement can negatively affect teams and organizations:
Hindered Innovation and Creativity
When a manager constantly monitors and controls every aspect of their team's work, employees may be hesitant to suggest new ideas or take risks for fear of criticism or failure. This can stifle innovation and creativity within the team.
Reduced Productivity
Micromanagement can lead to a significant decrease in productivity, as employees wait for approval from their manager before completing tasks. This constant need for validation can slow down work processes and prevent the team from reaching its full potential.
Poor Workplace Culture
A micromanaging manager can create a toxic work environment where employees feel constantly stressed, anxious, and undervalued. This can lead to high turnover rates and difficulties attracting top talent, ultimately impacting the organization's success and reputation.
Related: How To Deal with Micromanagement
Overcoming Micromanagement: Tips for Employees
If you're struggling with a micromanaging boss, it can feel like an uphill battle to regain control of your work and restore a healthy environment for managing employees. Here are some tips for employees to cope with micromanagement and foster a more positive workplace:
Communicate and Set Boundaries
Open communication with your manager is crucial in addressing micromanaging tendencies. Discuss your concerns, establish clear expectations, and set boundaries for both you and your manager. This can help you both understand each other's needs and work more efficiently together.
Proactively Provide Updates
To alleviate your manager's concerns, provide frequent updates on your work progress. This can help your manager feel more confident in your abilities and reduce their need to constantly monitor your work.
Demonstrate Your Competence
Show your manager that you are capable of handling tasks independently by consistently delivering high-quality work. Over time, this can help build trust and allow your manager to become more comfortable delegating tasks to you.
Seek Feedback and Improve
While it can be difficult to receive frequent criticism, try to see it as an opportunity for growth. Ask for specific feedback from your manager and use it to improve your skills and performance. This can demonstrate your commitment to your job and willingness to learn, which may help alleviate your manager's need to micromanage.
Related: How To Give Feedback to Managers
Breaking the Cycle: Tips for Managers
If you recognize that you have micromanaging tendencies, it's important to address these behaviors and adopt a more effective management style. By addressing the issue of micromanaging employees, you can help create a more productive and positive work environment.
Here are some tips for managers to overcome micromanagement and foster a healthier work environment:
Delegate Tasks and Trust Your Employees
Learn to delegate tasks to each team member and trust them to complete these tasks independently. Empower your employees by giving them more autonomy and decision-making responsibilities, allowing them to develop their skills and contribute more effectively to the team.
Focus on the Bigger Picture
Instead of getting caught up in small details, shift your focus to the bigger picture and the overall goals of your team and organization. This can help you prioritize your time and energy on more strategic tasks, rather than micromanaging your employees' work.
Encourage Employee Engagement and Collaboration
Promote a workplace culture that encourages employee engagement, collaboration, and open communication. This can help your team members feel more confident and supported, ultimately leading to higher job satisfaction and improved work performance.
Provide Constructive Feedback and Support
Instead of constantly criticizing your employees, focus on providing constructive feedback that helps them grow and improve. Offer support and resources to help your team members develop their skills and achieve their goals.
Related: Signs of a Good Manager
In Conclusion
Micromanagement can have damaging effects on employees, teams, and organizations, but it doesn't have to be a permanent fixture in the workplace. By understanding the causes and consequences of this management style, employees and managers can work together to break the cycle of micromanagement and create a healthier, more productive work environment.
Frequently Asked Questions (FAQs)
What are the main signs of a micromanaging boss?
A micromanaging boss often closely observes and controls their employees' work, provides excessive supervision, and frequently criticizes even small details. They may struggle with delegating tasks and trusting their employees to work independently.
How can employees cope with a micromanaging manager?
Employees can cope by communicating openly with their manager, setting boundaries, proactively providing updates, demonstrating competence, and seeking feedback for improvement.
What are the consequences of micromanagement on employee health and well-being?
Micromanagement can lead to increased stress, anxiety, and burnout, potentially damaging employees' mental and physical health.
Why do some managers micromanage their employees?
Managers may micromanage due to a lack of trust in their employees' abilities, a need for control, fear of failure, or even good intentions in trying to ensure the best results. However, micromanagement often has the opposite effect, hindering productivity and damaging team morale.
How can a manager overcome micromanaging tendencies?
Managers can overcome micromanagement by learning to delegate tasks, trusting their employees, focusing on the bigger picture, encouraging employee engagement and collaboration, and providing constructive feedback and support.